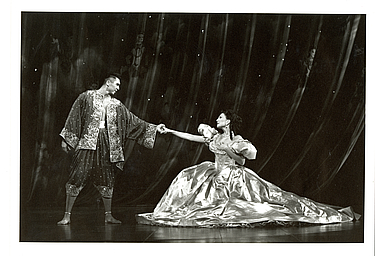 King And I For The 21st Century
1951, 1956, 1960, 1963, 1964, 1968, 1977, 1985. Since its premiere 45 years ago, a decade has not gone by without a royal visit to New York by THE KING AND I. When a new Broadway production was announced for the spring of 1996, the inevitable question arose. "Do we need yet another revival of THE KING AND I?,"asked Michael Kuchwara rhetorically in his Associated Press review. "Judging from director Christopher Renshaw's clearly thought-out efforts, the answer is an emphatic yes."
As we were going to press THE KING AND I had just swept the triathlon of Broadway honors, winning the Tony, Drama Desk and Outer Critics' Circle Awards for Best Musical Revival 1996. Please see story for further details.
Starring Tony Award winner Donna Murphy and (in his Broadway debut) film star Lou Diamond Phillips, the new, $5.5 million production of THE KING AND I opened at the Neil Simon Theatre on April 11, 1996. Its genesis began five years earlier, however, and 10,000 miles away. Originally presented in Australia by the Gordon-Frost Organisation and the Adelaide Festival Centre in 1991, it so captivated our own Mary Rodgers and Ted Chapin that wheels were set in motion to bring this KING AND I to America. (See story, p. 4). Making the journey with Australia's first-ever export to Broadway were director Renshaw and the trio of innovative designers- Brian Thomson (sets), Roger Kirk (costumes) and Nigel Levings (lighting).
Crucial additions to the New York team were Lar Lubovitch, whose new musical staging complemented Jerome Robbins' definitive choreography (which had been restaged by Susan Kikuchi), musical supervisor Eric Stern (while continuing in his capacity as conductor at SHOW BOAT), musical director Michael Rafter and casting director Jay Binder.
None of these Broadway veterans would have found themselves in this Australian adventure, however, were it not for Dodger Productions, the talented Broadway team headed by Michael David, Edward Strong, and Sherman Warner. The masterminds behind this season's other smash revival, A FUNNY THING HAPPENED ON THE WAY TO THE FORUM, and such recent triumphs as TOMMY, THE SECRET GARDEN, GUYS AND DOLLS and HOW TO SUCCEED IN BUSINESS..., the Dodgers applied their brilliant marketing, graphic and producing skills to THE KING AND I with glorious results.
"When I found myself choking back tears, I knew it was an extraordinary revival," recounted Howard Kissel in the New York Daily News. "So exquisitely designed, so intensely, freshly performed it has the aura of a new show." Margo Jefferson in the New York Times reported that she was "in thrall from start to finish, "and Jacques Le Sourd of Gannett Newspapers admitted that "A critic normally keeps his cool, but about 20 minutes into the preview I attended, there were tears running down my face...I realized I was suddenly crying at the beauty of it."
Much of that beauty was due to the work of the Australian design team who not only won over their tough New York audiences, but won a few prizes as well: Brian Thomson and Roger Kirk each took home Tony and Drama Desk Awards, and they shared an Outer Critics' Circle Award with Nigel Levings. "You won't find anything this exquisite in New York outside the Asian collection of the Metropolitan Museum of Art," Le Sourd declared. Frank Scheck of Time Out said the production "wouldn't look out of place at the Metropolitan Opera House," and Linda Winer of Newsday called it "AIDA-sized... opulent, almost outlandishly splendiferous."
Still, even as columnist Liz Smith called this production "the most ravishing show you may ever see," she emphasized that this was not a case of style over substance: "The miracle of this particular revival," she said, "is that the famous story, the legendary songs and the super-talented performers manage not to be overshadowed by sets and costumes that are gasp-makingly luxurious."
Clive Barnes in the New York Post called the production "lavish, luscious and triumphant,"" and said that director Christopher Renshaw, who received the 1996 Drama Desk Award for Best Direction of a Musical, had given the musical such a fresh approach it was "like a canvas cleaned...It is a KING AND I for the 21st Century." Bob Feldberg in The Bergen Record praised Renshaw for offering "a vibrant, surprisingly emotional version...[that] uses his ideas, and his designers' artistry, to breathe fresh life into the musical by giving its memorable songs a strong emotional and dramatic base."
You must log in before you can post comments. You can login
here
.