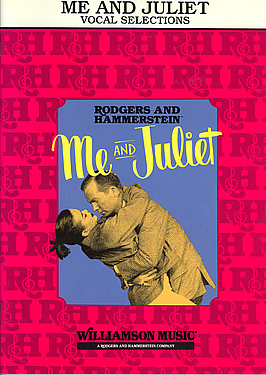 Judging A Book By Its Cover
From Laurey and Curly in the surrey with the fringe on top, to Maria atop her mountain, classic images in brand new formats grace the covers of a dozen Rodgers & Hammerstein songbooks published by Williamson Music. Previously unpublished photos of Irving Berlin glance out from the covers of the six-book set, THE SONGS OF IRVING BERLIN. Newcomer Ricky Ian Gordon and veteran Sheldon Harnick will soon have songbooks of their own. This burgeoning library demonstrates the significance that Williamson and R&H Music place on the printed page.
To date, Rodgers & Hammerstein have received the most ambitious overhaul in the songbook department, particularly with the individualized vocal selections to their scores. Beginning with OKLAHOMA! and SOUTH PACIFIC five years ago, and covering every title in the R&H catalogue plus a special novelty book of lesser known songs, RODGERS & HAMMERSTEIN REDISCOVERED, the zealous new print campaign was completed this spring with the publication of revised vocal selections for ALLEGRO, ME AND JULIET and PIPE DREAM.
For the very first time, songbooks for all eleven Rodgers & Hammerstein musicals are united in a visual theme that presents them as their own titles within a collected set. Since the R&H musicals had been created in an era when marketing one logo per show was unknown to Broadway, no strong identifiable imagery has ever been established for any of these properties. As a result, the covers of these vocal selections changed sporadically over the years, reprinted in response to new productions or film releases, unrelated to the other titles and without a longterm consistent look ever taking hold.
The desire to start fresh arose in 1988 when Williamson Music was brought into the Rodgers & Hammerstein Organization. As part of their assessment of the catalogue, R&H President and Executive Director Ted Chapin and newly-appointed Williamson President Maxyne Lang decided it was time to create an entirely new series of songbooks. The challenge would be to commission artwork that was simultaneously contemporary and classical, making sure that each songbook could stand independently and still be part of a set. Pulling this off would be quite a feat. Enter Frank Verlizzo.
Verlizzo, who goes by the pen name "Fraver," is a Drama Desk Award winner in recognition of his logos and artwork for such Broadway shows as DEATHTRAP, SWEENEY TODD, MY ONE AND ONLY, SUNDAY IN THE PARK WITH GEORGE and this season's AN INSPECTOR CALLS. Currently a Vice President and Executive Art Director at the Manhattan theatrical ad agency of LeDonne/Wilner/ Weiner, Fraver created the R&H logo seen in the upper corner of this page, and supervises print advertising for The Rodgers & Hammerstein Organization. "I couldn't wait to get started on the songbook project," he recalls. "I was a huge Rodgers and Hammerstein fan, and grew up with all those musicals."
Fraver established an overall look for the entire series, by using the R&H logo as a background motif and formatting a frame in the center of each cover, which would then contain a vivid moment from each show joined by the title in special lettering above it. He established logos, color schemes, and title treatments for each show by putting his own spin on familiar material; THE KING AND I and SOUTH PACIFIC emulate their Broadway show posters, for instance, while OKLAHOMA! and THE SOUND OF MUSIC are derived from their movie logos. So scrupulous was attention to detail that when Fraver decided to color-tint a black & white photo of Yul Brynner in a KING AND I outfit, he confirmed the exact shading with original costume designer Irene Sharaff.
Getting between the covers, Williamson Music's staff insured that the photos inside the books were re-screened, that information provided was updated, and that the music and lyrics themselves were, if necessary, reengraved and reshot. With a team of designers and musicologists in place, Williamson has accelerated its print output over the years, with Rodgers & Hammerstein at the fore. In 1990 Williamson published a definitive Richard Rodgers songbook, THE RICHARD RODGERS COLLECTION, commemorating the re-naming of Broadway's 46th Street Theatre in his honor; plans for a companion volume, THE OSCAR HAMMERSTEIN II COLLECTION, are currently underway in conjunction with his centennial in 1995. Williamson also published a special 50th Anniversary edition of the OKLAHOMA! songbook in 1993, and is currently preparing songbooks based on this season's Broadway productions of CAROUSEL and A GRAND NIGHT FOR SINGING.
Williamson's print activities are not confined solely to R&H, however. When the Irving Berlin Music Company joined The Rodgers & Hammerstein Organization in 1990, one of the earliest collaborative projects was the first authorized collection of Berlin songbooks, organized by subject (see Happy Talk, Winter 1994). Since then, there have been commemorative sheets for "White Christmas" bearing artwork by Grandma Moses, and a special "Signature Series" of sheets bearing Mr. Berlin's autograph. A new edition of "Heat Wave" sizzles with Marilyn Monroe gracing the cover.
The first song folio from young American composer Ricky Ian Gordon, entitled A HORSE WITH WINGS, is currently in preparation; slated for inclusion are over a dozen of Gordon's most requested titles, including "Will There Really Be A Morning?" and "What Shall We Remember?" In cooperation with Warner Bros. Publishing, Williamson will soon begin work on a songbook of Sheldon Harnick, including some of his finest work from FIORELLO!, FIDDLER ON THE ROOF, SHE LOVES ME, A CHRISTMAS CAROL and A WONDERFUL LIFE.
"The old music store filled with racks and racks of sheet music is, to be sure, a thing of the past, a memory of the good old days," reflects Chapin. "But what has emerged is a sophisticated network of catalogues, dealers, 800-numbers and direct mail outlets that still get music to people in the old-fashioned formats."
"Our task," Lang concurs, "is to contemporize tradition - to quote Sheldon for a moment - as we move ahead aggressively in the graphic and marketing sophistication of the '90s. We couldn't do it without the guidance and support of our friends at Hal Leonard Publishing, who take our concepts and make them reality."
You must log in before you can post comments. You can login
here
.