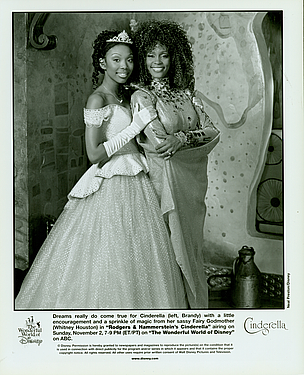 It's Possible: 60 Million Viewers Go To The Ball With Cinterella
"
The slipper fit.
The Prince had found his Cinderella, the Step-mother fainted in her daughters' arms, the Fairy Godmother belted out a benediction, and everyone in the land rejoiced. 60,000,000 of them!
The ABC-TV remake of Rodgers & Hammerstein's CINDERELLA starring Brandy in the title role and Whitney Houston as her Fairy Godmother, aired on The Wonderful World of Disney on Sunday night November 2, and made television history. The highest-rated TV musical in years (besting even the '93 GYPSY starring Bette Midler that reinvigorated the genre), CINDERELLA filled out her dance card in every statistical category. According to the Nielsen Ratings, more than 60 million tuned in to the broadcast premiere, making CINDERELLA the most-watched show of the night and, it turned out, of the entire week - topping such consistent rating winners as E.R. and SEINFELD. Its 31 share (defined as the percentage of TV sets in use) also gave ABC its strongest showing in its time slot in 14 years.
CINDERELLA lived up to its billing as ""family event television."" It easily captured the youth market watching TV that night, winning over children (2 to 11) and teenagers (11-18). Among girls alone, CINDERELLA drew 70% of the TV-watching total.
CINDERELLA scored with the reviews too. USA Today announced, ""The prince is giving a ball - and your whole family is going to have one...A wholesome delight [that] adds luster to the legend."" TV Guide cheered, ""CINDERELLA sparkles! Enchantment pervades this 1997 teleplay, from the lavish settings and engaging performances to the delightful Rodgers & Hammerstein score."" And the New York Daily News predicted that ""if this CINDERELLA winds up as the highest rated Wonderful World of Disney presentation to date, it'll be no wonder. It'll be well deserved.""
The critical kudos, along with the youthful makeup of its audience, bodes well not only for the future of Rodgers & Hammerstein's CINDERELLA, but for the live-action musical on television. In its year-end issue, where it cited CINDERELLA as the best TV special of 1997, TV Guide said it ""delightfully breathed new life into the TV musical."" A few days after the broadcast, the New York Times reported that ""the huge success of CINDERELLA will mean more musicals for television, probably as early as next year."" Charles Hirschorn, President of Walt Disney Television, told the Times that his network was ""overjoyed"" by the response to CINDERELLA and that, in the future, ""we'd like to fill in the ground between feature animated musicals and Broadway."" Co-executive producer Craig Zadan, who with partner Neil Meron had also produced the Bette Midler GYPSY, felt the genre was back for good. ""People said GYPSY was a fluke,"" he told the Los Angeles Times. ""Now the door has been flung open.""
Amidst bravos for the work itself, and adulation for the TV musical form, a quiet, but unmistakable roar of approval also greeted this newest remake for telling its fairy tale with a ""color-blind,"" multi-cultural cast. In an editorial two days after the broadcast, New York Newsday opined: ""Did you see CINDERELLA on ABC Sunday night? If you didn't, too bad, because you missed not only a delightful story for children, but a heartening lesson for adults as well."" After detailing the racial make-up of the cast, the editorial continued: ""If it seems as though we're making a big deal about racial categories, that's because the TV movie didn't. Everyone seemed truly color-blind as good contended with evil and love triumphed in the end. Too good to be true? Maybe, but art imitates life, and life in America is becoming ever more multi-ethnic...To be sure, we have a long way to go in race relations. But it's nice to see a positive sign of progress, even if it is a fairy tale.""

Rodgers & Hammerstein's CINDERELLA starring Brandy will be released by Disney Home Video in February...New single songsheets for ""The Sweetest Sounds"" and ""There's Music in You,"" along with our traditional CINDERELLA songbook, are now available at music stores nationwide, or by calling 1-800-637-2852.
"
You must log in before you can post comments. You can login
here
.