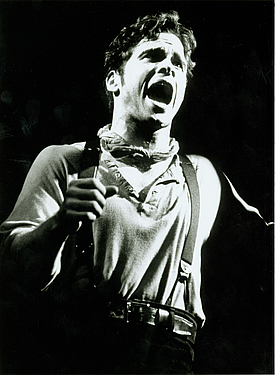 In London And New York, A Carousel Comes To Town
Both sides of the Atlantic will play host to CAROUSEL this season as the Royal National Theatre production continues in the West End, and comes to Broadway. When this revelatory new production of CAROUSEL premiered at the RNT's Lyttleton Theatre last winter, Nicholas Hytner's direction and Bob Crowley's production design were hailed for their innovation and revisionist approach to what is arguably Rodgers & Hammerstein's most beautiful - and disturbing - musical play. CAROUSEL received four Olivier Awards last spring, including Best Revival of the Season. Also last spring, Cameron Mackintosh announced that he would transfer CAROUSEL into the West End; the RNT production had, in fact, been launched by a grant from his foundation and under his agreement with them, half of the profits from the West End production would be returned to the RNT.
On September 10, CAROUSEL began performances at London's Shaftesbury Theatre. Mackintosh celebrated the West End transfer with a lavish opening night party, transforming Bedford Square, site of his London office, into a New England carnival scene, circa 1880, complete with fire eaters, Uncle Sam stilt walkers, a shooting gallery and, of course, a working merry-go-round. Over 1000 guests were on hand, and they feasted on corn fritters and crab cakes, flapjacks and blueberry muffins. They also feasted on great reviews: "It is a real pleasure to report," wrote Charles Spencer in The Daily Telegraph, "that the second ride on the CAROUSEL is just as thrilling as the first." In the Evening Standard Nicholas de Jongh confessed, "It bowled me over - again," and Alastair Macaulay of the Financial Times called it simply "the best musical in town."
The West End company featured almost the entire RNT cast from the previous winter, including Olivier winner Joanna Riding as Julie and Olivier nominee Michael Hayden as Billy. In October, the 1993 London cast album was recorded by First Night Records, produced by Chris Walker. The most comprehensive recording of CAROUSEL to date, it features lush new renditions of the well-known songs alongside such rarities as "Geraniums in the Winder," "Stonecutters Cut It On Stone" and the entire Act II ballet (in a version created especially for this production's choreographer, the late Sir Kenneth MacMillan). Released in the U.K. in early December, the album is scheduled to be distributed in the U.S. on the RCA Victor label by early spring.
By that time performances will already be under way in New York for what William A. Henry III of Time Magazine calls "this season's most eagerly awaited musical." Lincoln Center Theater will present the RNT production of CAROUSEL in their Vivian Beaumont Theater, by arrangement with Cameron Mackintosh and this organization, with the opening scheduled for March 24, preceded by a month of previews.
Michael Hayden, a 1992 graduate of The Juilliard School, will return to his old neighborhood at Lincoln Center to reprise his RNT and West End portrayal of Billy Bigelow. His Julie will be Sally Murphy, a veteran of the Steppenwolf Theatre Company of Chicago, known to Broadway audiences for her role as Rose of Sharon in THE GRAPES OF WRATH. At press time the cast is also slated to include Shirley Verrett as Nettie, Jeff Weiss as The Starkeeper, Audra Ann McDonald as Carrie, Eddie Korbich as Mr. Snow, and Fisher Stevens as Jigger.
CAROUSEL is currently playing at the Shaftesbury Theatre, London; for further information call the box office at 011-44-71-379-5399. CAROUSEL will begin performances at the Vivian Beaumont Theater, Lincoln Center, New York, on February 18, with opening night scheduled for March 24; for further information call Tele-Charge at 1-212-239-6200 (outside metro New York call 1-800-432-7250).
You must log in before you can post comments. You can login
here
.