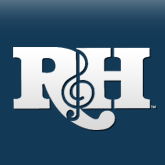 He Liked Ike
"
The letter was addressed to Irving Berlin. The date was March 24, 1969. The signatory was Dwight D. Eisenhower and four days after he wrote it, the former President was dead. His letter to Berlin, a thank-you note ""for the wonderful melodies you have created over the years,"" was the last Eisenhower ever wrote.
The friendship between Irving Berlin and Dwight D. Eisenhower dated from World War II. When Berlin brought THIS IS THE ARMY to London, the Supreme Allied Commander attended a performance in February of 1944, and visited with the troops. Berlin wrote to him afterwards, ""You must know how much it meant to them to have you tell them that they were doing a good job and above all, that they were good soldiers.""
Berlin became a loyal supporter of Eisenhower's. In 1952, an affectionate number in his Broadway score for CALL ME MADAM, ""They Like Ike,"" became Candidate Ike's campaign song. Two years later, President Eisenhower awarded Berlin a special Congressional Gold Medal for ""God Bless America"" and other patriotic songs.
When Eisenhower's final letter was discovered here in the Berlin archives, there was no hesitation among Mr. Berlin's daughters that it belonged with the rest of the President's papers; on behalf of her sisters, Elizabeth Peters presented it last June to the Dwight D. Eisenhower Library in Abilene, Kansas, where it is currently on view.
The letter is no dry, historical document; rather, it is a testament of genuine gratitude from one friend to another. ""No music,"" wrote the former President to America's most patriotic songwriter, ""has meant so much to me as yours."""
You must log in before you can post comments. You can login
here
.