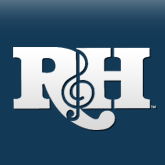 Hart & Hammerstein: On To The Next 100 Years
For Richard Rodgers' two most famous partners, Lorenz Hart and Oscar Hammerstein II, 1995 was a banner year marking the 100th birthdays of both men. While Hart's centennial in May and Hammerstein's in July were the highpoints of the celebrations, enthusiasm was still going strong as the year came to a close.
On October 3 Hart was honored by the Center Theatre Group of Los Angeles at the fourth annual "Salon at the Mark Taper"; written and produced by Susan Clines and Michael Feinstein, and directed by Gordon Hunt, ISN'T IT ROMANTIC? featured performances by Feinstein, Jason Graae, Mary Cleere Haran, Scott Bakula and June Havoc, with special remarks from Mary Rodgers. Michael Rafter is musical director.
On October 20 Mary Rodgers did the honors again, this time co-hosting a song-studded tribute at New York's Town Hall with Larry Hart (the lyricist's nephew and namesake). THOU SWELL, produced and directed by David Staller in association with Donald Smith and The Mabel Mercer Foundation, was a four-hour Hart-athon that featured Ann Hampton Callaway, Barbara Carroll, Alix Korey, Weslia Whitfield and others.
Hart and Hammerstein were both celebrated at a dual tribute held at (and for) the Harms Center of Englewood, New Jersey in late October; hosted by CBS Sunday Morning anchor Charles Osgood, directed by Charles Repole, with Rob Fisher conducting the Demitasse Orchestra, HART AND HAMMERSTEIN: A CENTENNIAL SALUTE juxtaposed lush and operatic Hammerstein with brassy and soulful Hart. The versatile company included Judy Blazer, Teri Hansen, Mary Cleere Haran, Doug LaBrecque, John Pizzarelli and Ron Raines.
HAMMERSTEIN'S ""VICTORY"" VICTORIOUS
The once glorious Victory Theatre on 42nd Street played host to the likes of Mary Pickford, Tyrone Power and Lillian Gish, and to such plays as ABIE'S IRISH ROSE and LILAC TIME. A resplendent legit house when it opened in 1900, a burlesque palace in the '30s, and derelict by 1990, the Victory has, in the past five years, undergone a miraculous $11.4 million restoration, spearheaded by the non-profit New 42nd Street, Inc.
At a ceremony on December 11, the theatre was renamed the New Victory and reopened as a non-profit performing arts center dedicated to young audiences. Among the many guests were New York State and City dignitaries, but of special significance were the several generations of Hammersteins attending, the youngest of whom are the great-great-great- grandchildren of the Victory's builder and original owner - Oscar Hammerstein I.
In honor of the patriarch of this theatrical dynasty, the Hammerstein family provided funding for the New Victory Theatre's resplendent red velvet house curtain. "We believe in honoring the theatre's great past while looking to the future," wrote James Hammerstein in a letter to The New 42nd Street's President, Cora Cahan. "It is therefore especially fitting that the Hammerstein name will continue to be associated with this theatre well into its second century, as we raise the curtain on a new stage dedicated to young audiences." In her remarks at the dedication, Cahan acknowledged the Hammersteins on hand, and their affiliation. "Each time the curtain rises on this stage," she said, "it is a tribute to Oscar I and Oscar II."
Two more noteworthy tributes to Lorenz Hart from his hometown of Manhattan: on November 13, Hart was inducted into New York University's Musical Theatre Hall of Fame and in December, the New York Transit Authority, in association with the Poetry Society of America, featured a Hart lyric from "Manhattan" (fittingly, the stanza that includes "the subway charms us so/when balmy breezes blow...") as part of its on-going "Poetry in Motion" subway signage campaign - the first time a lyricist has been selected in this poetry series. During Thanksgiving week, Oscar Hammerstein II was the subject of a moving tribute at the Manhattan Center - itself a meaningful venue as it was built by Hammerstein's grandfather, Oscar I. Produced by John Flaxman in association with this organization, YOU'LL NEVER WALK ALONE was a fund-raiser benefitting the New York-based Partnership for the Homeless. Incoming Partnership spokesperson Jessye Norman co-hosted the evening with R&H President Ted Chapin; William Hammerstein, though unable to attend, was an event honorary co-chairman, while his sisters Alice Hammerstein Mathias and Susan Blanchard were on hand to represent the family.
While previous Hammerstein tributes this year honored the man and his work as a whole, YOU'LL NEVER WALK ALONE focused on Hammerstein through the prism of a specific issue: the plight of the homeless and the disenfranchised. The hour-long performance used Hammerstein's words and lyrics to suggest how he might have responded to today's injustices.
The evening ranged in tone from the optimism of "Climb Ev'ry Mountain" to the despair of "Everybody's Got a Home But Me" and the unexpected poignancy of "In My Own Little Corner," performed by a talented company that included Daisy Prince, Rebecca Baxter and SHOW BOAT stars Elaine Stritch, John McMartin, Michel Bell, Gretha Boston, and Doug LaBrecque. As YOU'LL NEVER WALK ALONE came to a close with Boston leading the company in its title song, it was clear that Oscar Hammerstein's vision, and the Partnership's goal, were one and the same.
On Sunday, December 10, in Washington D.C., The Smithsonian Associates, a branch of The Smithsonian Institution, hosted a day-long symposium on Oscar Hammerstein II. Featuring video screenings of a 1957 Hammerstein interview with CBS' Mike Wallace and excerpts from a 1954 television tribute to Rodgers & Hammerstein, the symposium also included a concert performance that juxtaposed familiar standards with rarities from such works as SONG OF THE FLAME (Hammerstein's musical written with George Gershwin) and his early operettas. The day's centerpiece was a panel discussion moderated by Dwight D. Bowers of The Smithsonian Institution, with James Hammerstein, the lyricist's son; Hugh Fordin, author of the Hammerstein biography, Getting To Know Him (Da Capo Press); Elaine Steinbeck, the original stage manager on OKLAHOMA! and, with her husband the novelist John Steinbeck, a lifelong friend of Oscar and Dorothy Hammerstein's; Celeste Holm, the original Ado Annie in OKLAHOMA!; Garth H. Drabinsky, producer of the current hit revival of Hammerstein's SHOW BOAT; and R&H President Ted Chapin, a frequent speaker on Hammerstein's life and work.
Interviewed on CNN the following day, James Hammerstein was asked to speculate on his father's ongoing popularity. "I think he had a lot of humanity in his writing,"Hammerstein replied. "People identify with that - they want to, and hopefully always will."
You must log in before you can post comments. You can login
here
.