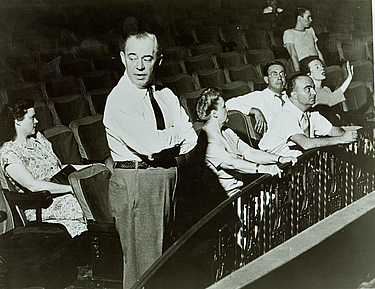 From Page To Stage
"Bringing the Written Word to LifeRICHARD RODGERS: I now realize that the whole business from start to finish, is the most intensive collaborative effort in the world, with the possible exception of running a war.
HAMMERSTEIN: Collaboration is the biggest word in the theater. It is the most important element in theatrical success. Not just the collaboration between an author and composer, but the total collaboration in every play, the convergence and co-ordination of all the different talents, producing, writing, directing, choreography, acting, scene designing, costume designing, lighting, orchestration, theater management, company management, public relations- the mixture of all these ingredients is essential to every theatrical meal that seeks to make itself palatable to the public...If you want privacy in your work, and if you want to make your flights of fancy solo, stay away from the theater. The theater is a welding of many arts into one. No one person can be efficient or talented in all these arts, and if any man could write and produce and direct and act and play the music, shift the scenery, design the costumes and, in short, do everything that could be done on one stage and come up with what was literally a one-man show, he would still need one more thing, an audience. You cannot get away from collaboration.
AGNES de MILLE: During rehearsals, Oscar usually stayed with the actors, absenting himself only for rewrites, while Dick guarded the singing and dancing...What has made them uniquely effective (besides their talent) is their professional watchfulness. They check every aspect of their productions like mechanics going over an engine prior to transoceanic flight.
JOSH LOGAN [Recalls a production meeting for ANNIE GET YOUR GUN (1946)]:
While Irving was completing the score, we held progress meetings in [co-producer Oscar Hammerstein's] living room. At the last of these meetings we discussed Lucinda Ballard's costumes, Helen Tamiris' dances and Ray Middleton, who was to play Annie's true love, Frank Butler.Berlin was talking to a group off on the far side of the room, so I whispered to Oscar, ""I'm worried. There ought to be another duet for Merman and Middleton.""
""Another song?"" whispered Oscar to me.
""Another song?"" whispered Berlin, whose head appeared beside Oscar's.
Berlin can smell anything, anywhere, at a distance. He shouted across the room, ""Listen, everybody, Josh wants another song. Josh, where do you see this song?""
""I don't know,"" I said, ""except the leads should have a duet in the second act. They never sing together after [""They Say It's] Wonderful.'""
Irving said, ""If they're not talking to each other in the second act, how can they sing together?""
""Could they have a quarrel song or a challenge song?"" Dick Rodgers asked.
Irving jumped at the idea. ""Challenge! Of course! Meeting over! I've got to go home and write a challenge song.""
[My wife] Nedda and I took a taxi a few blocks, and when we got to our apartment the phone was ringing. It was Irving.
""Hello, Josh? How's this?"" And he started singing:
Anything you can do, I can do better, I can do anything better than you...
...And he carried right on through...
""That's perfect!"" I shouted incredulously. ""When in hell did you write that?""
""In the taxicab. I had to, didn't I? We go into rehearsal Monday.
MARY MARTIN [Recalls the ""gypsy run-through"" for SOUTH PACIFIC]:
One day just before we went to New Haven for tryouts the cast was asked if we would mind having an audience for one of the rehearsals. Fortunately, we didn't know that they intended to fill the theater with professionals -- actors, dancers, singers, composers, directors. We were working with rehearsal props, old benches, and junk. We didn't even have proper lights. When we finished, it was so quiet like a church. We didn't know what to think, because we couldn't see the audience. Then all of a sudden there was an unbelievable roar. I've never heard anything like it in my life. Our peers approved. Some people say that this rehearsal was the best performance they ever saw in the theater.
I have seldom heard such yelling, whistling, applause.
"
You must log in before you can post comments. You can login
here
.