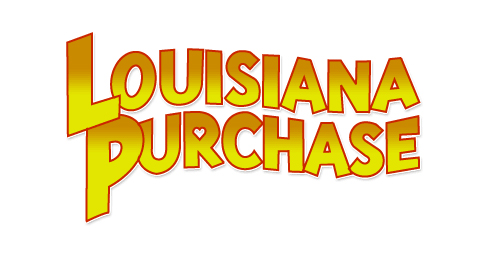 FROM BERLIN TO THE BAHYOU: NEW YORK MAKES A LOUISIANA PURCHASE
The original production opened on Broadway 56 years ago, and ran alongside Cole Porter's DuBARRY WAS A LADY and Rodgers & Hart's HIGHER AND HIGHER. It starred William Gaxton, Vera Zorina, Victor Moore and Irene Bordoni; its run of 444 performances at the Imperial Theatre made it Broadway's longest running book musical in over a decade. The producer was B.G. (Buddy) DeSylva, the choreographer was George Balanchine, the book writer was Morrie Ryskind (the Pulitzer Prize winning co - author of OF THEE I SING), and the songwriter - returning to New York after a successful six - year sabbatical in Hollywood - was Irving Berlin.
The show was LOUISIANA PURCHASE, and it came at a very interesting juncture in the songwriter's career. Following a string of successful revues and slim book musicals in the '20s and early '30s, Irving Berlin had gone to Hollywood in 1934, where he struck gold writing songs for classic Fred Astaire & Ginger Rogers films like TOP HAT and FOLLOW THE FLEET.
LOUISIANA PURCHASE would mark Berlin's triumphant return to Broadway, but it was followed immediately by a patriotic tour of duty with his musical THIS IS THE ARMY during World War II. Coming back to Broadway after the war, Berlin felt that the rules of the game had changed, though his ability to adapt became brilliantly clear with the success of his first musical of the post - war period, ANNIE GET YOUR GUN (see Happy Talk, Vol. 3, No. 2). Still, with the trajectory of success that followed, LOUISIANA PURCHASE eventually became overlooked.
In fact, despite its impressive track record, it was not seen or heard in New York for more than half a century. That is, until June of this year when, for six performances at Weill Recital Hall, Carnegie Hall presented LOUISIANA PURCHASE in concert form, under the musical direction of Rob Fisher. Critics who rediscovered LOUISIANA PURCHASE on 57th Street were happy to trumpet their find, singling out the Berlin score for special praise.
In his rave (* * * * out of 4) review for USA Today, David Patrick Stearns called the score ""highly sophisticated Berlin, full of big - band jazz and tight vocal harmonies."" Lawrence van Gelder in the New York Times said the Berlin score ""offers plenty of music to keep the toes tapping,"" and the Hollywood Reporter's Robert Osborne said that ""Berlin's score is one of his best, with no fewer than seven showstoppers.""
In Billboard, Irv Lichtman elaborated: ""The swing era was in full flower when the show was written, and Berlin and his collaborators, particularly orchestrator Robert Russell Bennett, endowed the score with a swinging sound that is as much Glenn Miller et. al. as it is Shubert Alley.""
Berlin's score was set to a Morrie Ryskind book shot through with electrical sparks of humor derived from timeless political shenanigans. ""It is a sly political satire,"" noted John Simon in New York Magazine, ""a genre missing today, when we could use it more than ever."" While several critics speculated that it may have been the topical story which kept LOUISIANA PURCHASE from transcending its era, van Gelder in the New York Times dismissed that theory when he gave his readers a taste of the bribery - and - blackmail story - line and then asked rhetorically, ""Does the South still produce corrupt Democratic politicians and business men? Are there still Republican Senators eager to expose them to further their Presidential ambitions? Is sex still a weapon in these wars?""
The wistful truth to the mystery of this musical's neglect for half a century may be in the wealth of great material that surrounded, and possibly obscured, it in the brilliance of Broadway's golden era. There is no doubt, however, that LOUISIANA PURCHASE was always cherished by its authors, and their peers. In her book, Irving Berlin: A Daughter's Memoir, Mary Ellin Barrett quotes her father as saying, ""Without seeming immodest, I think I have the best collection of songs [in LOUISIANA PURCHASE] I've had in a long time,"" and his close friend and colleague Ira Gershwin once said, ""When Berlin was at the top of his form, as he was in LOUISIANA PURCHASE, there was no one greater.""
Following the six performances at Weill Recital Hall, an edited version of the Carnegie Hall concert version of LOUISIANA PURCHASE, hosted by Tyne Daly, was produced by Public Radio International and syndicated nationally.
A cast album was recorded in July for a November release (see sidebar), a songbook is being compiled by the Irving Berlin Music Company, and - for the very first time - LOUISIANA PURCHASE is now available for theatrical performances. See FOR YOUR NEXT SHOW...VOTE BERLIN!."
You must log in before you can post comments. You can login
here
.