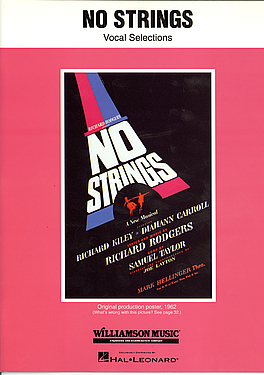 For The Record
THE WOMAN IN WHITE (EMI/Angel), with its score by Andrew Lloyd Webber and David Zippel, looks to be haunting London s Palace Theatre for years to come, with a Broadway opening slated for November 2005; the original cast album, recorded live, features stars Maria Friedman and Michael Crawford ...(Mavens will recall another cast album near and dear to us here at R&H that was also recorded live at London s Palace Theatre - the 1980 revival of OKLAHOMA! directed by James Hammerstein)...THE WOMAN IN WHITE s soaring love ballad, I Believe My Heart, hit the UK charts late last year, sung by recording stars Keedie and Duncan James.
Both spine-tingling and swashbuckling, the new recording of THE NEW MOON (Ghostlight Records) has been called one of the year s most valuable theater recordings by Broadway.com, and features members of the Encores! concert cast, including Rodney Gilfry, Brandon Jovanovich and Christiane Noll under the baton of maestro Rob Fisher.
The soundtrack for SHALL WE DANCE? (Casablanca) features a Latin-flavored spin on the R&H standard that is also the film s title song, while the soundtrack for BEYOND THE SEA (Rhino) spotlights Kevin Spacey as Bobby Darin crooning Hello, Young Lovers, Artificial Flowers and other Darin classics...Doing some crooning of his own, Regis Philbin can be heard on his new album, WHEN YOU RE SMILING (Hollywood Records) covering Cheek to Cheek, and What ll I Do? ...TONY BENNETT: COMPLETE IMPROV RECORDINGS (Concord Records) boasts a cornucopia of Bennett gems, including his legendary 1973 sessions devoted to Rodgers & Hart.
Ann Hampton Callaway's new CD, SLOW (Shanachie) features standards and Ann-dards (her coinage), including Tonight You're All Mine, written - and performed with - Carole King.
First there was NO STRINGS (the original Broadway cast recording of Richard Rodgers 1962 musical, recently reissued by DRG), followed by the original London cast album (just issued on CD for the first time by Must Close Saturday Records), then NO STRINGS WITH STRINGS (with Ralph Burns sensational arrangements, also recently reissued by DRG)...Now comes a reissue from Collectable, RICHARD RODGERS NO STRINGS: AN AFTER THEATRE VERSION, first released by Atlantic Records in 1962, and featuring covers by LaVern Baker, Chris Connor, Herbie Mann and Bobby Short.
And finally, in the What me worry? category of long-awaited CD issues, we have THE MAD SHOW (DRG), the 1966 Off-Broadway musical based on the mad, mad, mad, mad world of Mad Magazine, with music by Mary Rodgers (who has scribed irreverently hysterical new liner notes for the CD) and lyrics by a quartet of witty wordmen, including the supremely talented, if elusive, Esteban Ria Nido.
You must log in before you can post comments. You can login
here
.