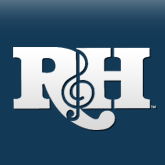 For The Record
" had said ""there's hardly a more splendid sound to be heard on a West End stage"" than Elaine Paige's Act II reprise of ""Hello, Young Lovers"" in THE KING AND I...That rendition, along with the rest of the R&H score and including the first full-length, cast album recording of ""The Small House of Uncle Thomas"" ballet, can be heard in the '00 London cast recording, newly released from WEA on the Warners label, starring Paige, Jason Scott Lee as The King, Taewon Yi Kim as Lady Thiang, Sean Ghazi as Lun Tha and Aura Deva as Tuptim.Classic recordings are being newly remastered and reissued this season, with recent releases from Decca Broadway including the original cast albums of OKLAHOMA!, CAROUSEL, THE KING AND I and ANNIE GET YOUR GUN, while Columbia Masterworks reissued the '62 studio recording of SHOW BOAT.
Encore, Reprise: As musical buffs know, Reprise Records ran an ambitious series of albums in the '50s and '60s that featured scores of Broadway shows with all-star cover versions under the banner, ""Reprise Musical Repertory Theatre""; this Christmas, Reprise will issue a special 4-CD boxed set containing their albums for GUYS AND DOLLS, KISS ME KATE, FINIAN'S RAINBOW and SOUTH PACIFIC...Frank Sinatra conceived and produced the SOUTH PACIFIC album, which includes his take on ""Some Enchanted Evening,"" along with such highlights as ""Younger Than Springtime"" (Bing Crosby), ""Happy Talk"" (Debbie Reynolds), ""Honey Bun"" (Dinah Shore), ""Dites Moi"" (The McGuire Sisters) and ""You've Got To Be Carefully Taught"" (Sammy Davis, Jr.)
Jun is busting out all over: Rose Marie Jun was the singer of choice when top musical theatre writers of the '50s and '60s wanted to make demo versions of potential hits from their latest musicals-in-progress... Hence, she became the first singer aside from the creators themselves to warble a few diamonds-in-the-rough by Rodgers & Hammerstein, Lerner & Loewe, Frank Loesser, Jerry Herman and Cy Coleman... Now a new series, BROADWAY'S FIRST TAKE (Slider Stage) is preserving these demos on CD, giving the listener a chance to hear the songs exactly as the writers wrote them...Vol. I featured HELLO, DOLLY!, GIGI and HOW TO SUCCEED..., while Vol. II, released in September, covers LA CAGE AUX FOLLES, PROMISES, PROMISES and FLOWER DRUM SONG... Joining Jun on the FLOWER DRUM demos is Jack Carroll, who performs ""My Best Love"" (eventually cut from the score); also heard is composer Richard Rodgers, with a piano solo for ""Sunday""...Future shows in the series will include THE SOUND OF MUSIC, NO STRINGS and DO I HEAR A WALTZ? (For more visit www.towncrierrecordings.com/slider/bway.htm)
Happy Holidays: The Boston-based singing duo of Benjamin Sears and Bradford Conner, who specialize in unearthing musical rarities, have just released a live album, REST YOU MERRY (Oakton Records), featuring Rodgers & Hammerstein's ""Happy Christmas Little Friend"" (written as the official Christmas Seals song of 1952), and Irving Berlin's ""Happy Holiday,"" ""Santa Claus: A Syncopated Christmas Song,"" ""Christmastime Seems Years and Years Away"" (written with Ted Snyder), ""Snow,"" and ""White Christmas""...The Berlin-Snyder song dates from 1909 while ""Santa Claus,"" written for the Sunday magazine supplement of the New York World in 1916, was considered lost until Sears and Conner unearthed a copy 80 years later; this CD represents its recording premiere.
Maureen McGovern's newest album, WITH A SONG IN MY HEART: THE GREAT SONGS OF RICHARD RODGERS (Readers Digest Music), also featuring Skitch Henderson and the New York Pops, includes ""Lover,"" ""t Never Entered My Mind,"" ""I Didn't Know What Time It Was,"" ""This Nearly Was Mine,"" and ""Hello, Young Lovers,"" among others ...K. T. Sullivan's latest is also an all-Rodgers set; THE SWEETEST SOUNDS (DRG) covers ""You Are Too Beautiful,"" ""I Do Not Know A Day I Did Not Love You,"" ""This Can't Be Love,"" and ""Love, Look Away""...Bucking the trend, Eric Comstock devotes his new album, ALL HART (Sin-Drome), to the lyrics of Lorenz Hart... Vocalists Marilyn Horne and Robert White are joined by renowned musician Dick Hyman for BERLIN LIEDER (Shell Castle), featuring such standards as ""Let's Face the Music and Dance,"" :""Puttin' on the Ritz,"" ""All Alone,"" ""Always"" and ""White Christmas.""
Other artists singing songs from our catalogues include Barbra Streisand (""Something Wonderful,"" ""Memory,"" and ""Lover, Come Back To Me"" on her new concert album, TIMELESS; Sony)...Linda Ronstadt (""White Christmas,"" A Merry Little Christmas; Elektra)...Bebe Neuwirth (""I've Got My Love to Keep Me Warm"" from the NBC holiday CD; NBC/ Walmart)... Betty Buckley (You're Nearer,"" ""My Funny Valentine,"" ""How Deep is the Ocean"" on HEART TO HEART; KO Records)...and Audra McDonald (""Was That You?"", ""When Did I Fall in Love?"" and the title track from HOW GLORY GOES; Nonesuch)... Finally, on a Decca Broadway reissue Carol Burnett can be heard in a 1960 album, CAROL BURNETT REMEMBERS HOW THEY STOPPED THE SHOW, putting her unmistakable stamp on ""Johnny One Note,"" ""I Cain't Say No,"" and ""Ten Cents a Dance.""
"
You must log in before you can post comments. You can login
here
.