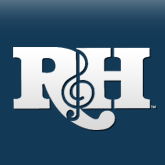 For The Record
"
Among the newest cast albums on the market this Fall are two cherished classics: the 1949 original Broadway cast recording of SOUTH PACIFIC starring Mary Martin and Ezio Pinza, and the 1959 original Broadway cast recording of THE SOUND OF MUSIC starring Martin and Theodore Bikel, both lovingly remastered and restored by Sony Classical/Columbia/Legacy with bonus tracks (supplanting each album's 93 reissue) and all new packaging...The latest SOUND OF MUSIC recording (RCA Victor) stars Rebecca Luker, Michael Siberry, Patti Cohenour and other members of the 98 Tony-nominated production... Luker can also be heard on the Encores! cast recording of THE BOYS FROM SYRACUSE (DRG), recently awarded the ""Indie"" (presented by the Association for Independent Music, the trade organization of independent record labels) for 1998's Best Original Cast Album.
R&H, Berlin and several other Williamson writers are featured prominently in two compilation albums just released: ULTIMATE BROADWAY (Arista), part of an ongoing series masterminded by Arista President Clive Davis, features original cast excerpts from some of Broadway's greatest show albums, beginning with Alfred Drake leading his company in the spirited title song from OKLAHOMA! and also John Raitt and Jan Clayton's ""If I Loved You,"" Merman's ""There's No Business Like Show Business,"" Pinza's ""Some Enchanted Evening,"" Gertrude Lawrence's ""Getting To Know You,"" Mary Martin's rendition of the title song from THE SOUND OF MUSIC, Zero Mostel's ""If I Were a Rich Man"" and Elaine Paige's memorable ""Memory"" from CATS...Epic Records has just released MY LITTLE BROADWAY, featuring original cast excerpts primed for little ears, including ""Do-Re-Mi,"" ""I Whistle a Happy Tune,"" ""Impossible,"" and ""Sunrise, Sunset.""
There is power in numbers, so leading the way among world-class vocalists doing covers of our songs this Fall are ""The Three Tenors"" Jos Carreras, Placido Domingo and Luciano Pavarotti whose 98 Summer Concert at the height of World Cup frenzy in Paris yielded a single of that old soccer anthem, ""You'll Never Walk Alone"" which landed on the European charts in July, and is also featured on the complete concert album released in August (from Decca)...Neil Diamond sings ""Puttin' on the Ritz"" and ""Can't Help Falling in Love"" on AS TIME GOES BY (Sony)... Lou Rawls features ""Blue Skies"" on SEASONS 4 U (Rawls & Brokaw Records)...Tom Andersen offers a Berlin rarity, ""Reaching for the Moon,"" plus an R&H standard, ""People Will Say We're in Love"" on THE JOURNEY (Other Music)...Lorna Dallas' THE GIRL I KNEW: THE MUSIC OF NOVELLO & KERN (Harbinger) features such Hammerstein-penned gems as ""All The Things You Are,"" ""In the Heart of the Dark,"" and ""You Are Love""...Christiane Noll's debut album, a broadway love story (Varse Sarabande) includes ""You're Just in Love,"" ""Tonight at Eight"" and ""The Next Time It Happens""... Direct from her triumph Off-Broadway as Dinah Washington, Yvette Freeman gives us ""How Deep is the Ocean?"" (A TRIBUTE TO DINAH WASHINGTON, Lambie Music)...And finally, tis the Season: new covers of ""White Christmas"" include Etta James (TWELVE SONGS OF CHRISTMAS, Windham Hill), Kenny Loggins (DECEMBER, Sony) and country crooner Martina McBride (WHITE CHRISTMAS, RCA/Nashville).
Heating up the jazz world: ""You Took Advantage of Me"" from Rob McConnell and the Boss Brass (TWO ORIGINALS, Verve)...Cyrus Chestnut's ""My Favorite Things"" (CYRUS CHESTNUT, Atlantic)... Joshua Redman's ""It Might as Well Be Spring,"" and ""How Deep is the Ocean?"" (CENTURY SONGBOOK, Warner Bros.)... Kurt Elling's ""The Best Things Happen While You're Dancing"" (Blue Note)...and Sphere's instrumental ""The Surrey with the Fringe on Top"" from its self-titled album (Verve).
Updates on two of the theater's most gifted and original vocalists: three-time Tony winner Audra McDonald's debut album, WAY BACK TO PARADISE (Nonesuch, September) features songs by a new generation of composers and lyricists, including our own Ricky Ian Gordon, Adam Guettel and Lindy Robbins...Mandy Patinkin's MAMALOSHEN (Nonesuch), featuring Yiddish renditions of Berlin's ""White Christmas"" and ""God Bless America,"" has gained renewed interest since Patinkin's sold-out concert performances of the album's material at a former synagogue on Manhattan's Lower East Side last Summer, followed by a Broadway run this Fall.
"
You must log in before you can post comments. You can login
here
.