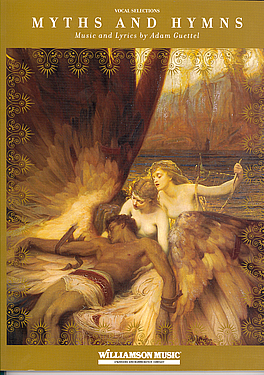 For The Record
"
Sharpshooter Annie Oakley hits her targets in the new 1999 Broadway cast recording of Irving Berlin's ANNIE GET YOUR GUN (Angel), starring Bernadette Peters and Tom Wopat, produced for records by John McDaniel and Stephen Ferrera...
Another Berlin score, that of his 1933 revue AS THOUSANDS CHEER (Varese Sarabande), can be heard in its first cast album format courtesy of the Drama Dept.'s recent Off-Broadway revival and featuring that production's Kevin Chamberlin, Judy Kuhn, Howard McGillin, Paula Newsome, Mary Beth Peil and B.D. Wong, delivering such vintage Berlin gems as ""Heat Wave,"" ""Lonely Heart,"" ""Easter Parade"" and ""Supper Time.""
Sony Classical/Columbia/ Legacy has been earning high kudos among musical mavens for its bonus-track-laden reissues of classic Broadway cast albums... Now the label has earned a prize, too: a 1999 special Drama Desk Award in recognition of its new series of old masters...
From our catalogue, Sony reissued the original cast albums of THE SOUND OF MUSIC and SOUTH PACIFIC in fall '98, FLOWER DRUM SONG and CINDERELLA (starring Julie Andrews) this spring... Upcoming later this summer: SHOW BOAT (studio cast, with John Raitt, Barbara Cook and William Warfield), OKLAHOMA! (studio cast with Florence Henderson, John Raitt and Phyllis Newman), and ANNIE GET YOUR GUN (studio cast with Doris Day and Robert Goulet).
Other noteworthy recent releases from our writers include: IRVING BERLIN IN HOLLYWOOD, an eclectic compilation culled from vintage movie soundtracks (Rhino)...The 1999 soundtrack recording of THE KING AND I featuring the voices of Martin Vidnovic and Christiane Noll, with a cameo by Barbra Streisand and some delightful CD-Plus visual extras (Sony)...The '98 award-winning London revival of OKLAHOMA! (Relativity/First Night Records)...The Broadway cast recording of FOOTLOOSE (Q Records)...and MYTHS & HYMNS, written by, and featuring, Adam Guettel (Nonesuch).
Among the artists giving our covers a new spin this summer are Harry Connick Jr. with ""Change Partners,"" and ""There's No Business Like Show Business"" (COME BY ME; Sony)... Barbara Cook with ""A Wonderful Guy,"" ""[He] Loves Me,"" ""The Very Next Man,"" ""Vanilla Ice Cream"" and others (ALL I ASK OF YOU; DRG)... Fred Hersch playing ""Let Yourself Go"" (LET YOURSELF GO: FRED HERSCH AT JORDAN HALL; Nonesuch)...Patti LuPone performing three songs by John Bucchino (""Unexpressed,"" ""This Moment"" and ""Playbill""), along with Rodgers & Hammerstein standards, on her new album, MATTERS OF THE HEART... Catherine Dupuis and her jazz combo with ""Let's Face the Music and Dance,"" ""My Romance,"" ""I Could Write a Book,"" and ""My Favorite Things"" (I HEAR MUSIC; jbQ Records) ...Robert Clary singing various Berlin standards, including ""How Deep is the Ocean?"" and ""How About Me?"" (ROBERT CLARY SINGS IRVING BERLIN & YIP HARBURG; Original Cast Records)... and Etta James' ""Say It Isn't So"" (HEART OF A WOMAN; Windham Hill).
A compilation album to benefit the ""Save American Treasures"" campaign, SING AMERICA (Warner Bros.) features LeAnn Rimes' ""God Bless America"" and Elvis himself, with ""If I Can Dream""... Later this summer, Paul McCartney's newest album for EMI-Capitol will rock 'n' roll to several Presley classics, including ""I Got Stung,"" ""Party,"" and ""Ready Teddy.""
"
You must log in before you can post comments. You can login
here
.