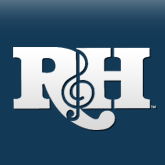 For The Record
"
The hit Royal National Theatre production of OKLAHOMA! leads our charge of new recordings... Produced by Grammy Award winner David Caddick, and released in mid-January, this recording from First Night Records features the original '98 London cast including Hugh Jackman (Curly), Josefina Gabrielle (Laurey), Maureen Lipman (Aunt Eller) and Shuler Hensley (Jud Fry)...
Also in January: the Original Broadway Cast recording of FOOTLOOSE, from QVC's own label, Q Records... Coming from Varse Sarabande in February: the '98 New York cast recording of Irving Berlin's AS THOUSANDS CHEER (See Happy Talk, previous issue)...And from Sony Classical in March: the motion picture soundtrack of the new animated version of THE KING AND I, featuring the voices of Martin Vidnovic as The King and Christiane Noll as Anna, accompanied by the 90-piece London Philharmonia Orchestra...
From the oldies-but-goodies dept. comes the roll-out of original Broadway cast albums from Sony Classical/Columbia/Legacy, lovingly restored, remastered and repackaged with bonus tracks; SOUTH PACIFIC and THE SOUND OF MUSIC were reissued in the fall, with spring releases to include FLOWER DRUM SONG and the '57 TV cast of CINDERELLA starring Julie Andrews...AEI Records is working on a late spring release for Rodgers & Hart's JUMBO, culled from Texaco Hour radio broadcasts beamed live from the ring of the New York Hippodrome in 1935 and featuring the entire original cast, headed by Jimmy Durante and the Paul Whiteman Orchestra...
RCA Victor's modestly monikered THE ONLY BROADWAY CD YOU'LL EVER NEED features 20 of Broadway's greatest numbers ever recorded, including ""There's No Business Like Show Business,"" ""You'll Never Walk Alone,"" ""Oh, What a Beautiful Mornin',"" ""Ol' Man River,"" ""If I Were a Rich Man,"" and ""Shall We Dance?""...From Broadway to Hollywood: In February, Rhino Records will release IRVING BERLIN IN HOLLYWOOD, mixing standards with a few breathtaking rarities, drawn from the soundtracks of Berlin's greatest films, including EASTER PARADE, CALL ME MADAM, TOP HAT and ALEXANDER'S RAGTIME BAND, with the voices of such Hollywood luminaries as Fred Astaire, Eddie Cantor, Al Jolson, Judy Garland and Marilyn Monroe...
Dory Previn fans take note: Several of this extraordinary artist's albums have been remastered, repackaged with new liner notes, and reissued through the BGO label, including twin-packed sets of ON MY WAY TO WHERE and MARY C. BROWN AND THE HOLLYWOOD SIGN; MYTHICAL KINGS AND IGUANAS and REFLECTIONS IN A MUD PUDDLE; and a double-CD of DORY PREVIN AT CARNEGIE HALL, recorded live in 1973...Previn can also be heard singing her own ballad, ""Brando,"" on the new compilation, WOMEN AND SONGS (Warner Bros.)...
Among the musicians celebrating our songs on their latest albums are: jazz vocalist Kevin Mahagony with the title track of MY ROMANCE (Warner Bros.)...Helen Reddy covering ""You're Just in Love"" and ""Love, Look Away"" (CENTER STAGE; Varse Sarabande)...Bette Midler rockin' with ""One Monkey Don't Stop No Show"" (BATHHOUSE BETTY; Warner Bros)... Julio Iglesias with ""Can't Help Falling in Love"" (MY LIFE: THE GREATEST HITS; Sony)...Vanilla Fudge doing a take on ""Hound Dog"" (THE BEAT GOES ON; Sundazed Music)...Ron Raines with ""It's a Grand Night for Singing,"" ""Oh, What a Beautiful Mornin',"" ""My Defenses are Down,"" ""Soliloquy"" and ""This Nearly Was Mine"" on BROADWAY PASSION (JAY)...Anne Kerry Ford giving equal time to Oscar Hammerstein II and his protg, Stephen Sondheim, on SOMETHING WONDERFUL (LML Music)...Sisters Kate and Anna McGarrigle pairing on ""What'll I Do?"" (THE McGARRIGLE HOUR; Hannibal)...and the inseparable Alice Ripley and Emily Skinner, featuring ""If We Never Meet Again"" from RAGS and Irving Berlin's ""Sisters"" on their debut duo album, DUETS (Varse Sarabande).
From left to right: Joshua Logan, Irving Berlin, Richard Rodgers, Oscar Hammerstein II, Dorothy Fields, Herbert Fields and seated, Ray Middleton and Ethel Merman, 1946.
"
You must log in before you can post comments. You can login
here
.