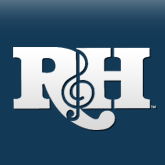 Favorite Things
"
SOUTH PACIFIC: For those not lucky enough to be at the one-night-only concert performance in June 2005, the Emmy Award-winning PBS Great Performances was broadcast in April 2006...For those who missed that, or just want to relive it again and again, there is the new DVD from Rhino of SOUTH PACIFIC IN CONCERT FROM CARNEGIE HALL starring Reba McEntire, Brian Stokes Mitchell and Alec Baldwin...""If the prospect of seeing Alec Baldwin bumping and grinding in a grass skirt and coconut bra isn't enough to entice you,"" wrote Melissa Rose Bernardo in her review (A-) for Entertainment Weekly, ""rest assured that [this DVD] has plenty of other virtues...including a Rodgers & Hammerstein score that spawned more standards than any other.""
HOLIDAY INN: A deluxe new Special Edition of HOLIDAY INN is coming from Universal Studios Home Entertainment in October. The Yuletide classic stars Bing Crosby and Fred Astaire and boasts a sensational Irving Berlin score that includes ""Happy Holiday,"" ""Youre Easy to Dance With,"" ""Be Careful, It's My Heart"" and of course, Bing's immortal rendition of ""White Christmas"" (Academy Award-winning Best Song of 1942). The Special Edition features several new documentary featurettes, audio commentary and more. Visit www.universalstudioshomeentertainment.com.
FLOWER DRUM SONG: A hundred million miracles are happening every day...After years of pleas by hardcore fans of ""Chop Suey,"" ""Grant Avenue"" and ""I Enjoy Being a Girl,"" Universal Studios Home Entertainment has finally announced that this November it will release the first DVD edition of Ross Hunter's 1961 film version of FLOWER DRUM SONG...With a digitally remastered picture and 5.1 Surround Sound for the film, the disc also contains several bonus extras, including interviews with FLOWER DRUM film and stage alumnae Nancy Kwan, Patrick Adiarte and Pat Suzuki, as well as David Henry Hwang (author of the Tony-nominated book for the 2002 Broadway production) and R&H Organization's Ted Chapin and Bruce Pomahac...For more, visit www.universalstudioshomeentertainment.com.
A year ago, Twentieth Century Fox Home Entertainment released special DVD editions of THE SOUND OF MUSIC, OKLAHOMA! and STATE FAIR. This November, Fox will release three more titles in their R&H Collection. These, too, are newly-remastered, double-disc sets, crammed with extras as well as the singalong features that will make it awfully hard not to whistle a happy tune, have a real nice clambake, or wash that man right outa your hair...
CAROUSEL: For this 50th Anniversary DVD reissue of the Rodgers & Hammerstein classic starring Shirley Jones and Gordon MacRae, Fox has added a few brass rings to the carousel... The two-disc edition includes the feature film with audio commentary by Jones and Fox historian Nick Redman; a brand-new ""Making of"" documentary, TURNS ON THE CAROUSEL; rare footage of original Broadway stars John Raitt and Jan Clayton in the classic ""Bench Scene;"" and audio/stills recreations of two musical sequences cut from the film...As a bonus extra, viewers can also watch the haunting 1934 French film, LILIOM, based on the play that inspired CAROUSEL; this riveting version is directed by Fritz Lang and stars Charles Boyer as the tragic carnival barker.
THE KING AND I: Fox has given this 50th Anniversary DVD release the royal treatment...The lavish Yul Brynner/ Deborah Kerr masterpiece has been remastered and features audio commentary from film historian Richard Barrios and Theatermania editor Michael Portantiere... The second disc is crowded with new featurettes, including SOMETHNG WONDERFUL: THE STORY OF THE KING AND I; audio/stills recreations of a song cut from the film (""Shall I Tell You What I Think of You?""); TV performance footage of Brynner and Broadway star Patricia Morison; and even the pilot episode from the 1972 TV series, Anna and the King, with new audio commentary from Anna herselfSamantha Eggar.
SOUTH PACIFIC: The Mitzi Gaynor/Rossano Brazzi romance has been remastered for this new two-disc DVD release and features audio commentary from our own Ted Chapin and R&H movie maven (and FORBIDDEN BROADWAY concocter) Gerard Alessandrini...Richard Barrios provides audio commentary on the slightly longer ""road show"" edition of the film, which is offered here as a bonus...Also includedpriceless footage of original Broadway stars Mary Martin and Ezio Pinza in their only SOUTH PACIFIC performance to be captured on film, several MovieTone segments and a deeply moving 1983 segment from CBS' 60 MINUTES, in which correspondent Diane Sawyer takes James Michener himself back to the South Pacific to revisit the locales and search for the people he immortalized in his landmark novel that inspired the R&H musical.
THE RODGERS & HAMMERSTEIN COLLECTION: Just in time for Christmas, Fox has bundled all six of its R&H movie classics into one 12-disc box set...It is sure to keep the devoted viewer captivated from beautiful morning to enchanted evening and every hour in between. (For more: www.foxhome.com)...Mavens and serious collectors will want to know about a special international version of this 12-disc set...Released in over a dozen countries so far, it features all six movies in a special case that fits into its own sleek slipcover, but can also fold out to form a circular display with dye-cut dioramas for each of the movies; manufactured for DVD players that can screen Region 2 discs, it can be purchased at international DVD websites, such as Britain's www.amazon.co.uk.
"
You must log in before you can post comments. You can login
here
.