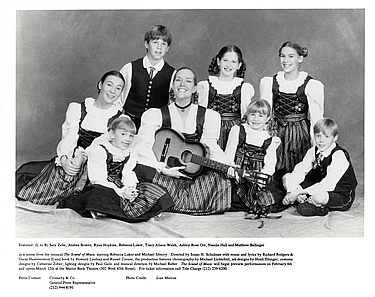 Director Susan H. Shulman Guides The Sound Of Music Back To Broadway
"
In February, THE SOUND OF MUSIC will return in its first-ever Broadway revival, directed by Susan H. Schulman, whose roster includes THE BOYS FROM SYRACUSE at Encores! as well as such notable pro-ductions as THE SECRET GARDEN on Broadway, VIOLET Off-Broadway, SWEENEY TODD at the York Theatre and Broadway, and MERRILY WE ROLL ALONG at the York. In late November, just weeks before THE SOUND OF MUSIC went into rehearsal, Schulman took time out for a talk with Happy Talk. (For more on this production, see accompanying article).
HT: This is a musical that everyone knows, and yet it hasn't been seen on Broadway in over 30 years. You must have had preconceptions before you ever directed it.
SS: It does carry a stigma of sorts, that it's syrupy, sugary, that it doesn't have any weight. But as I discovered it, I learned that the stage version is actually far grittier than the movie. There's real drama there. But it's also a grand romance, set in very troubled, very difficult times - which is the best way to have a romance.
HT: And that dichotomy is in the story?
SS: It's all there, and for the most part it's all true. You have this beautiful world - this magnificent place, really - God's magnificent creation, and it's teetering on the edge of destruction. What an unbelievable metaphor, and the authors knew how to use it, how to keep their characters in the shadows of those huge mountains, those incredible Alps. They are at one moment the most beautiful things you have ever seen, and then the next moment forbidding. As I began to work on the show, I fell in love with it. It has pure heart. It's about people who walk in a complicated world, but walk in an uncomplicated way. They love God, and each other, and they love their country. And when this love is challenged, they meet that challenge with courage and sacrifice. It's a great story to reveal - totally and completely timeless.
HT: It's a great story that also happens to be true.
SS: Absolutely. And I like to do a lot of research because it gives you a solid ground on which to place all this. Some of what I learned was amazing; for instance, I know the authors were very interested in portraying the Nuns not just as people who walk around praying, but as having full, active lives, and visiting the Nuns at Nonnberg Abbey really helped me see that.
HT: You went to Nonnberg Abbey?
SS: I did! Last summer Heidi [Ettinger, the set designer] and I went to Salzburg for a few weeks, and had an incredible time. [Costume designer Catherine Zuber followed in the fall.] Through a mutual friend, Julie Andrews gave me a list of places to be sure and see - and we visited every site that Julie recommended, including the Parish Church of Mondsee, where they filmed the wedding scene, and that famous place outside Salzburg where all the opening shots were filmed, right up into the Alps. Through the help of a local guide we were able to visit people in their houses, get a sense of how they lived, learn about their lives. It was summertime and we quickly noticed that everywhere we went, everything was done outdoors - if we were invited for tea at someone's house, it was served on the verandah - and Heidi made sure to work that into her designs...And of course, wherever we turned there were those mountains.
HT: And the Abbey?
SS: It's very difficult to visit the inner sanctum, but we managed. I was able to speak on the phone with Sister Perpetua, who is the Abbey's liaison with the outside world. She knew why I was there and that I was working on THE SOUND OF MUSIC, and she asked me - in flawless English, naturally: ""Why do you want to talk to us?"" And I said, ""I would like to portray you in an accurate way, in a way that you would be proud of. And I can't do that unless I speak to you."" And she said, ""Be here tomorrow morning at 9:30."" The information I got there was so wonderful, so inspiring. I learned about their lives inside the Abbey, about the Benedictine Order, what their vows are and what they mean. I learned what music means to them, what work means to them. The Nuns work very, very hard. Nonnberg Abbey is the most prestigious Roman Catholic Convent in the German-speaking world, it's been around since 741, and it needs, to put it mildly, a lot of upkeep. So the Sisters earn their keep! They're farmers, and potters - the Nuns at Nonnberg are known for their pottery, and for their work in restoring the Abbey. They also have special work habits for chores and outdoor activities that are different from the more traditional robes we're used to, that are used strictly for prayer, and for Vespers.
HT: Did any of the Nuns know Maria?
SS: I was introduced to Sister Dolores. She is 87 years old, and she served at the Abbey while Maria was there...
HT: As a postulant?
SS: No, Maria never actually was a postulant. She was a teacher at the school before she became a Governess to the von Trapp children. Sister Dolores had some amazing, old sepia-toned photos. There were pictures of Maria, of her life at the Abbey and the wedding, and they prompted some great stories. She told us that Maria really did go out to the mountains with her guitar, that she would always take a lot of the postulants with her, they would stay out far too late, and come back to get a scolding from the Mother Superior. All of that was absolutely true! The darker side of the story, what I earlier called the grit, was also true. For instance, that von Trapp's opposition to the Germans was, sadly, a minority view. Even today, many of the people we met in Salzburg viewed the Anschluss [the Nazi invasion and subsequent annexation of Austria] as a necessary evil, a dire product of its time. And we learned that at the time of the invasion, there was a lot of collusion between the Nazis and the rich and privileged class.
HT: ...The kind who would have considered Baroness Schraeder one of their own?
SS: Exactly. Which makes Georg that much more compelling as a character. In real life, and in my opinion, he truly was a hero. He was one of the few people who refused to fly the Nazi flag - even at enormous risk. He was fiercely independent in this way. He was a nationalist, he was an Austrian. So was Maria; they both believed in wearing the Austrian national costume, in perpetuating Austrian music and Austrian folk dance.
HT: Last question: When CAROUSEL and THE KING AND I were both recently staged on Broadway, many people felt as if they had ""rediscovered"" these musicals. Can that happen with THE SOUND OF MUSIC too?
SS: Obviously not in the same way. For one thing, and I have no trouble facing this fact, we've got a stage show that turned into the most popular movie musical ever. Everyone knows it practically by heart. It's a classic that's a part of our lives; people love it, and they love hearing the songs again, and they love reliving the story, they love welcoming those characters once again...
I don't want to reinvent THE SOUND OF MUSIC. I don't want to deconstruct it. I want to be able to present it as an homage to its past, and yet, when all is said and done, it's a show that plays to issues that are still current, and themes that are timeless. Ultimately, I guess, it's the show's popularity that makes THE SOUND OF MUSIC unique. It's one of those shows that has never been out of our lives, and yet it works today as fresh and as new as when it was written.
THE SOUND OF MUSIC begins performances at Broadway's Martin Beck Theater on February 6, 1998. For tickets and further information, call Tele-Charge at 212/239-6200; from outside metro New York at -800-432-7250.
"
You must log in before you can post comments. You can login
here
.