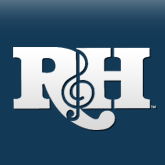 Centennial Summer
Though the Oscar Hammerstein II centennial culminates on his birthday, July 12, commemorations began earlier this year, with a PBS concert special in March and a tribute at the Players Club in New York in May, and are scheduled to continue into the fall with several more concert events, book and album reissues, and broadcast tributes. Hammerstein will be fted in our next issue, but for now:
SOME ENCHANTED EVENING
Taped before a live and enthusiastic audience at New York's City Center in January and broadcast in March on PBS, SOME ENCHANTED EVENING: CELEBRATING OSCAR HAMMERSTEIN II was a "Great Performances" salute that combined archival footage and interviews with stellar concert appearances. The all-star line-up included host Julie Andrews (singing "A Cock-eyed Optimist" and "Edelweiss"), Willie Nelson ("All the Things You Are"), Vanessa Williams ("Why Was I Born?"), Keith Carradine ("Oh, What a Beautiful Mornin'"), Bernadette Peters ("What's the Use of Wond'rin'?"), Dawn Upshaw ("The Last Time I Saw Paris"), Mandy Patinkin ("Bali Ha'i"), Patti LaBelle ("You've Got To Be Carefully Taught" and, joined by the 150-member New York City Gay Men's Chorus, "You'll Never Walk Alone"), Peabo Bryson and Audra McDonald in an operetta medley, and musical sequences from this season's Broadway productions of CAROUSEL and SHOW BOAT. Directed by Matthew Diamond and produced by JoAnn Young and John Walker, SOME ENCHANTED EVENING interspersed the musical numbers and footage with insight from SHOW BOAT director Harold Prince, Hammerstein's protege Stephen Sondheim, and Hammerstein's son James, who took viewers on a tour of Highland Farms, the former Hammerstein home in Doylestown, Pennsylvania.
TV critics, applauding the special for its quality and entertainment value, came away with renewed respect for Hammerstein as well. "His breakthroughs in narrative lyric-writing may seem like throwbacks until you actually hear them again," said Matt Roush in USA Today. "They don't just stand up. Little else measures up."
SOME ENCHANTED EVENING is scheduled for re-broadcast later this year; check your local PBS affiliate for information.
HAMMERSTEIN CELEBRATED AT THE MUSEUM OF THE CITY OF NEW YORK
The Museum of the City of New York, with its commitment to the preservation of New York City history and its extensive Theatre Collection, was a natural venue for a Hammerstein symposium held there on April 8.
THE HAMMERSTEINS OF NEW YORK:
150 YEARS OF AMERICAN MUSICAL THEATER began with Oscar Andrew Hammerstein's slide lecture on his great-great-grandfather, the opera impresario, theatre builder and dynasty founder, Oscar Hammerstein. A panel discussion, "Getting To Know Oscar Hammerstein II" was moderated by R&H Organization President Ted Chapin, and included James Hammerstein, Hugh Fordin (author of the Hammerstein biography, GETTING TO KNOW HIM, to be republished by Da Capo Press in September), veteran actor Max Showalter (who counts VERY WARM FOR MAY and the '46 revival of SHOW BOAT among his many credits) and Elaine Steinbeck, stage manager on the original production of OKLAHOMA! in 1943 and, with her husband John Steinbeck, a close friend of Oscar and Dorothy Hammerstein's. THE HAMMERSTEINS OF NEW YORK concluded with a recital of Hammerstein songs featuring graduate students from The Juilliard School's department of vocal arts.
Throughout the summer the Museum has also scheduled a series of Hammerstein documentary screenings: RODGERS & HAMMERSTEIN - THE SOUND OF AMERICAN MUSIC on May 27, SOME ENCHANTED EVENING (see above) on July 29, and SHOW BOAT - JOURNEY OF AN EPIC MUSICAL on August 26. The Museum will also present a Hammerstein birthday concert at noon on July 12. For further information call 212/534-1672, x206.
HAMMERSTEIN SPECIAL ON NATIONAL PUBLIC RADIO
Jeff Lunden, whose 1993 NPR documentary on OKLAHOMA! earned him an award from the New York International Radio Festival, has prepared a two-hour special on Oscar Hammerstein II to be broadcast over the July 4th weekend (check local listings for further information.) Hosted by Susan Stamberg, SOMETHING WONDERFUL: A CELEBRATION OF OSCAR HAMMERSTEIN'S 100th BIRTHDAY will feature interviews with dozens of friends and colleagues including John Raitt, Celeste Holm, Pat Suzuki, Isabel Bigley, Yuriko, Bill Hayes, Joan Roberts, Stephen Sondheim, and Hammerstein's sons William and James. SOME ENCHANTED EVENING will also feature musical highlights from cast albums, soundtracks and other rare recordings. (Lunden has also prepared a Lorenz Hart tribute for NPR; see p.4).
"GRAND NIGHTS FOR SINGING" AT NEW YORK'S TOWN HALL
New York cabaret guru Donald Smith is marshalling his forces for a special summer-time edition of his popular Town Hall cabaret conventions. Beginning Monday, July 10, the three-night series, dubbed GRAND NIGHTS FOR SINGING, will culminate on July 12 with a special gala concert honoring Hammerstein. Artists scheduled to participate in the all-Hammerstein evening include Maureen McGovern, Elaine Stritch, Julie Wilson, Hildegarde, Celeste Holm, Jon Marshall Sharp, Phillip Officer, Barbara Carroll, Tom Andersen and Margaret Whiting. Call 212/980-3026 for further information.
CENTENNIAL SURVEY
Even without his 100th birthday 1995 would be a banner year for Oscar Hammerstein II. Within these twelve months he will have been represented professionally with SHOW BOAT and CAROUSEL on Broadway, SHOW BOAT in Toronto, Minneapolis, Vancouver, and announced for Chicago, U.S. national tours of STATE FAIR, THE SOUND OF MUSIC, and CAROUSEL, a pre-Broadway tour of THE KING AND I, a tour of CINDERELLA in the summer and a return of the New York City Opera production in November, U.K. tours of CARMEN JONES and OKLAHOMA!, Japanese productions of CAROUSEL, CINDERELLA and THE SOUND OF MUSIC, and such far-flung showcases as SOUTH PACIFIC in Chang Mai, Thailand, THE KING AND I in Covent Garden, London, SHOW BOAT in the Czech Republic and CAROUSEL in Harare, Zimbabwe.
As the Washington Post observed earlier this spring, "Hammerstein belongs to the world."
You must log in before you can post comments. You can login
here
.