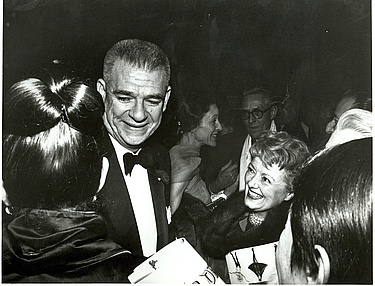 Celebrating 100 Years Of Oscar Hammerstein II
On July 12, 1895, Oscar Greely Clendenning Hammerstein was born in New York City.
On July 12, 1995, his centennial was celebrated on the stage of the highest grossing show on Broadway - his own SHOW BOAT.
Hammerstein fans began to gather in front of the Gershwin Theatre at 5:30 in the morning. By 10AM the line stretched around the corner. At 11AM, 1900 friends, fans and family were settled into the theatre for SOMETHING WONDERFUL, an hour-long salute open to the public, presented by The Rodgers & Hammerstein Organization in association with Livent (U.S.) Inc., and SHOW BOAT. The program began, appropriately, with Oscar Hammerstein's own words and in Oscar Hammerstein's own voice: "My own feelings about life are toward the optimistic and hopeful side," he was saying in a 1960 interview. "Surely there are things that are wrong, but then we must also admit that there are things that are right and beautiful and make it wonderful to be on earth. And this, if it isn't my mission, is at least one of my chief aims."
SOMETHING WONDERFUL was our own deeply-felt personal tribute to the man who co-founded this organization, and who did so much to shape and transform the musical theatre that we are proud to be part of. Produced by Bert Fink and hosted by Ted Chapin, with a cameo appearance by several of Hammerstein's children, SOMETHING WONDERFUL had the feeling and tone of a family affair. Based on the feedback we received, it was touching for both the participants and the audience, as we honored one of our guiding spirits with song, talk, humor and pathos.
Press coverage reflected this: "A delightful and enlightening interpolation of musical numbers, historic facts and tales from Hammerstein's life and career" (TheatreWeek); "a wonderful, compact tribute" (Variety); and, "this celebration, with its delightful performers, was made a pretty beautiful morning itself by Hammerstein's gift of language...from a pen which virtually sang" (New York Post).
"The set of SHOW BOAT provided the appropriate mood," reported TheatreWeek, "and a life-sized photo of Hammerstein personalized the celebration." That photo, reproduced here, stayed a fixture on stage, giving the impression that Hammerstein was on hand, watching the performance.
The line-up of talent included SHOW BOAT stars and special guest artists, with Chapin serving as guide. "From his earliest writings," noted Chapin in his opening remarks, "Hammerstein was making words say what he wanted to say, and in the most theatrically imaginative way possible. As he taught himself a craft he practically invented, he taught the rest of us what was possible in the musical theatre."
To illustrate this point Chapin read portions of the opening description from Lynn Riggs' play GREEN GROW THE LILACS while, off-stage, SHOW BOAT's Doug LaBrecque sang the opening lines of the song that Hammerstein drew out of Riggs' text: "Oh, What a Beautiful Mornin.'"
Then, in a moment quintessentially Hammerstein, LaBrecque strode out onto the upper deck of SHOW BOAT's "Cotton Blossom," singing "Mornin'" full out as the audience burst into applause.
Maureen McGovern performed the song most closely identified with Hammerstein's personal credo, "A Cockeyed Optimist"; Liz Callaway gave an exuberant "A Wonderful Guy"; Audra McDonald delivered the morning's title song, "Something Wonderful"; and, in last-minute heroics, Jonathan Dokuchitz stepped in on 24-hour notice to perform "All the Things You Are."
Among the stars from SHOW BOAT: Rebecca Luker sang a little-known Hammerstein and Kern ballad, "Can I Forget You?" from their 1937 movie, HIGH WIDE AND HANDSOME; Michel Bell gave a spirited rendition of "Stan' Up and Fight" from CARMEN JONES; and Dorothy Stanley and Joel Blum, SHOW BOAT's Frank and Ellie, paid homage to their kissin' cousins Ado Annie and Will Parker with a high-stepping "All Er Nothin'" from OKLAHOMA! Providing musical direction and accompaniment throughout were SHOW BOAT's conductor Eric Stern, and associate conductor Catherine Matejka.
The program ""managed briskly, briefly but surely to run the gamut of the Hammerstein heritage,"" according to Clive Barnes of the New York Post. Midway through, SHOW BOAT producer Garth H. Drabinsky gave remarks, noting that ""listening to the timeless lyrics of the many songs Oscar Hammerstein wrote, I continue to be amazed how with so few words he could touch so many hearts, move so many people.""
Chapin also shared letters of greeting from several notables. From Europe, SHOW BOAT director Hal Prince wrote that "It is to Oscar Hammerstein that I owe a huge debt of gratitude. His view of what musicals could be enabled me to make my life in the theater!" From Chicago, where performances of her new musical VICTOR/VICTORIA were starting that very night, Julie Andrews wrote, "I feel especially privileged to have known and worked with this gentle, lovely man...I can think of no greater pleasure on this very special day than to bask in those wonderful memories." And from The White House, President Clinton saluted Oscar Hammerstein for giving life "to some of America's finest and most enduring contributions to the performing arts. Everyone who has ever laughed, cried or sung along with his inspired work," wrote the President, "reveres the unique talent that made Hammerstein a legend in musical theater."
City Hall weighed in too, with a proclamation from New York Mayor Rudolph Giuliani declaring July 12, "Oscar Hammerstein Day." Schuyler Chapin, Commissioner of Cultural Affairs for New York City (and father to Ted Chapin), presented the Mayor's proclamation to three of Oscar Hammerstein's children - son William and daughters Alice and Susan. Echoing the curtain line of another great theatrical family, William Hammerstein thanked the crowd a la George M. Cohan - "My father thanks you, my mother thanks you, my sisters and brothers thank you, and I thank you..."
You must log in before you can post comments. You can login
here
.