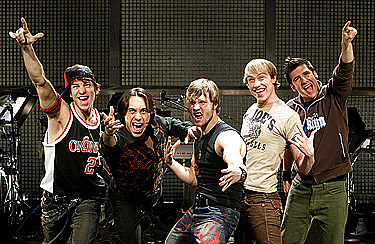 Calling All Altarholics!
"
Check out the #1 ALTAR BOYZ fan site: www.altarholics.com. Learn more about the show, bond with fellow ALTAR BOYZ fanatics and earn points for ALTAR BOYZ prizes. Keep an eye out for the R&H Theatricals licensing information, too, and bring this award-winning show to your town. The Boyz hit the road on tour this October, raising the praise in Chicago, Boston, Philadelphia, San Francisco, Los Angeles and many cities in between; licensing restrictions apply. Check out www.altarboyz.com for more details on their pilgrimage to spread ""Crunk"" across the globe! And tune into our website for the R&H Theatricals ALTAR BOYZ 411: www.rnhtheatricals.com.
"
You must log in before you can post comments. You can login
here
.