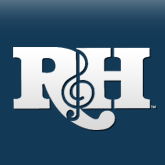 BY YOUR PUPILS YOU'LL BE TAUGHT: INTRODUCING THE GETTING TO KNOW... COLLECTION by Tom Briggs
"
Why should kids have to wait until high school to discover the magic of musical theater? After all, it is in elementary school that we learn to sing songs, to memorize rhymes and poems, to read and to draw. Throughout middle school and junior high, we increasingly take command of our powers of concentration while gaining an appreciation for the importance of teamwork and an understanding of community. We also gain an increasing sense of how to express ourselves. All of these developmental dynamics are encompassed in the musical theater process, making it a natural learning vehicle. And whats more, its great fun.
To better afford young people the opportunity to discover and explore the world of musical theater, The R&H Theatre Library is developing adaptations of classic musicals for pre-high school students. The GETTING TO KNOW... Collection (or ""G2K,"" as it has been dubbed) is
comprised of 50 to 70 minute versions of classic musicals adapted for presentation by grade, middle and junior high school students. To ensure that any enthusiastic teacher can produce a hit show, the comprehensive G2K materials include:
Musical arrangements transposed into keys that accommodate young voices;
CD recording of the complete orchestral score with vocals to assist your cast in learning the songs;
Cue-to-cue CD recording of the orchestral score and sound effects to which the musical can be performed (Piano-Vocal Scores also allow for its presentation with live piano accompaniment);
Directors Guide with comprehensive notes on: pre-production; working with a young cast and crew; performance space options; auditions and casting, including detailed character analyses; the rehearsal process; choreography and musical staging; scenery, props, costumes, lighting and sound suggestions; and a dictionary of theatrical terms;
""Guide to Musical Staging,"" a video demonstrating the choreography for the major musical numbers;
Study Guide, informed by the basic standards of education detailed in ""Content Knowledge: A Compendium of Standards and Benchmarks for K-12 Education,"" providing lesson plans in the areas of History, Language Arts, Behavioral Studies, Life Skills and The Arts.
We are proud to announce the first adaptation in the G2K series, GETTING TO KNOW...THE KING AND I. Adapted by Karen Oster, renowned for her work with youth theaters throughout the country, this adaptation retains the essential elements of the beloved original.
In 1862, Anna Leonowens journeys to Siam with her young son to teach the many children of King Mongkut. Her fascinating experiences form the basis for this timeless Rodgers & Hammerstein classic. THE KING AND I addresses such relevant themes as cultural bias and stereotypes, Eastern and Western philosophies, self-esteem, repression and strength of character. This richly textured musical features one of the theaters most dazzling and memorable scores. The songs retained in the G2K adaptation are ""I Whistle a Happy Tune,"" ""The March of the Siamese Children,"" ""A Puzzlement,"" ""The Royal Bangkok Academy,"" ""Getting to Know You,"" ""Something Wonderful,"" ""The Small House of Uncle Thomas,"" and ""Shall We Dance?"" The running time is approximately 70 minutes.
The musical staging demonstrated in the video ""Guide to Musical Staging"" was adapted from the original, award-winning Broadway choreography by the legendary Jerome Robbins. The video was shot in Birmingham, AL with students from the acclaimed SUMMERFEST Youth Musical Theatre Workshop, an organization with which adapter Karen Oster has a longstanding affiliation. This group was chosen for the video demonstration because they are not professional actors. These are kids whom teachers will recognize as being very much like their own students. The G2K Collection puts the emphasis on the enlightening values of the production process rather than the results of the production itself. By introducing young people to musical theater, you are not only developing their burgeoning talents but fostering their appreciation for musical theater and developing the audiences of tomorrow. As anyone who has ever been involved in a musical, onstage or off, will tell you, it is an exhilarating experience you never forget.
*
Materials for GETTING TO KNOW...THE KING AND I are available exclusively through Hal Leonard Corporation at 414-774-3630 or by visiting www.halleonard.com...Upcoming adaptations in the G2K Collection include Rodgers & Hammersteins CINDERELLA, and ONCE UPON A MATTRESS (based on Han Christian Andersens THE PRINCESS AND THE PEA) by Mary Rodgers, Marshall Barer, Jay Thompson and Dean Fuller.)
Photo caption -- Students from the Birmingham SUMMERFEST Youth Musical Theatre Workshop featured in the ""Guide to Musical Staging"" video for GETTING TO KNOW...THE KING AND I"
You must log in before you can post comments. You can login
here
.