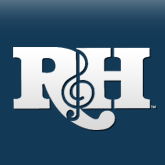 Buried Treasure
Editors Note: One Monday night in April, as I gave a talk at the New-York Historical Society about lesser-known Rodgers musicals, a talented trio of performers ended the lecture with a lively rendition of Intermission Talk from ME AND JULIET. Two weeks later, I heard Intermission Talk performed again, this time in context in the first New York staging of ME AND JULIET in at least 25 years. A week after that, I heard the song yet a third time, performed with great gusto by the Williamson Music songwriting duo of Jimmy Roberts and Joe DiPietro at an ASCAP tribute to Rodgers. Intermission Talk, three times in one month: what are the odds?
The week after I gave my talk at NYHS, R&H President Ted Chapin spoke on Rodgers in the post-Hammerstein years (1962-79), and as his performers sang from TWO BY TWO, ANDROCLES AND THE LION and REX among others, it dawned on me that later in the week, I was scheduled to see in nightly succession productions of TWO BY TWO, ANDROCLES, and REX.
It was just that kind of spring for Richard Rodgers in his Centennial year.
Rodgers & Hammerstein always considered ALLEGRO (1947) the one that got away. Hammerstein was working on a television adaptation at the time of his death and Rodgers, in his autobiography, lamented, Of all the musicals I ever worked on that didnt quite succeed, ALLEGRO is the one most worthy of a second chance. Several productions of ALLEGRO are planned for the Centennial year; notable among them, a Lyric Theatre (Dallas) revival, staged in February.
>This is history, Lyric Stage founding producer Steven Jones told his cast. A once-in-a-lifetime opportunity. Some members of Lyric were skeptical when Jones informed them of his plans to stage ALLEGRO for the Rodgers Centennial. But when we finally ran the whole thing at a rehearsal, actress Dara Whitehead told the Dallas Morning News, I loved it. I actually cried, and Ive never cried in a rehearsal before.
The story is psychologically acute, wrote Lawson Taitte in the Dallas Morning News, and Mr. Rodgers lavished some beautiful music on it. Taitte continued, [Director] Cheryl Densons production makes a wonderful case for the show...ALLEGRO really is a must-see for musical fans. One of the nicest things about it is this is one that will send you home humming the tunes and theyre Richard Rodgers tunes at that. Echoed Steven Jones: ALLEGRO is about whats important in life. Its about a sense of community.
It was the York Theatre in Manhattan, with its popular Musicals in Mufti series, that was able to claim a world stage premiere in its trio of Rodgers rarities this spring. ANDROCLES AND THE LION (1967), with a book by Peter Stone based on the play by Bernard Shaw, was a television musical for which Rodgers wrote both the music and lyrics himself. Aficionados have long enjoyed Velvet Paws,a classic Rodgers waltz, and the captivating Strangers.
Though well-received, and preserved on an RCA Victor TV studio cast recording (long out-of-print), ANDROCLES was never rebroadcast or released on home video. It was especially great, therefore, to hear Androcles lion roar once again. For the York Theatres concert reading, director Jay Binder gathered a first-rate cast, including David Costabile as the tailor Androcles; Everett Bradley as the Lion; Martin Vidnovic as the Captain; Teri Hansen as Lavinia; and the deliciously droll Peter Bartlett as Caesar. Peter Stone adapted his teleplay for the stage, and this childrens fable (well, a fable strewn with Shavian polemics) moved along delightfully with its tale of mercy and redemption.
Rodgers & Harts final Broadway musical comedy was also one of their biggest hits, and their longest running show: BY JUPITER (1942) introduced Nobodys Heart, Evrything Ive Got and Wait Till You See Her. As musical theatre scholar Laurence Maslon remarked to R&H President Ted Chapin, after attending a performance at the York Theatre in early April, Imagine a time when a musical comedy lyric could be filled with classic literary allusions of the ancient world and the audience got it!
Todays audiences get BY JUPITER, too, judging by the two concert presentations given this spring on opposite coasts. The topsy-turvy tale, based on THE WARRIORS HUSBAND, is set in an ancient land (told of in Homers ODYSSEY), where women do the hunting and men do the housework. The classic-retro tone, witty score and great character parts make for a crowd-pleaser among both cast and spectators. The brassy Amazon queen Hippolyta (played at the York by Klea Blackhurst as a combination of Catherine the Great and Ethel the Merman), and the youthful Sapiens who captures her heart (played originally by Ray Bolger, and at the York by Kevin Cahoon), are just two of the choice roles.
Following the Yorks early April stagings of BY JUPITER, the widely heralded 42nd Street Moon of San Francisco presented it over a series of weekends from April 17 through May 12, with Lesley Hamilton (as Hippolyta) and Bill Fahrner (as Sapiens) heading the cast. The show is a joy, cheered the San Francisco Chronicle. Every song is a reminder of Rodgers incomparable skill and Harts seemingly inexhaustible wit, and the book is an irreverently frivolous delight.
DEAREST ENEMY (1925) is youthful Rodgers & Hart in classic Gilbert & Sullivan mode. Hart was a devotee of the verbal wordplay of W.S. Gilbert, and Rodgers though his operetta tastes ran more to Kern than Sullivan could nevertheless compose in the florid, late 19th century style. It was a sound rare for Rodgers, but a joy to rediscover in this operetta set in Colonial New York.
DEAREST ENEMY was R&Hs first Broadway musical, coming soon after their breakthrough revue, THE GARRICK GAITIES. The story of a saucy American maiden and the handsome Redcoat who wins her heart, DEAREST ENEMY is full of lilting choral numbers, patter songs and love-crooned duets. The romantic Bye and Bye, the spirited Cheerio, the sly Sweet Peter (chronicling the romantic misadventures of peg-legged Peter Stuyvesant) are wonderful surprises in a score carried aloft by the first Rodgers & Hart romantic standard: Here in My Arms.
DEAREST ENEMY was a success in 1925, had a short tour after Broadway, reappeared as a TV musical in 1955, and was staged at the Goodspeed Opera House during the 1976 American Bicentennial. But a piano-only reading of its score several years ago by Mel Millers intrepid Musicals Tonight! series was its only modern sighting until this spring.
In April, New Yorks venerable G&S troupe, the Village Light Opera Group, presented the first fully-staged New York revival of DEAREST ENEMY in over 75 years, directed by Michael Jackson. Although Emil Gerstenbergers original orchestrations are lost, one of his scores and most of the original piano part has survived; using these as a guide, orchestrator Larry Moore painstakingly created a new set of arrangements that sounded like the real thing, masterfully played by the VLOG orchestra under the baton of maestro Ronald Noll.
As decades-old jokes from the libretto by Herbert Fields landed with aplomb, the VLOG audience seemed to adore it all - the score, the lavish production, and the happy ending. (The Redcoat wins the girl, but loses the Colonies.)
ME AND JULIET (1953) was Rodgers & Hammersteins self-confessed valentine to the theater, an upbeat, contemporary tale of life and love backstage at a long-running Broadway show. It was also, in Hammersteins words, the first of our plays where nobody dies. With ME AND JULIET, the masters of the musical play were experimenting in the frisky and breezy musical comedy vernacular.
A year-long run on Broadway (with Shirley MacLaine in the chorus) was followed by a brief stint in Chicago (with Shirley Jones in the chorus), before ME AND JULIET faded into near oblivion. The R&H Theatre Library rarely licenses it, and our records report no New York stagings in at least 30 years.
In April, the York Theatre presented ME AND JULIET as the third in its all-Rodgers series of Musicals in Mufti. Inventively directed by Michael Montel, the simplicity of the staging using a couple of step-ladders and little more neatly quashed the theory that, as originally conceived, this musical was too dependent on technical wizardry for the story and score to work on their own.
As a musical about a musical cast with young performers, ME AND JULIET is ideally primed for the ambitious high school or college market. The cast is able to play on two planes at once offstage, and onstage and while the 50s setting is richly evocative of Broadway in its heyday, the romantic machinations are timeless.
Rodgers & Hammerstein were longtime friends of John and Elaine Steinbeck. She had been a stage manager on the original production of OKLAHOMA!, and he had written a play (BURNING BRIGHT) that R&H produced. In 1955, R&H wrote a musical, PIPE DREAM, based on Steinbeck characters from his novels CANNERY ROW and SWEET THURSDAY. Its gritty Steinbeckian denizens were given voice through such R&H character songs as The Man I Used to Be, Evrybodys Got a Home But Me and The Next Time It Happens, while the philosophical essence of the shows three creators is captured in the lyric, It takes all kinds of people to make up a world.
2002 marks the Centennial of both Rodgers and Steinbeck; therefore, it was doubly apt when Hofstra University on Long Island, New York, featured a presentation of PIPE DREAM as part of its academic gathering, JOHN STEINBECKS AMERICA: A CENTENNIAL CONFERENCE. Directed by Bob Spiotto, this PIPE DREAM was a well-staged production, complete with sets and costumes (albeit with solo piano accompaniment), providing a rare conjoining of worlds for Steinbeck and Rodgers fans alike. In San Francisco, 42nd Street Moon presented PIPE DREAM as its second of five Rodgers musicals, from May 22 to June 9.
Findlay, Ohio. Population: 40,000. A small, industrial mid-Western town, about two hours north of Columbus. This spring, the high schools musical was BABES IN ARMS. The local light opera group staged CAROUSEL. And, at the University of Findlay for 8 sold-out performances in April, REX (1976) was given its first fully-staged production since its Broadway run.
REX, a collaboration of Rodgers, Sheldon Harnick (lyrics) and Sherman Yellen (book), is a Tudor pageant that chronicles the life and loves of Henry VIII, and his brooding quest for a male heir. Though the musical has its champions (your editor and Andrew Lloyd Webber among them), and a resplendent score that includes No Song More Pleasing, As Once I Loved You and Away From You, its reign was short-lived, its legacy troubled. REX is the only Rodgers musical of his post-Hammerstein period to remain unavailable for licensing. As a result, and despite a concert reading at the York Theatre in Fall 2000, the Findlay production was less a revival than an excavation.
Following the final performance of REX at the Lunt-Fontanne Theatre on June 5, 1976, the scripts, scores and orchestra parts were packed in a trunk, and shipped to the R&H offices where they lay undisturbed for 25 years.
Several years ago, Dr. Micheal [sic] Anders, a Professor of Music at the University of Findlay, approached R&H with a request to stage REX. Like any grand scheme, Anders started simply enough: he had come across a cut-out LP of the show a few years earlier, fell in love with it (particularly an Act II sequence called Christmas at Hampton Court) and was puzzled to find it MIA at the R&H Theatre Library.
At the time, with the Rodgers Centennial only a distant speck on the far horizon, we nevertheless were captivated by Anders obvious passion and his commitment to restore it and stage it in 2002.
Flash forward to April of this year: R&H President Ted Chapin, myself, and the always good-spirited Sheldon Harnick made our way to Findlay. (Yellen, laid up with the flu, sent his regrets.) The whole town, it seemed, had gotten behind this production. Extra performances were added. A special black-tie dinner was held at the local Findlay Motor Inn (Welcome REX! exclaimed the marquee over the parking lot), where Mr. Harnick and his entourage (us) were treated like, well, royalty.
During a sabbatical last spring, Anders had sifted through 12 boxes of REX scripts, notes and compositions at our Annex, guided by our inveterate Director of Music, Bruce Pomahac. Harnick, Yellen, original choreographer Dania Krupska and other REX veterans helped Anders along the way. The resulting version an amalgam of five different playing scripts bulged a bit in performance (running time: over 3 hours), but the strength of the piece shone through. Lyricist Harnick seemed particularly delighted (turning to me after hearing several especially well-crafted lyrics and saying, Did I write that? Its pretty good!) and the crowd local pride duly noted gave REX a royal reception.
In its original production, TWO BY TWO (1970) captured the turmoil of its era with fresh-voiced commentary on the ecology, the Generation Gap, and Mankinds relationship to God, using as its vehicle the tale of Noah and the Ark as depicted in Clifford Odets play, THE FLOWERING PEACH. Rodgers produced and composed TWO BY TWO, with lyrics by Martin Charnin and a book by Peter Stone. The success of a year-long run on Broadway, followed by a National Tour, were obscured at the time by the scene-stealing, headline-grabbing, onstage antics of its leading man, Danny Kaye.
TWO BY TWO survived the Floods, however, and it survived Danny Kaye. With minimal set requirements and a cast of eight principals, TWO BY TWO is one of the most popular Rodgers shows of his post-Hammerstein period. Its message of hope out of despair was brought home in a moving presentation of the script and score presented by The Jewish Repertory Theatre in Manhattan in April.
TWO BY TWO is about all of humanity, and director Walter Willisons reading reflected this in a beautiful rainbow cast (as Noah might say). Willison who played Japeth in the original Broadway production, earning a Tony Award nomination took on the role of Noah, joined by R&H legend Pat Suzuki as his wife Esther. Ryan Driscoll, as the earnest Japeth, and Hallie Brown as Goldie, a sinfully sincere pagan, were stand-outs in the cast.
Ive got a proposition/That Im sure you will acclaim, sings Noah to the Lord at the end: You dont destroy the world again/We dont forget your name. In these complicated times when even the simple act of entering the Center for Jewish History (where TWO BY TWO was presented) required a body search and a metal detector the message of survival and determination at the heart of this full-hearted musical still resonates, as true and timeless as ever.
At the time of going to press, several other Rodgers rarities were waiting in the wings for presentations during the Centennial year. FLOWER DRUM SONG, never revived on Broadway, returns in a new version scripted by David Henry Hwang (see cover story, previous issue) with performances beginning in September at the Virginia Theatre...Rodgers final musical, I REMEMBER MAMA, was staged at Stoke-on-Trent, England, in late Spring...42nd Street Moon will continue its all-Rodgers season with A CONNECTICUT YANKEE (August 21-25), a landmark restoration of PEGGY-ANN (October 30-November 17), and the American premiere of Rodgers & Harts London musical EVER GREEN (November 27-December 15)...And no survey of Rodgers would be complete without a look at his kooky castration musical, CHEE-CHEE (1928), which Mel Millers Musicals Tonight! will present in New York from November 12-24.
Now available for licensing: ALLEGRO, BY JUPITER, I REMEMBER MAMA, ME AND JULIET and TWO BY TWO...PIPE DREAM is currently restricted...The other titles mentioned in this article are being considered for inclusion in our Catalogue; stay tuned for further updates...Contact The R&H Theatre Library at [email protected], or by calling 212-564-4000, or faxing 212-268-1245. *
You must log in before you can post comments. You can login
here
.