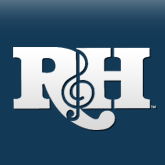 Bringing Oklahoma! Into Oklahoma Classrooms
"As part of its State's 2007 Centennial Celebrations, the Lyric Theater of Oklahoma has developed a dynamic and entertaining school program called Oklahoma! Interactive.

Throughout the Centennial year, Lyric is sending a travelling troupe of performers to schools across the state to perform selections from Oklahoma!. This unique program, directed by Lyric's own Ashley Stover Wells, combines musical theater performance with audience participation and educational lessons about state history, culture and the art of musical theatre.

Lyric Theatre created the program from the ground up, first by authoring a study guide to accompany the performance that incorporates both factual information and relevant activities for the students to work on in class. The guide draws from both the history of the state, and the musical itself.

In the school presentations, Aunt Eller serves as the narrator who leads the audience on a 30-minute journey back in time. Curly, Laurey, Ado Annie and Will Parker are the other characters who treat students to selections from the show, including ""Oh, What A Beautiful Mornin',"" ""The Surrey With The Fringe On Top,"" ""Kansas City,"" ""I Cain't Say No,"" ""People Will Say We're In Love,"" ""The Farmer And The Cowman"" and of course, ""Oklahoma.""

The actors use the performance material to shed light upon life in Oklahoma on the eve of statehood. They also explain many of Rodgers & Hammerstein's creative ideas that resulted in a groundbreaking Broadway musical holding special meaning for Oklahomans. Throughout the program, students interact with the cast by participating in activities such as dancing the two-step, bidding on hampers at their own box social and a sound off between the ""farmers"" and the ""cowmen."" At one point in the program, a student is even invited up to the stage for a brief turn as Gertie and is asked to show off her best flirtatious giggle. After the program, a Q&A session gives students a chance to ask about everything from state history to how to embark upon a career in musical theatre.

By late March, Oklahoma! Interactive had already visited 34 schools across the state, entertaining, educating and inspiring 12,000 students in the program so far. Lyric will offer the performances throughout 2007, and expects to reach close to 100 schools and 35,000 students.

""We are thrilled to give young people across the state the opportunity to enjoy learning, not only about Oklahoma state history and culture, but also about the art of musical theatre and the creative genius of Rodgers & Hammerstein,"" says Paula Stover, Lyric Theatre's Executive Director.

Eligible schools looking for further information should call Lyric at (405) 524-9310."
You must log in before you can post comments. You can login
here
.