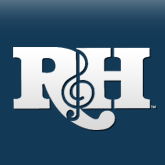 As Show Boat Returns To Broadway, William Hammerstein Recalls Her Many Voyages
He also saw the original London SHOW BOAT, which opened at the Drury Lane in 1928. He particularly remembers his father introducing him to the imposing actor playing Joe, timidly raising his tiny hand and having it swallowed by the strong friendly grasp of Paul Robeson.
SHOW BOAT was back on Broadway in 1946, and Bill Hammerstein was there too, fresh from four years' active service in the U.S. Navy (doing research, he later quipped, for SOUTH PACIFIC). On SHOW BOAT, with his father and Jerome Kern co - producing, Bill served as the stage manager, a task he repeated when his father, this time with Richard Rodgers, presented SHOW BOAT on a U.S. national tour in 1947.
In 1954 New York City Opera presented SHOW BOAT. Bill Hammerstein directed it. When Paper Mill Playhouse produced SHOW BOAT in 1989 and subsequently broadcast it on PBS' "Great Performances," Bill Hammerstein served as consultant and advisor. When Miles Kreuger wrote his definitive study, Show Boat: The Story of a Classic American Musical, he relied on Bill Hammerstein for key input and recollection.
And last October, when Live Entertainment of Canada's production of SHOW BOAT opened triumphantly at the North York Performing Arts Centre near Toronto, director Hal Prince took to the stage on opening night for a curtain speech where he acknowledged Bill Hammerstein in the audience, and thanked him for his role in shaping this "new" version of Kern & Hammerstein's musical masterpiece.
"When [producer] Garth Drabinsky came to us [in 1991] and told us what he planned to do with SHOW BOAT, I was thrilled," recalls Hammerstein today. "I was even more thrilled when he got Hal to direct it. Nobody can better bring new life to this show than Hal because of his talents, his imagination, and certainly his ability and his great experience."
Prince's first task was to study the versions of SHOW BOAT that already existed (detailed in HAPPY TALK, Vol 1, No. 2). Bill Hammerstein guided him through this maze so that Prince could create a SHOW BOAT of his own.
"What Hal brought to SHOW BOAT above all," says Hammerstein, "is an attitude. A new way of looking at it. And he made plenty of specific changes. He directs Ravenal differently than he's been played in the past, for instance, bringing out his sense of humor. And he and [choreographer] Susan Stroman have completely reshaped the structure of the second act, cutting the World's Fair sequence and adding a wonderful dance number that shows the passage of time."
Still, Hammerstein admits, "I didn't agree with everything Hal wanted to do, and we'd talk about it. I won a couple, and he won a couple."" Throughout the give and take, Prince relied on Hammerstein's knowledge and experience. "Bill Hammerstein couldn't have been more supportive," says Prince. "He's seen countless productions of SHOW BOAT, and directed a number himself.
He pointed out interpretations of material that especially worked for audiences. We disagreed occasionally about some of my ideas," adds Prince, "but he never ceased encouraging me."
Prince took the unusual step of putting his altered SHOW BOAT to the test of a reading - not an uncommon practice for a new show, but highly unprecedented for a classic. The reading was held in New York in October of 1991, attended by key members of the creative team and a contingent of the authors' representatives, headed by Hammerstein. Looking back at that reading, Hammerstein notes that seasoned theatrical pros - who had witnessed the creation of so many musicals from scratch - were completely bowled over by the depth and the strength of this 1927 epic.
Collectively, everyone liked what they heard and so, with a sumptuous budget, a first - rate team of designers, musicians, cast and crew, Prince began building his SHOW BOAT. Its premiere in Toronto on October 17, 1993 was greeted with raves from the critics and cheers from the public. An original cast album quickly followed, and continues to sell very well on both sides of the border.
Now in its second season, the Toronto SHOW BOAT is expected to run there for several more years.
In the meantime, Livent has brought SHOW BOAT back to Broadway, where Bill Hammerstein first saw it sixty - seven years ago.
"I've grown up with SHOW BOAT," he reflected recently. "I love the show, I love everything about it...It's a solid piece of work that has lasted all these years because, ultimately, it's a musical soap opera. It's all about family and love, hate and obstacles to overcome."
"The family of man, that's what SHOW BOAT is about," echoes Hal Prince. "That's what Oscar Hammerstein was about!"SHOW BOAT is currently playing at the Gershwin Theatre, New York (call 212 - 307 - 4100 for tickets and information), and at the North York Performing Arts Centre, Toronto, Canada (416 - 872 - 2222).
You must log in before you can post comments. You can login
here
.