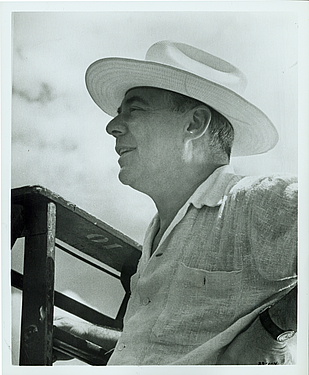 Announcing The 2002 Richard Rodgers Centennial
"
On June 28, 2001, at the Broadway theatre named in his honor, and exactly one year before the 100th anniversary of his birth, composer Richard Rodgers' Centennial was launched. This issue of Happy Talk is primarily a guide to the myriad of events announced that June day. Highlights of the launch itself included the unveiling of a new portrait of Rodgers by Kim Beaty (above), insightful remarks from expert Jonathan Schwartz (who shares his birthday with Richard Rodgers), and musical performances from two surprise guests: Mary Cleere Haran, giving a sparkling spin to ""Manhattan,"" and Bernadette Peters, hushing the crowd with her heart-breaking rendition of ""What's the Use of Wond'rin.'""Greetings were read from two of the four ""Honorary Patrons"" of the Centennial -- Dame Julie Andrews and Lord Andrew Lloyd-Webber. Perched regally in a box overlooking the stage were the other two patrons: Richard Rodgers' daughters, Linda and Mary. R&H President Ted Chapin hosted the launch and here, he adds a few more thoughts on the upcoming Centennial:
Why celebrate the Centennial of Richard Rodgers' birth?
I've often said that we at the Rodgers & Hammerstein Organization are in the reminder business. I believe so strongly in the quality of the work we represent that I feel if we simply remind people about it, they will rediscover it for themselves. Sometimes it takes quite an effort to get people's attention, but once gotten, they can't help but fall under the spell.
The music composed by Richard Rodgers fits right into this scenario. Remember ""Blue Moon"" from your rock and roll days? Quietly wept at ""Edelweiss""? Thought ""Victory at Sea"" was pretty majestic and grand? Looked at a hawk in the sky and hummed the tune that goes along with those lazy circles? It goes on and on --but how do we go about reminding people of the variety, let along the strength and emotional power of this music? One answer is very easy: seize any opportunity that presents itself. Sometimes a call comes in or a letter arrives in which someone has an idea. Would we be amenable to letting the Royal National Theater begin a new series of productions of musicals with Carousel? Are we OK about Kiri Te Kanawa and Jose Carreras doing an album of South Pacific? What do we feel about stripping the lyrics on to a theatrical print of the movie of The Sound of Music and urging people to sing along? We live for these ideas -- the good ones, that is -- and we've gotten very good at throwing ourselves behind them.
But let's face it, we live in an age that responds to big and bold statements. We are no longer in an era when you are urged to ""see the USA in your Chevrolet."" Today we need to hear about the second biggest opening weekend gross of an action movie in a non-holiday week!! Even the nightly news gets advertised as a coming attraction at the end of 60 Minutes.
So we decided we should seize the opportunity of the centennial of Richard Rodgers' birth to do a big, visible reminder. What we felt, and what the rest of this newsletter confirms, is that if we were creative about letting people know of this major anniversary, they could use it as an inspiration, a hook, and a focus for finding different ways to be inspired.
Here's an example. When we were talking with Larry Maslon and Roger Sherman, both of whom were working on the American Masters profile of Rodgers, Larry said he wanted to focus part of the program on dance. It didn't seem to me a significant enough part of Rodgers' composing career, until Larry mentioned that Rodgers had worked with three of the greatest theater choreographers of the twentieth century -- George Balanchine (On Your Toes and other Rodgers & Hart shows), Agnes de Mille (Oklahoma!, Carousel) and Jerome Robbins (The King and I). He was right. His comment opened up a new area for us to explore. (See ""Rodgers & Dance"" on p. 4).
In 1993, during another focused anniversary -- 50 years after the opening of Oklahoma! -- The Today Show did a feature segment on R&H. Katie Couric asked >Mary Rodgers: ""Isn't it great having all this wonderful music back?"" Mary's response: ""It never left."" She was right, of course, but the perception was that something had come back. Katie Couric felt that it was back. She simply had been reminded.
And that's why we are celebrating Richard Rodgers' centennial. The more people who can enjoy his extraordinary music, the better. Now we have to keep prodding, suggesting -- and answering the phone calls and the letters.
"
You must log in before you can post comments. You can login
here
.