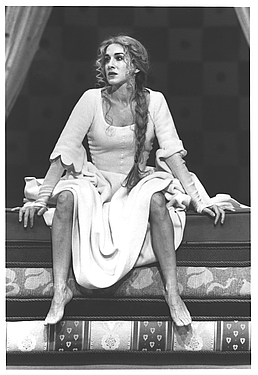 An Opening For A Princess: Once Upon A Mattress Returns To Broadway
"hit of the 1959-60 Broadway season, made a star out of its leading lady, charmed millions more as a television favorite, and became a stage perennial. Finally this season, for the first time, Once Upon a Mattress returned to Broadway starring Sarah Jessica Parker and presented by Dodger Endemol Productions. A 1997 Tony Award-nominee for Best Musical Revival, it is still, according to Howard Kissel of the New York Daily News, ""as fresh, inventive and funny as ever.""
KING OF ALL THE SURVEYS
Simultaneous with the Broadway run, a U.S. National Tour of The King and I was launched in Minneapolis in April. Hayley Mills, who created the role of Mrs. Anna when this production was conceived in Australia in 1991, reprises her role for the tour, joined by Vee Talmadge as The King. Upcoming engagements include Baltimore, Seattle, Dallas, Toronto, Montreal, Green Bay, Hartford, Indianapolis, Nashville and Boston. More news on this tour in our next issue.
Mattress, with a book by Jay Thompson, Marshall Barer and Dean Fuller, music by Mary Rodgers and lyrics by Barer, began life as a winsome, hour-long musical spin on Hans Christian Andersen's fairy tale The Princess and the Pea at Tamiment Playhouse in the Poconos in the summer of 1958 (for an interview with the authors on the origins of Mattress, see story p. 5). With charms apparent, the work caught the attention of seasoned veterans, including designer-producers Bill and Jean Eckart, and legendary director George (a.k.a. ""Mr."") Abbott, who brought Mattress to New York.
Opening Off-Broadway at the Phoenix Theatre in May of 1959 and starring a virtual unknown named Carol Burnett, it transferred to Broadway the following November, where it became the surprise hit in a remarkable season that also boasted Gypsy, Fiorello! and a musical by Mary's father called The Sound of Music.
A New York run of 460 performances was followed by a successful national tour, a London production, and two television versions, both starring Burnett. Licensed by The R&H Theatre Library, Mattress ranks consistently as one of the top 10 titles in our catalogue with more than 20,000 productions to date and, along with Annie Get Your Gun, stands as our most produced non-Rodgers & Hammerstein title.
All that was lacking was a Broadway revival.
Enter Gerald Gutierrez, a consecutive Tony Award winner for his direction of The Heiress (1995) and A Delicate Balance (1996), and no stranger to musicals either, with notable productions of The Most Happy Fella (Broadway, 1992) and Carousel (Houston Grand Opera, 1990) to his credit. Gutierrez had wanted to direct Mattress for 15 years, but one dilemma held him back: he had an opening for a princess.
""People, I suspect, thought, 'Where will we find another Carol?',"" explained Mary Rodgers to Harry Haun in Playbill Magazine. The answer was not to. Instead, Gutierrez and the authors looked for a royal candidate who could bring her own distinctive personality and star quality to the role. Swimming the metaphorical moat - having proven herself on Broadway, television and major feature films - came a genuine, bona-fide princess: Sarah Jessica Parker. ""I love Sarah,"" declared Rodgers to Bob Feldberg of the Bergen Record. ""She brings a completely different quality than Carol did.""
The critics agreed. ""To see the ever-enchanting Sarah Jessica Parker light up a Broadway stage is a joy,"" wrote Clive Barnes in the New York Post. Jeffrey Lyons of WNBC-TV called her ""incandescent,"" and Bob Feldberg said Parker was ""delightful and lovable, a delicious star.""
Once Upon a Mattress returned to Broadway December 19, 1996, opening at the Broadhurst Theatre. Syndicated columnist Liz Smith trumpeted, ""Don't fail to catch this! Even the youngest kids will love it...A perfect pastiche of its own charming self, Once Upon a Mattress is one of the most performed musicals of all time on the high school and summer circuits. Now you can see it in all its sweet, charming, unpretentious, funny glory.""
Irv Lichtman of Billboard called it ""a treasure [with] unfailingly tuneful melodies and deft lyrics...as fresh and inventive as ever."" One long but productive day in January, the cast went into the Hit Factory in New York City where RCA Victor recorded the new Broadway cast album, produced by Jay David Saks, with A&R Direction by Bill Rosenfield. Citing Mattress as ""among Broadway's most tuneful shows,"" Billboard heralded the new recording for its ""digital-age brightness that actually makes the Mary Rodgers-Marshall Barer score even more appealing. Mattress deserved and has gotten a wonderful new reading.""
In an era of bigger-is-better theatrical pyrotechnics, the Broadway return of Mattress harkens back to an era of simplicity-from-necessity, and its enduring popularity, from the Broadhurst Theatre to high school auditoriums, confirms that there is still appeal in that magic formula. ""Once Upon a Mattress,"" wrote the Daily News' Kissel, ""shows you can retell fairy tales with wit and sophistication, and, more important, human feeling.""
The new Broadway cast recording of ONCE UPON A MATTRESS starring Sarah Jessica Parker is now available on CD and cassette from RCA Victor at all major record stores, or order by phone from Music Source at 1-800-396-5465."
You must log in before you can post comments. You can login
here
.