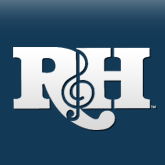 An Audience With The King
In early spring, more than 250 key players in the music publishing and licensing industries worldwide gathered in Memphis, home of Graceland and Elvis Presley Enterprises (EPE), for a three-day summit. Hosted by EPE, the conference was designed to coordinate the efforts of licensing and music publishing concerns worldwide. Representatives from across the globe attended the festivities, which ranged from a tour of Graceland to dinner at one of Memphis' restored ante bellum mansions.
With Williamson Music serving as worldwide administrator for both the Elvis Presley Music (BMI) and Gladys Music (ASCAP) catalogues, President Maxyne Berman Lang, members of her staff, and R&H President Ted Chapin traveled to Memphis for the summit. Priscilla Presley, President of EPE, Jack Soden, Chief Executive Officer, Gary Hovey, Director of Entertainment and Music Publishing, and Carol Butler, Director of Worldwide Licensing, welcomed all attendees; Hovey and Lang co-chaired the international music publishing seminar.
Among the topics discussed were the strengthening of the already cohesive Presley music publishing network, and controls of piracy and illegal uses of the Presley material. "As far as we were concerned, the conference was a great success,"reported Hovey. "We had colleagues coming in from all over the world to talk face to face about issues that affect us in every territory."
"The Memphis conference gave us a phenomenal opportunity," agreed Lang. "Since Williamson deals with the Presley catalogue on a worldwide scale, we interact with publishers all over the globe, but rarely in the same room. Memphis gave us the chance to talk about some of the exciting new projects coming up for the Presley material, including his ballet."
An Elvis Presley ballet? The Cleveland/San Jose Ballet has traded in its pink toe slippers for BLUE SUEDE SHOES, the world premiere of a 90-minute ballet set entirely to the songs of Elvis Presley, presented in Cleveland for two weeks in late May. Choreographed by Dennis Nahat, with sets and costumes by Hollywood designer Bob Mackie, BLUE SUEDE SHOES featured 49 dancers performing to a series of original master recordings by Elvis Presley. "All 36 songs will connect to one another as if they were written for the scenario," said Nahat prior to the premiere. "You will hear Elvis Presley's voice throughout and feel his presence through these wonderful original master recordings."
BLUE SUEDE SHOES includes such Elvis standards as "Love Me Tender," "Tutti Frutti," ""Jail House Rock," and "Hound Dog." "Broadway and ballet have been working together for years," says Lang, recalling Richard Rodgers' landmark ballet, "Slaughter on Tenth Avenue" for ON YOUR TOES in 1936. "Now with BLUE SUEDE SHOES, ballet is making a connection with classic rock 'n roll that should open a whole new genre."
While BLUE SUEDE SHOES has concluded its world premiere engagement, plans are underway for further presentations in other U.S. markets, including a West Coast premiere in San Jose, California (which shares the Ballet Company with Cleveland) in April, 1997. For further information call New Dance Ventures at 216-621-5605.
You must log in before you can post comments. You can login
here
.