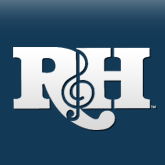 After Twenty-five Years, It's Nice To Know
"
May 11 is a milestone around here, since it marks Irving Berlin's birthday. May 11, 1981, holds a special place on our calendar too, since it was the opening night of the first production of CATS a musical we now proudly represent.
But on the same fateful day that Andrew Lloyd Webber & Crew were opening CATS in London, it turned out that something significant was happening at the R&H office in New York. Less than two years after Richard Rodgers' death, a young man named Ted Chapin was coming aboard to see if he could help steer the place along for a little while, working with interim Manager Dick Lewine.
We know that CATS went on to a fairly triumphant career. And though he will modestly demur, we can say that Ted Chapin has accomplished about nine lives' worth of achievements over the past quarter century as well. Here, as he clocks Year 25 and thinks towards the future, are a few thoughts from R&H President Ted Chapin:
You never really know how to prepare for a job. Sure, there are lots of proscribed courses of action: school, independent study, internships, other jobs, experience. But when a job does come your way, how do you know if you are ready?
I've been contemplating this thought as I near my twenty fifth anniversary at this office. In retrospect, I guess I was prepared for it. But then who even knew what the task actually was?
This job came to me in a seemingly off-handed way. One day my phone rang. It was Mary Rodgers Guettel, saying that she thought ""they could use"" me at the Rodgers and Hammerstein office. She must have known the Musical Theatre Lab, that I was then running, was on shaky ground. She urged me to call. And here I am, twenty five years later.
The timing was fortuitous for me. Growing up, I had thought I wanted to be Harold Prince. Then a show I co-produced at age twenty four closed miserably out of town. I took a circuitous route through the National Theatre of the Deaf (for which, odd though it sounds, I was the musical director), to the mountains of Colorado (where my production of CHARLEY'S AUNT prompted scalpers from Monte Vista and Del Norte!), and then to the Musical Theater Lab.
From the start at R&H, I knew there would be a lot for me to learn. My learning curve paralleled, in some respects, that of the Rodgers and Hammerstein family members in charge. The recently widowed Dorothy Rodgers was new to her co-ownership of the ""candy store."" Bill Hammerstein had more than held down the fort during Rodgers' waning years, so he knew how the business ran, but he also had his own career as a director and producer.
So, we figured out the future together. And as I discovered things, I would bring ideas to the two of them. ""Do you realize you own a music publishing company?"" I said one day. ""Oh, yes,"" said Dorothy, ""That's the nice man from Chappell's."" Well, yes, but as I researched just what it meant to own a worldwide music publishing company, I started to imagine what we could do with it. So to one of my periodic ""board"" meetings I brought the idea that we might bring the company in-house. And we did.

Ted Chapin with Dorothy Rodgers, Mary Martin,
and Dorothy Hammerstein, 1984.
Photo: Anita & Steve Shevett
In those early years, there were events for which I rolled up my sleeves and helped out. Yul Brynner was ruling the world with tours of THE KING AND I, so at the urging of Bill Hammerstein's wife, Jane-Howard, we threw a big Hollywood party to honor his 4000th performance. Reviving ON YOUR TOES was the brainchild of conductor John Mauceri; its 1983 production, using original orchestrations, was one of the inspirations behind Encores! at City Center, with which I have been involved from its start. A recording of SOUTH PACFIC with an eclectic cast ranging from Kiri Te Kanawa to Mandy Patinkin and Sarah Vaughan became one of our contributions to the crossover recording spree of that era.
As time went on, more projects began to emerge that I learned we could help make happen such as our management of other writers' copyrights. Once we formally established the office as an ""Organization"" (that moniker has not been used by the R&H business before), we began working more closely with other writers or their estates. Less than a year after his death in 1989, Irving Berlin's family asked us to take over all aspects of his copyright representation from songs to shows to movies. This has proven to be a source of special pride. Another major figure who trusts us with his copyrights is Andrew Lloyd Webber; our Concert Library represents his orchestral works, and R&H Theatricals licenses his stage musicals throughout the US and Canada. Even though the name on the door is ""Rodgers and Hammerstein,"" we have expanded our theatrical horizon a great deal over the years by nearly doubling the size of our catalogue, taking on a wide array of new musicals by other authors.
Listening to the instincts of Rodgers and Hammerstein family members helped us find new writers: Mary Rodgers steered us to John Bucchino, Ricky Ian Gordon and Michael John LaChiusa and, of course, Adam Guettel. The late Jamie Hammerstein urged us to pursue two young writers (Joe DiPietro and Jimmy Roberts) and their musical revue, I LOVE YOU, YOU'RE PERFECT, NOW CHANGE.
As for the tending and care of R&H's own musicals, we began taking on more of a proactive ""matchmaking"" stance as well. Recognized as revelatory milestones that led to a whole new way of thinking about classic American musicals, four productions stand out: the 1991 Australian KING AND I, Nicholas Hytner's 1992 London CAROUSEL, Harold Prince's 1994 Livent SHOW BOAT and Trevor Nunn's 1998 London OKLAHOMA! Some productions were controversial David Henry Hwang's reimagining of FLOWER DRUM SONG, for example but that's to be expected in the theater.
When I started, the notion of musicals on TV seemed to have gone the way of rabbit ears and black and white sets. Over the years our musicals have been rediscovered for television, from numerous PBS specials and broadcasts to a ""rainbow cast"" remake of CINDERELLA (seen by 75 million viewers), and this month's SOUTH PACIFIC in concert from Carnegie Hall. The home entertainment market, too, has changed radically over the past two and a half decades. Back in 1981, CD's were in their infancy, home video was new, expensive, and rare; today, CD's are plentiful and DVD's are cost-friendly and well worth the time and care we spend on bonus-extra reissues.
But the events that we created ourselves are probably the ones about which I am the most proud. An evening at the 92nd Street Y when Bill Hammerstein and Mary Rodgers took center stage as ""Rodgers and Hammerstein"" was extraordinary, with performers including Barbara Cook and Marilyn Horne singing a duet, and Helen Hayes reprising a song Rodgers and Hammerstein had written especially for her. We celebrated anniversaries in a variety of ways: Richard Rodgers' Centennial alone stretched over two years and covered nearly every aspect of the artistic spectrum, from Broadway to jazz to dance. We produced hour-long noontime events, free to the public, on the 100th birthdays of both Richard Rodgers and Oscar Hammerstein II, both at the Gershwin Theatre, where shows by both men were then running.
I think of the people I am (and have been) privileged to work with: My visionary bosses (Dorothy and Mary on one side; Bill, Jamie, and Alice on the other), to my extraordinary colleagues here at the office. A lot has been accomplished over the past 25 years and I know it never could have happened without the passion, commitment and dedication of the extraordinary team around here.
And then there are those who were a part of the Rodgers and Hammerstein legacy: Shirley Jones, Mary Martin, John Raitt and the incomparable Julie Andrews. To work with Agnes de Mille and Joshua Logan, two Rodgers and Hammerstein collaborators who weren't sure their contributions were being properly recognized, was as thrilling as it was fulfilling.
The good thing as I write this is to feel that the future looks just as exciting as the past. If, as she did just the other day, Mary Rodgers continues to get ""goosebumps"" over a new performance of something by her father, I know the job will still be worth it.
Simply put, I've never been bored. Today wasn't the same as yesterday and it won't be the same as tomorrow. Sheldon Harnick wrote a lyric about reminding someone you love that, ""after twenty five years, it's nice to know"" I love my job it's nice to know.

"
You must log in before you can post comments. You can login
here
.