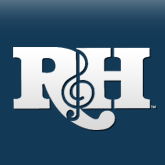 Abc Scores Some Enchanted Evening With --south Pacific
"
An all-new, television production of Rodgers & Hammerstein's South Pacific premiered on ABC-TV on March 26, giving the network an enchanted evening as 16,000,000 viewers tuned in, and made it the most-watched event of the night. Four years in the planning, this South Pacific marked a major achievement for contemporary television programming: three hours of prime-time devoted to a serious adaptation of a classic Broadway musical. And not just any Broadway musical: South Pacific, winner of the Pulitzer Prize, 9 Tony Awards, and still going strong after more than half a century. While stage productions continue to thrive (at the rate of 450 a year), film offers its own opportunities and so, when asked, the R&H Organization was open to the idea of a new screen version.
Executive producers Michael Gore and Lawrence Cohen did the asking, and in 1996 they met with Ted Chapin, Mary Rodgers and the late Jamie Hammerstein. Everyone agreed that the project would only proceed if there were enough of a meeting of the minds about the approach to take. The proposal was straight-forward but also, in its own way, audacious: to present a TV version of the musical, and not simply a musical on TV. It would unfold as a real story in a real war-time setting, with vivid characters whose deepest emotions and strongest passions are conveyed out loud, in song.
""There were several drafts of the screenplay,"" recalled R&H President Ted Chapin, ""and along the way there were moments when I didn't think the project would get off the ground. But the producers were determined, and it seemed like nothing would stop them.""
Among those at the network most dedicated to South Pacific was Susan Lyne, Executive Vice President for Motion Pictures. According to Lyne, one driving force carried the project over any and all obstacles: Glenn Close. ""She kept the production together as we struggled to figure out how we could make a movie of this scope for television,"" Lyne told the Associated Press. Glenn Close had been drawn to the role of Ensign Nellie Forbush and always wanted to play it; her love for South Pacific went back to early childhood. ""South Pacific was my first musical memory, when I was 3 years old,"" she told reporters. ""I can remember looking up at the record player and hearing Mary Martin sing 'I'm Gonna Wash That Man Right Out-a My Hair.'"" I've loved it my entire life.""
Internationally known to millions for her roles in film and on television, Close is also a gifted stage actress with a strong musical background. Early in her career, she was cast as Princess Mary in the Richard Rodgers-Sheldon Harnick-Sherman Yellen musical REX, later going on to create the role of P.T. Barnum's wife in BARNUM and eventually starring in - and winning the Tony Award for - SUNSET BOULEVARD. During Close's round of interviews to promote South Pacific, an intrepid journalist from Entertainment Tonight asked her about REX, and working with Richard Rodgers. ""It was an amazing experience,"" Close recalled, ""just to be in the same room with him...He wrote some wonderful songs. It was interesting to work then with somebody like Andrew Lloyd Webber, who - I don't think I'm exaggerating - says that he worships the genius of Richard Rodgers. And actually, South Pacific is [Lloyd Webber's] favorite musical!""
With South Pacific, Close explained to the Chicago Tribune, ""Our vision, from the beginning, was to have actors who were able to sing. I think what makes anything a classic musically is the way the notes are put together, so that it always elicits a certain emotional response. Great lyricists, like Oscar Hammerstein II, write monologues and dialogue. They're musical extensions of very strong dramatic moments. To seduce an audience into going seamlessly from a scene with people talking to a scene with people singing is a wonderful challenge, and I think we've done it.""
Co-producer Cohen wrote the teleplay which is based on the Hammerstein/Joshua Logan stage libretto, but to enhance his cinematic approach Cohen delved further into the original source material, James Michener's TALES OF THE South Pacific. (OPERATION ALLIGATOR and A BOAR'S TOOTH were just two of the Michener tales that, while referenced in the stage musical, are given greater prominence in Cohen's teleplay.) He also strove for a modern realism, including a visceral sense of the war itself. ""In this day and age, with movies like SAVING PRIVATE RYAN,"" commented director Richard Pearce in the New York Times, ""you just can't make a movie set during World War II and have the war take place off screen. That doesn't work. ""The scope and ambition of the entire project dictated that it be treated like a major motion picture rather than as a TV ""movie of the week."" That meant, for instance, shooting the entire film on location in the South Pacific, and having the technical support to cover not only spectacular outdoor dance numbers but also battle sequences worthy of a WWII epic. Along the way, South Pacific attracted first-rate film talent in all departments, artists who were swept up in the prestige of the project and many of whom signed on with a fondness for the musical to begin with, from production designer Patrizia von Brandenstein to director Pearce. This was a project treated with integrity and respect from its inception.
South Pacific began rehearsals in New York in the spring of 2000, followed by nine weeks shooting on location along the beaches and in the surrounding hills of Port Douglas, Queensland, Australia, with the breathtaking natural beauty of Moorea, Tahiti, standing in for Michener's mythical Bali Ha'i. The famous score suffered only one casualty - ""Happy Talk,"" which was cut due to time constraints and not, as erroneously reported, because of PC censorship; nevertheless, sharp-eared listeners can detect an upbeat, swing version of ""Happy Talk"" as background music in the early Officer's Club scene. There is also background dance music in that sequence culled from ""You Never Had It So Good"" - originally cut from Me and Juliet and now part of the stage score to State Fair - and ""Loneliness of Evening,"" another cut song, this one from South Pacific itself. One other musical number associated with South Pacific continues its troubled history with this remake: Lt. Cable's ""My Girl Back Home,"" was written for the stage version but cut, restored for the '58 film version, and then restored and filmed for this TV version - before being cut again. (However, it does appear as a bonus track on both the CD and DVD editions of this South Pacific, sung with a '40s crooning charm by Harry Connick Jr.)
For Glenn Close, the years of preparation, months of rehearsals and weeks of shooting were, in the end, worth it. ""It was a challenge,"" she told King Features, ""one we took on with great respect for this remarkable work...We didn't 're-make' South Pacific - what was special on the stage remains special. What we did was take its beautiful music, its story and its messages of tolerance and love, and create something unique to the TV medium. ""To Newsweek she admitted, ""I'm sure we'll get some very rigorous criticism. This pushes the envelope. It has a much bigger canvas, so it's a bigger risk."" However, Marc Peyser of Newsweek concluded, ""the risk pays off. South Pacific is gorgeous to look at and listen to...[It is] the most moving TV musical yet.""
The new soundtrack for South Pacific is currently available from Columbia/Sony Music...Look for the home video and DVD editions coming from Buena Vista Home Entertainment in August.
"
You must log in before you can post comments. You can login
here
.