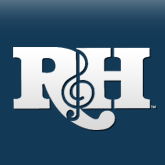 A Storybook Surrey
A charming new storybook out this fall depicts a father and his children on a drive through the countryside in their horse-drawn surrey with the fringe on top. Along the way, cows moo in the clover, chicks and ducks and geese scurry along, birds and frogs sing together, and the toads all hop.
The words, naturally, are the complete unaltered lyrics to "The Surrey with the Fringe on Top," from OKLAHOMA! The pictures are by award winning illustrator James Warhola, who has adapted the Rodgers & Hammerstein song into a narrative book, filled with delightful detail and high spirited wit that marks a perfect collaboration between authors and artist.
Published by Simon & Schuster, The Surrey with The Fringe on Top is geared for children aged 2-7. With 32 pages of full color illustrations, the 10"" x 10"" book retails for $14.95. Surrey will be the first of three books published by Simon & Schuster based on the songs of Rodgers & Hammerstein, and joins two other R&H books for young readers now on the market: James A. Michener Tells The Story of SOUTH PACIFIC, illustrated by Michael Hague (Harcourt Brace Jovanovich), and A Real Nice Clambake, illustrated by Nadine Westcott (Little Brown & Co.)
You must log in before you can post comments. You can login
here
.