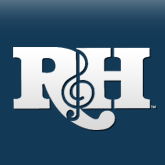 A Song Is No Song Till You Sing It
Oscar Hammerstein II was the consummate theatre man: a playwright, a librettist, a lyricist, a producer. The two landmark musicals of the 20th century - SHOW BOAT and OKLAHOMA! - were both his. He wrote songs that defined characters and situations with breathtaking veracity: "I Cain't Say No" for Ado Annie; "A Puzzlement" for the King of Siam; Billy Bigelow's "Soliloquy." So it is always a bit startling to realize that Hammerstein's songs have had an extraordinary ability to cross over the footlights as well. Songs that have flourished on cast albums and soundtracks have also, for years, been staples in the pop, jazz, blues and cabaret world. (For a report on Hammerstein in the cabaret world, see story, page 4).
At Williamson Music, co-founded by Hammerstein with Richard Rodgers half a century ago (and so-named since both men had fathers named William), a key directive from President Maxyne Lang is to expand the life of Hammerstein's songs beyond "the wicked stage."
"We're selective in how our songs are placed," says Lang, "whether they're written by Berlin or Harnick or Hammerstein. But with Hammerstein in particular, we are dealing with phrases that have become so much a part of the vernacular that people forget who wrote these songs. And while that may be the ultimate compliment to a lyricist it is still our job,"" she adds, ""to remind them.""
In doing so, there is an underlying objective guiding the Williamson team: to keep Hammerstein's songs in circulation, and, says Lang, ""to keep them before the public in fresh and distinctive ways. Not to take anything away from the great talents of stage and screen who first introduced these songs to us, but hearing a familiar standard sung by another artist is like hearing it sung for the first time.""
Hammerstein's songs continue to be heard in new, untraditional settings, from hit music videos (such as country star Lorrie Morgan's version of "My Favorite Things") to Public Service Announcements and movie cameos. (See Happy Talk, Vol. 2, No. 2) In recent years pop stars who have taken to his songs include Carly Simon ("Something Wonderful"), James Taylor ("Getting To Know You"), Robert Palmer ("People Will Say We're in Love") and Barbra Streisand ("If I Loved You," "Some Enchanted Evening", "Can't Help Lovin' Dat Man").
Hammerstein has also been embraced by the jazz world: "All the Things You Are," "I've Told Ev'ry Little Star" and "Softly As In a Morning Sunrise" are as likely to be heard at the Blue Note and the Village Vanguard as they are on stage and screen. "My Favorite Things" has been a particular favorite of jazz artists, including John Coltrane, Al Jarreau and most recently Luther Vandross, whose version was released early this fall. (And this just in from Deutsche Grammaphon: ANDR PREVIN AND FRIENDS PLAY SHOW BOAT, an all-jazz treatment of Hammerstein and Kern's masterful score, with piano, guitar, drums and bass.) "It's amazing to me," says Lang, "that when I'm listening to a jazz instrumental of Rodgers or Kern, I can still hear Hammerstein's words!"
Those words, Lang hopes, will continue to be heard for a very long time. "We believe that future generations will discover Hammerstein's wonderful lyrics, and keep his songs alive," she says. "Our new songbook, The Oscar Hammerstein II Collection [see p. 2], was designed with that aim in mind, so that his songs might reach as many different types of singers as possible. And we think Mr. Hammerstein would believe in that goal too," she concludes. "After all, he wrote 'a song is no song till you sing it.' "
You must log in before you can post comments. You can login
here
.