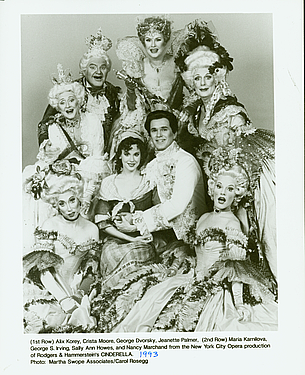 A Night At The Opera
"
In 1949, basso profundo Ezio Pinza shifted his working address from the old Metropolitan Opera House on 39th Street to the Majestic Theatre on 44th Street; a 5-block difference on New York's West Side, but to opera aficionados the journey couldn't have been further if he had strolled to the moon.
To purists, Pinza was a traitor who had forsaken the nobility of opera for the tawdriness of Broadway. But the opera star clearly knew that it was time for a career move; he also picked his opportunity carefully. The musical was SOUTH PACIFIC, the writers were Rodgers and Hammerstein, the role was Emile de Becque, the score included ""Some Enchanted Evening,"" and ""This Nearly Was Mine,"" and at the end of the season, the Tony for Best Musical Actor was his.
Ever since Pinza stepped over the invisible barrier, opera stars have felt more and more comfortable with the works of Rodgers and Hammerstein and their peers, creating roles on stage (Helen Traubel in PIPE DREAM, Tatania Troyanos in the original chorus of THE SOUND OF MUSIC) and film (Marilyn Horne dubbing ""Love, Look Away"" in FLOWER DRUM SONG and the title role in CARMEN JONES). But since the advent of buzz-words like ""crossover albums"" and ""concept recordings,"" opera stars with a taste for Broadway have found even greater opportunities on record.
In recent years this (mostly) happy hybrid has included such landmark albums as SOUTH PACIFIC (CBS, 1986) starring Kiri Te Kanawa and Jos Carreras (ironically it is the South Pacific native who plays the nurse from Little Rock); THE SOUND OF MUSIC (Telarc, 1988) starring Frederica von Stade, Hkan Hagegrd and Eileen Farrell; CAROUSEL (MCA, 1987) starring Samuel Ramey, joined by Broadway stars Barbara Cook and Sarah Brightman; THE KING AND I (Philips, 1992) with Marilyn Horne providing ""Something Wonderful"" in a recording that stars Julie Andrews and Ben Kingsley in the title roles; ANNIE GET YOUR GUN (EMI, 1991) in which Thomas Hampson more than holds his own against Broadway belter Kim Criswell in their sharpshooting duets; and SHOW BOAT (EMI, 1988), mixing Broadway stars with operatic heavyweights Teresa Stratas, Jerry Hadley and von Stade.
As opera stars have felt more comfortable in the world of Broadway, so have they broadened their scope in devoting an entire album to one songwriter or team. The transition from Schubert lieder to Shubert shows has worked nicely for quite a few opera stars, and two of the brightest examples of this genre were released this year.
DAWN UPSHAW SINGS RODGERS & HART (Nonesuch) and SOMETHING WONDERFUL: BRYN TERFEL SINGS RODGERS & HAMMERSTEIN (Deutsche Grammaphon) have more in common than composer Richard Rodgers. Both recordings are by young opera stars comparatively fresh on the scene, but each already a meteoric success. Each of these recordings reflects a blend of operatic discipline with individual interpretation that feels both natural and comfortable.
For her album of Rodgers & Hart, which mixes standards with rarities, Upshaw worked closely with producer Tommy Krasker, conductor Eric Stern, and three significantly-chosen guest artists: jazz pianist Fred Hersch, whose own album of Rodgers & Hammerstein was released by Nonesuch simultaneous with Upshaw's (see story, p. 6), and Broadway veterans David Garrison and Audra McDonald.
Krasker, Stern and Upshaw had already worked together on several albums that blurred the lines between classical and show-biz; her debut solo album, I WISH IT SO, included works by Bernstein, Blitzstein, Sondheim and Weill. For RODGERS & HART, Upshaw stayed in an American idiom, but in a vernacular that couldn't be more different - a journey, if you will, from THE CRADLE WILL ROCK to BABES IN ARMS.
""This diva leaves her opera chops at the door and emerges as a brilliant cabaret singer,"" wrote The New Yorker. Upshaw is ""as comfortable with a Broadway songbook as she is with a score by Mozart,"" said the Chicago Sun-Times. ""When she applies [her] gifts to pop standards she makes them sound completely colloquial, yet just a little more pristine and beautiful than usual.""
Like Upshaw, Bryn Terfel makes a great leap in his latest solo album, too. Following Mozart and Borodin with Rodgers and Hammerstein was his idea. ""I wanted to sing songs that people could react to,"" he told People Magazine. ""[Rodgers & Hammerstein] hit the spot.""
The resulting album, SOMETHING WONDERFUL, was a triumph for singer and song alike. ""Simply spectacular,"" wrote the New York Daily News. ""I doubt these songs have been sung better by anybody who ever set foot on a Broadway stage."" The London Guardian cited it as ""the Number 1 Classical CD of the year . . . a feast of glorious singing, undiluted pleasure from start to finish,"" and noted that Terfel ""is singing this repertory because he wants and needs to. They are part of his musical background, and he lavishes as much care upon them as he would if it were a collection of arias by Mozart or Verdi.""
A native of Wales, Terfel fondly recollects singing R&H as a child, a fact brought home to us when, during a visit to our Annex in preparation for the album, he sang the version of ""Some Enchanted Evening"" he grew up with: ""A'r rhyw noswaith hyfryd/Hwyrach weld rhyw dieithryn . . . ""
Visiting the R&H Annex was only part of the opera star's homework for this album. In addition to sessions with his conductor, Paul Daniel, Terfel spent hours rehearsing the material with Broadway maestro Peter Howard, whose career began as Assistant Conductor on the original Broadway production of THE SOUND OF MUSIC.
""I was constantly amazed that an artist who has sung Leporello in DON GIOVANNI and Jochanaan in SALOME . . . was now effortlessly getting inside of American characters and phrasing their music as naturally as if he'd been singing these roles his whole life,"" recounts Howard in his introductory liner notes for the album. ""The fact was, Terfel had been a Rodgers and Hammerstein fan and performed the songs in concerts for years. This music was already close to his heart.""
As opera stars continue to perform and record songs that had previously been considered beyond - or beneath - their realm, it becomes clear that ""heart"" is an operative factor: these albums are not cranked out to meet a clever marketing ploy, nor are they tossed off as a sideline to the artist's true calling. To the contrary: times have changed since Ezio Pinza first walked through the stagedoor of Broadway's Majestic Theatre nearly fifty years ago. Opera stars today recognize Broadway's golden era as a form of classical music as challenging as any in their repertoire.
Interviewed in the British journal Classical CD, Terfel scoffed at the term ""crossover,"" and challenged the skeptics. ""I would say to anybody, I'll play the piano for you if you sing the Soliloquy from CAROUSEL from beginning to end. And then we'll talk about crossover!"""
You must log in before you can post comments. You can login
here
.