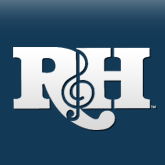 A Long Long Way To Run
"
THE SOUND OF MUSIC has long held a special place in the popular culture of the Peoples Republic of China. In May 2004, an American production
billed as the most extensive tour ever of a Western musical in China began performances at the Shanghai Grand Theatre, and R&Hs own Mary Rodgers and Ted Chapin were there. Sent from his laptop while still in China with a Shanghai Starbucks latte no doubt at his side here is Chapin's first-hand impressions of MUSIC in China:
Were standing in the auditorium, waiting to be told where to go. The architecture is modem, bright and clean, with comfortable red seats, nicely designed. Its pretty big two balconies make the capacity upwards of 1,500 and all seats are filled. The audience has enjoyed the first act, even the many children who have barely resisted singing along with the many tunes they know. Its intermission, and our hosts have asked if we will come and meet some dignitaries who are attending this opening night performance.
Suddenly, we are whisked off to an adjoining room, past a fascinating exhibit outlining the international competition that resulted in the unique design of this downtown arts center. There are people standing around the periphery of the room, and we are ushered into the middle, awaiting instruction as to our next move. A chic young woman in a white pinstriped suit, very tailored, comes over and tells us to wait here; she is the interpreter. Then the door to an inner room opens, and several people one woman and a few men whoosh in and come over to where we are standing. The woman is clearly excited by what she has seen, tells us all how honored she is that we have come to the theater, says that she is enchanted by the performance and hopes there will be more like it. She is the commissioner of cultural events for the city, and she introduces the men around her. I notice a pin on the lapel of one in a dark blue suit. The wearer is clearly important-that you can tell by the way other people are deferring to him. His pin is a red circle, with five gold stars: one large in the center and four smaller ones lined up around the edge. It is the symbol of Communist China. He is a high-ranking government official.
We are in Shanghai, and its the opening night of THE SOUND OF MUSIC, a production scheduled to tour several cities in the Peoples Republic of China. We have been told that this is a first. And it is clearly a very big deal. China has only seen a handful of Western musicals before, including CATS and LES MISERABLES. But this is THE SOUND OF MUSIC, and it comes from the land of Broadway. When conversations began about bringing musicals to China, this is the title everyone wanted. We are told repeatedly that both Do-Re-Mi and Edelweiss have been standard items in the textbooks of Chinese schools for many years. Often Chinese will greet Westerners on the street by saying, Do, re, mi!""
Thanks to an extraordinary collaboration of Americans, Chinese, and one British ex-pat who came to Hong Kong many years ago, the dream of THE SOUND OF MUSIC in Shanghai has become a reality. Simone Genalt, a charming yet tenacious New Yorker who has been bringing smaller shows to Asia for years, has led the way, and she has seen to it that Mary Rodgers and I Miss Mary and Mr. Ted, as we are called have been invited. Simone has arranged for this production to tour throughout Asia a logistic and geopolitical feat of enormous proportions.
Shanghai is Chinas largest city Although there are bicycles everywhere and tai thievery morning in the park across the street from the hotel, you dont have to look too far to see signs for Pepsi, KFC, and Pizza Hut Yet a quick glance into one of the downtown department stores reveals lines of mens clothing including Geogi
Amoni,Ubinoboss,US Polo, and Vennie St Laurent examples of the piracy weve heard so much about. There are clearly some different traditions here.
In the middle of this expanding city stands the Shanghai Grand Theater. It is all glass and white, with a bold elliptical roof. (Its pretty stunning, but then most of the modern architecture around the city is amazing.) The company is staying at the Park Hotel, near the theater a must for any touring troupe. Built in 1934, it is now referred to in the guidebooks as having a musty charm. But it does just fine breakfast every morning in the dining room on the 14th floor provides a nice catch-up time for cast, crew, and visiting guests like us. The parents and guardians of the actors playing the von Trapp children break the mould of stage parents theyre happy to leave their kids in the hands of others so they can explore the byways, or perhaps buyways of Shanghai. Several have become expert in the art of bargaining, Chinese-style. Armed with a calculator ready to display the price they think they should pay, their mantra is Discount? Discount?
At the theater itself, the company marvels at the modern amenities and spacious backstage area. Not being sure what they will get in the other cities in China, the management has brought everything of course scenery, costumes, and props, but also lights on their own rigs, sound equipment, and several key members of the orchestra. This has to look and feel like THE SOUND OF MUSIC that this audience knows. Some early requests from the Chinese presenters cause concern since they involve moments known only to the film, but mercifully, these requests disappear. Much to everyones delight, the notes from the Chinese following the dress rehearsal are really smart; our gang may know how to put on a Broadway musical, but our hosts know their audience. The questions are sharp and perceptive. This relationship between the Chinese and the Americans is, after all, a collaboration.
An opening night party is given in the lobby after a class photo is taken onstage. Later that evening, as we wander back to the hotel, looking at the sparkle of the Shanghai Grand, now lit up for nighttime, I am struck by the enormity of the challenge of what I have just witnessed. Introducing American stage musicals to a country that is just getting to know them is no small challenge. While you realize how many potential customers there are in this part of the world, you also realize there isnt a tradition to produce them, tour them, or buy tickets to see them. There is, of course, a grand and varied theater tradition in China, but paying hard cash to see a Broadway musical is something very new.
Audiences for THE SOUND OF MUSIC continue to be grabbed by its story of triumph over adversity, of human connections made within prescribed regimens. Their attachment to the saga is helped by a score that is unrivalled one song after another, each known and loved the world over. Watching it in this place, thousands of miles from home, made me appreciate once again the power of the show and the story that it tells. THE SOUND OF MUSIC has become a calling card for the American musical and, thanks in no small part to the movie version, it is the worlds most popular musical. The presenters here in China are pleased that THE SOUND OF MUSIC is nearly sold out for its entire run even before the first performance. They have taken a risk, and it is paying off.
It felt very much like a beginning, and I was honored to have been there.
Presented by Troika Entertainment and The Broadway Asia Company (Simone Genalt, Marc Routh), THE SOUND OF MUSIC toured China throughout Summer 2004, playing venues in Shanghai, Beijing, Shenyang and Ningbo... Upcoming cities include Taipei, Taiwan; Tokyo, Nagoya and Osaka, Japan; Seoul, Korea and Singapore, with further engagements in China starting May 2005.
"
You must log in before you can post comments. You can login
here
.