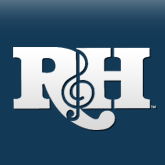 A Guide To The Dvd Special Anniversary Edition - State Fair
Rodgers & Hammersteins only musical written expressly for the big screen, STATE FAIR holds a special place in the hearts of R&H fans. With It Might As Well Be Spring, it also gave R&H the Academy Award for Best Song of the Year.
The 1945 film is an absolute charmer, a loving depiction of heartland Americana set at the Iowa State Fair. A 1962 remake, set at the Texas State Fair, is a little flashier, though it has its ardent fans too. While the 2000 DVD edition featured the clean-cut 1945 version only, the 60th Anniversary DVD is a double feature that contains them both: Jeanne Crain, Dick Haymes and Dana Andrews on one disc; Pat Boone, Bobby Darin and Ann-Margret on the other.
FROM PAGE TO SCREEN TO STAGE
STATE FAIR has a long and varied history. It began as a novel; became a 1933 black & white, non-musical Fox film starring Will Rogers; reappeared as an R&H movie musical; then again as an R&H movie musical remake; and finally, in 1996, as a Broadway musical. Tom Briggs, co-author of the stage musical, is joined by film historian Richard Barrios (A SONG IN THE DARK) to provide audio commentary on the 45 version, while Pat Boone gives audio on the 62 remake. Briggs and Barrios are joined by Ted Chapin, and R&H Director of Music Bruce Pomahac (who also served as orchestrator for the Broadway production) for a behind-the-scenes documentary, FROM PAGE TO SCREEN TO STAGE.
BLUE RIBBON EXTRAS
The vintage stage excerpt from STATE FAIR since the stage musical did not exist in 1954 features hostess Mary Martin in her enchanting rendition of It Might As Well Be Spring.
And then there is STATE FAIR the TV show. In the mid 1970s, an era when such TV staples as THE WALTONS and APPLES WAY tapped into a yearning for simpler times, it was inevitable that some network executive would come across STATE FAIR on the Late Show and suddenly see its potential as a series. An archaeologist at Fox uncovered the 1976 CBS pilot and added it to this release.
You must log in before you can post comments. You can login
here
.