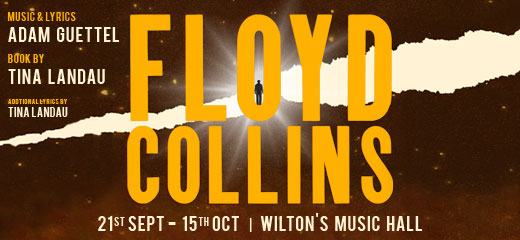 Casting announced for FLOYD COLLINS at Wilton's Music Hall, London
Casting has been announced for FLOYD COLLINS which will run at Wilton's Music Hall, London 21 September – 15 October 2016.
In 1925, while chasing a dream of fame and fortune by turning a Kentucky cave into a tourist attraction, Floyd Collins himself became the attraction when he got trapped 200 feet underground. Alone underground, Floyd fought for his sanity and ultimately his life as the rescue effort above exploded into the first genuine media circus. Above ground, his plight catches the eye of the local press, and as the days and weeks pass, the whole country is riveted by his story and the media circus that surrounds it.
In this touching tale of family, friendship and survival, Wilton's Music Hall will provide the backdrop to this powerful musical based on a remarkable true story. Accompanied by a hauntingly beautiful score, this all-new production of Adam Guettel and Tina Landau's award-winning musical will be directed by Jonathan Butterell, with musical direction by Tom Brady.
FLOYD COLLINS will star Ashley Robinson (original Chicago cast member of WICKED) as cave explorer Floyd Collins, with Rebecca Trehearn, fresh from the critically acclaimed West End production of SHOW BOAT playing his sister Nellie Collins. Jack Chissick, who recently appeared in the 2016 Olivier Award-winning production of GYPSY in the West End has been cast as Lee Collins, with Sarah Ingram as Miss Jane (OKLAHOMA!, SOUTH PACIFIC, MARTIN GUERRE and FLASHDANCE). Also starring are Ian Burfield, Craig Pinder, Marc Akinfolarin, Sam Thomas, Francesco Lo Giudice, Daniel Booroff, Joel Elferink, Christopher Jordan-Marshall and Alex Spinney.
Book tickets here!
You must log in before you can post comments. You can login
here
.