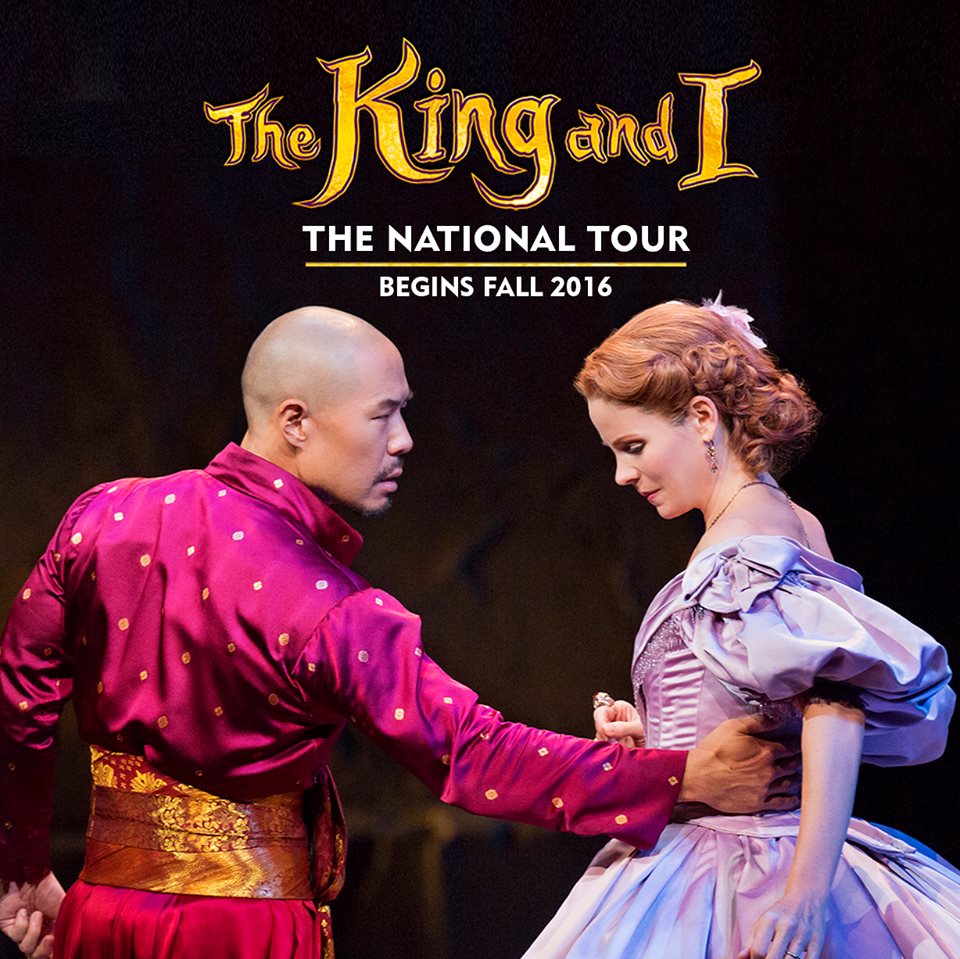 Tour Dates Announced for the North American Tour of THE KING AND I
Ambassador Theatre Group and NETworks Presentations LLC will launch a national tour of the Lincoln Center Theatre production of Rodgers & Hammerstein's THE KING AND I this November in Providence, RI at the Providence Performing Arts Center.
-Announced cities for the 2016-17 Touring season are below.
-Casting and additional cities will be announced at a later time. For more information, please visit www.thekinganditour.com, as well as Facebook and Twitter.
Announced Cities, Dates and Venues for the 2016-17 Touring Season
Providence, RI; 11/01/16 to 11/06/16; Providence Performing Arts Center
San Francisco, CA; 11/15/16 to 12/11/16; SHN - Golden Gate
Los Angeles, CA; 12/13/16 to 01/21/17; Pantages
Seattle, WA; 01/24/17 to 02/03/17; Paramount
Cleveland, OH; 02/07/17 to 02/26/17; Palace
Minneapolis, MN; 02/28/17 to 03/05/17; Orpheum
Houston, TX; 03/14/17 to 03/19/17; Hobby Center
Philadelphia, PA; 03/22/17 to 03/26/17; Academy of Music
Pittsburgh, PA; 04/04/17 to 04/09/17; Benedum
Boston, MA; 04/11/17 to 04/23/17; Opera House
Fort Myers, FL; 04/26/17 to 04/30/17; Barbara B. Mann Performing Arts Hall
Tampa, FL; 05/02/17 to 05/07/17; Starz Center
Miami, FL; 05/09/17 to 05/14/17; Arsht Center
Hartford, CT; 05/30/17 to 06/04/17; The Bushnell
Durham, NC; 06/06/17 to 06/11/17; Durham Performing Arts Center
Chicago, IL; 06/13/17 to 07/09/17; Oriental Theatre
Charlotte, NC; 07/11/17 to 07/16/17; Blumenthal
Washington, D.C.; 07/18/17 to 08/20/17; Kennedy Center Opera House
Greenville, SC; 08/22/17 to 08/27/17; Peace Center
*Additional cities to be announced.
Visit www.thekinganditour.com for more information!
You must log in before you can post comments. You can login
here
.