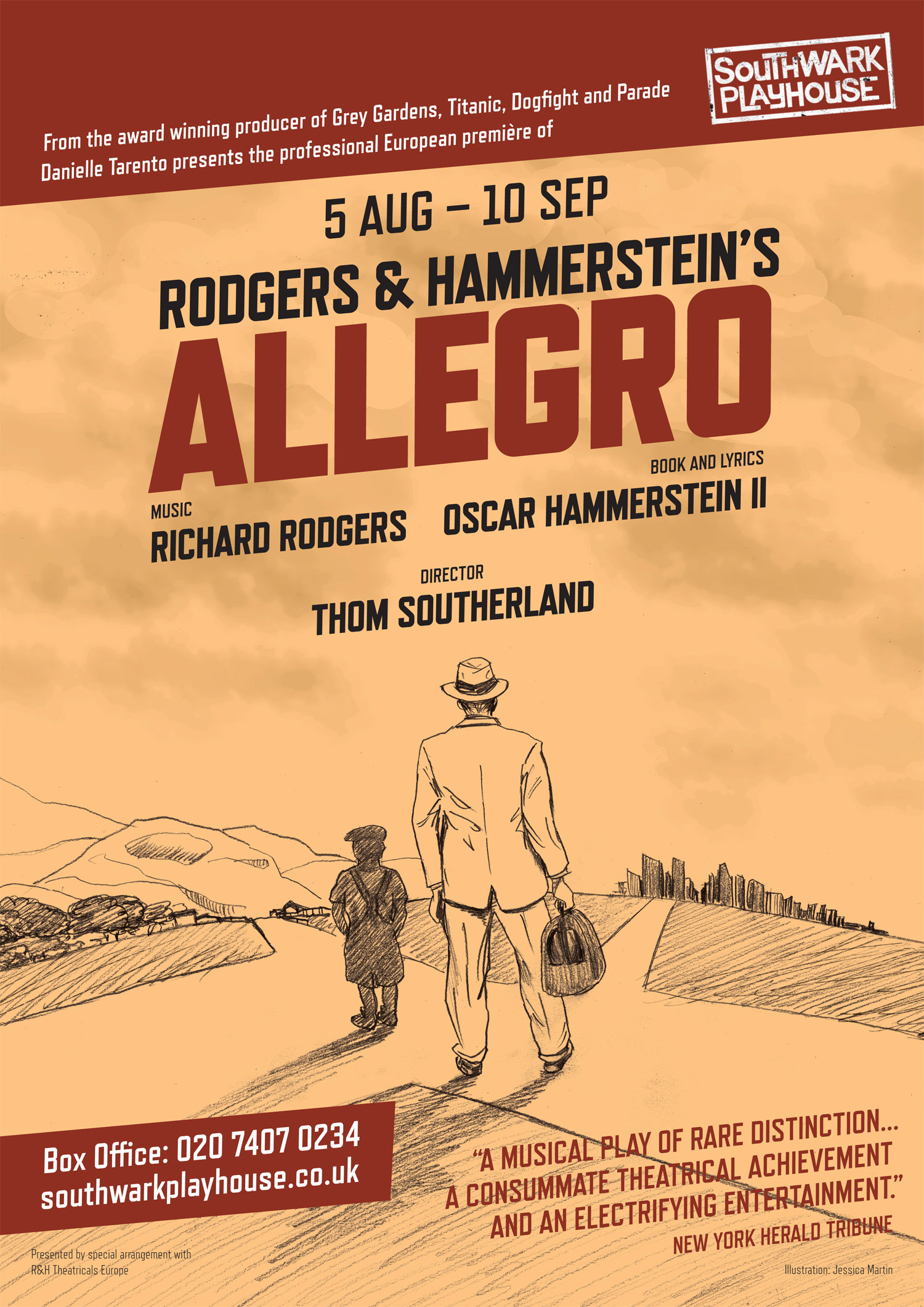 Full casting announced for Rodgers & Hammerstein's ALLEGRO opening this August at Southwark Playhouse
ALLEGRO will run for a six-week season at Southwark Playhouse from 5 August to 10 September 2016. It will be in The Large at Southwark Playhouse, London and press night will be Friday 12 August at 7.30pm.
With an epic score by Richard Rodgers and a ground breaking book by Oscar Hammerstein II, Rodgers & Hammerstein's ALLEGRO opened in 1947 to the highest advance in Broadway history. Almost 70 years later, this extraordinary musical is to receive its professional European stage première, produced by Danielle Tarento and directed by Thom Southerland.
Katie Bernstein (MRS HENDERSON PRESENTS, URINETOWN) will play Emily West alongside Emily Bull (SUNSET BOULEVARD) as Jennie Brinker, David Delve (GRAND HOTEL) as Ned Brinker, Julia J Nagle (DIRTY DANCING) as Marjorie Taylor, Dylan Turner (BEAUTIFUL) as Charlie Townsend and Susan Travers (STATE FAIR) as Grandma Taylor.
They are joined by Gary Tushaw (SUNSET VOULEVARD) as Joseph Taylor Jr. and Steve Watts (CHARIOTS OF FIRE) as Dr Taylor.
Completing the cast is Cassandra McCowan, Matthew McDonald, Louise Olley, Benjamin Purkiss, Jacqueline Tate, Samuel Thomas, Leah West and Matthew Woodyatt.
Lee Proud choreographs with musical direction from Dean Austin.
ALLEGRO is the third collaboration for the stage by Richard Rodgers and Oscar Hammerstein II following OKLAHOMA! and CAROUSEL. This ensemble musical chronicles nearly four decades in the life of an Everyman, Joseph Taylor, Jr., from cradle through a mid-life discovery of who he is and what his life is truly about. The first musical to be staged by a director who was also the choreographer (the legendary Agnes de Mille), the unique structural format allows the saga to whisk us from Joe's birth through his childhood, from college dorm to marriage altar, and on to his career; from the tranquility of his small Midwestern hometown to the hectic din of big city life, in a series of vignettes and musical sequences dazzling in their simplicity and stunning in their impact. Ahead of its time theatrically, ALLEGRO remains timeless in its appeal.
Book tickets to ALLEGRO here!
Watch Katie Bernstein sing The Gentleman Is A Dope.
See the cast in rehearsals!
There will be a post-show Q&A session with ALLEGRO director Thom Southerland and cast members* on 17 August.

*Cast attendance subject to availability. Free entry to Q&A for all ticket holders of said night's performance.
You must log in before you can post comments. You can login
here
.