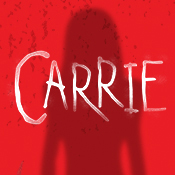 CARRIE THE MUSICAL Triumphs in Los Angeles and London!
The emotional story of misfit Carrie White, based on Stephen King's bestselling novel, resonated with audiences in Los Angeles and the West End this past year. CARRIE THE MUSICAL is a night you'll never forget and has now made the following 'Best of 2015' list:
CARRIE THE MUSICAL – Southwark Playhouse (London)
LondonTheatre.com – Top 10 London Musicals in 2015
"The show delighted new audiences and was certainly the off-West End event of the year!"
West End Fame – Top 10 Shows of 2015
"The musical also had a great deal of heart."
The Gizzle Review – Top Theatre of 2015
"A stunning and moving adaptation of Steven King's coming-of-age novel."
CARRIE THE MUSICAL - Los Angeles Theatre (Los Angeles, CA)
BroadwayWorld.com – The Best Performances in Los Angeles Theatre for 2015
Best Production, Best Director: Musical – Brady Schwind, Best Ensemble: Musical
Time Out Los Angeles – The Best Los Angeles Theater of 2015
"Immersive and enjoyable."
The Orange County Redister – Best of 2015
"A powerful, poetic score brought Stephen King's 1974 horror novel to life."
-Click HERE to learn more about CARRIE THE MUSICAL!
-Click HERE to read 'CARRIE THE MUSICAL – Creative Solutions from Theaters' on the R&H Blog to learn more about how you can bring some of the unique challenges of the musical to life on your stage!
You must log in before you can post comments. You can login
here
.