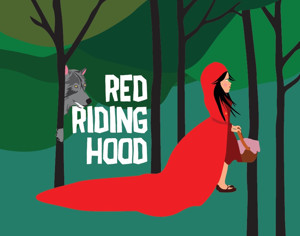 RED RIDING HOOD to play the holiday season at The Pleasance Theatre
A new musical adaptation of the classic fairy tale, RED RIDING HOOD is to play at The Pleasance Theatre, Islington from 7th December 2015 – 3rd January 2016.
With music, book and lyrics by writing duo Jake Brunger and Pippa Cleary, RED RIDING HOOD is an uplifting story of brave Red who must journey through the forest to reunite her family and save Mother's bakery from closing down. Filled with humour and packed with original music, RED RIDING HOOD is a show for the whole family.
The cast features Nazerene Williams (DICK WHITTINGTON, Lyric Hammersmith) as Little Red, Holly-Anna Lloyd (LOVE BEYOND, Wembley Arena) as Mother, Patsy Blower (JEKYLL AND HYDE, Union Theatre) as Grandma, Matthew Jay-Ryan (THE ONE DIRECTION STORY) as William The Woodcutter and Matthew Barrow (MAMMA MIA!, THE WIZARD OF OZ, West End) as Wolf/Father.
RED RIDING HOOD is produced by Paul Taylor-Mills, who returns to The Pleasance Theatre after last year's production of CAT IN THE HAT. Other recent productions include IN THE HEIGHTS (King's Cross Theatre), BARE: THE ROCK MUSICAL (Union Theatre), CASA VALENTINE (Southwark Playhouse) and ALTAR BOYZ (Greenwich Theatre).
Paul Taylor-Mills said: "After following the careers of Jake and Pippa since JET SET GO!, I have seen them cement themselves as one of the most exciting voices in new musical theatre in the UK. The way in which they complement each other is truly original, exciting and I am delighted to be presenting their big show for small people following the success of last year's run of CAT IN THE HAT at The Pleasance Theatre. Audiences young and old are promised a contemporary take on the famous story presented by a truly visionary team".
RED RIDING HOOD will be directed by Kate Golledge with choreography by Ashley Nottingham, musical direction by Charlie Ingles, design by Simon Wells and sound design by Chris Bogg. It is presented by arrangement with R&H Theatricals Europe.
Tweet @LilRed_Musical
To book tickets click here.
You must log in before you can post comments. You can login
here
.