Cast Announced for North American Tour of THE SOUND OF MUSIC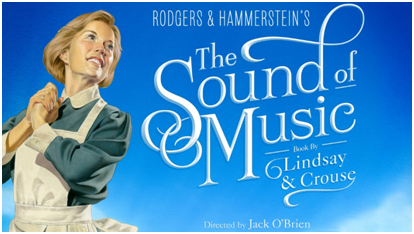 Casting has been announced for the brand new production of THE SOUND OF MUSIC, directed by three-time Tony Award® winner Jack O'Brien.
BEN DAVIS (Broadway's Violet, A Little Night Music, La Bohème) will play Captain Georg von Trapp and ASHLEY BROWN (Broadway's Mary Poppins, NBC's The Sound of Music LIVE!) will play The Mother Abbess with MERWIN FOARD as Max Detweiler, TERI DALE HANSEN as Elsa Schraeder, DAN TRACY as Rolf and PAIGE SILVESTER as Liesl. The von Trapp children will be played by ERICH SCHUETT (Friedrich), MARIA KNASEL (Louisa), QUINN ERICKSON (Kurt), SVEA JOHNSON (Brigitta), MACKENZIE CURRIE (Marta) and ANDREY BENNETT (Gretl).
And introducing Jack O'Brien's brand new discovery, KERSTIN ANDERSON as Maria Rainer.
"I've always believed Maria was a "star-making" part, rather than the leading role we remember from the movies and our experience; so I went looking for someone with star-making magic. And in through the audition door one day walked Kerstin Anderson, still studying at Pace University in New York. She opened her mouth, she sang, and the tears welled up in my eyes. If ever there were an enchanting young woman standing on the brink of discovery — this was it! And now, the discovery is about to be all of ours!" -Jack O'Brien
The ensemble includes Carey Rebecca Brown, Ron Brown, Caitlin Burke, Christopher Carl, Kyla Carter, Austin Colby, Daniella Dalli, Elisabeth Evans, Donna Garner, Meghan Hales, Adam Hill, Jenavene Hester, Jeremy Lanuti, Darren Matthias, Kelly McCormick, Julia Osborne, Andrea Ross, Brent Schindele and Jim Schubin.
In the words of Ted Chapin, President and Chief Creative Officer of Rodgers & Hammerstein: An Imagem Company, "THE SOUND OF MUSIC continues to be the world's most beloved musical. When a major national tour was suggested, I not only agreed, but was willing to roll up my sleeves and do whatever I could to fashion a new stage production that would re-engage today's theatergoing public. The show was originally created for Broadway, and seeing it on stage only reinforces the power of the story and the score. And with Jack O'Brien at the directorial helm – well, we simply couldn't do better. Landing somewhere between The Coast of Utopia and Hairspray (shows for which Jack won the Tony®), his production will be smart, focused, and surprising. I can't wait."
CLICK HERE FOR ANNOUNCED TOUR DATES/VENUES
For more information, please visit www.TheSoundOfMusicOnTour.com
Facebook: /TheSoundOfMusic
Twitter: /@SoundOfMusic
You must log in before you can post comments. You can login
here
.