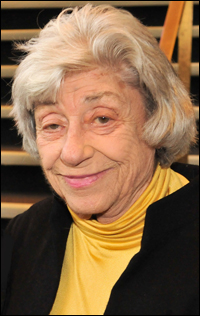 Mourning the loss of Alice Hammerstein Mathias
Alice Hammerstein Mathias, the daughter of Oscar Hammerstein II and Myra Finn, died Thursday, February 26, at the age of 93. According to her daughter, Melinda Walsh, the cause was pneumonia.
Alice Mathias was, for many years, the Hammerstein family representative to The Rodgers and Hammerstein Organization, and continued to be the spokeswoman for her father's work. With the insight of having seen the original production of SHOW BOAT in 1927, she addressed the cast of the musical's New York Philharmonic concert performance last fall during rehearsals.
As a young woman, she worked for her father doing research on specific subjects to support her father's lyrics, becoming immersed in the tradition of the New England clambake for the song "A Real Nice Clambake" in CAROUSEL. The material presented to her father often far exceeded what was necessary, something she attributed to what she termed "research poisoning".
The recipient of several ASCAP Awards, she was the lyricist and co-author of BABES IN TOYLAND, an adaptation of the Victor Herbert Operetta, and she also wrote English lyrics to Franz Lehar's THE MERRY WIDOW and Johann Strauss' A NIGHT IN VENICE, all of which were presented in the repertory of the Light Opera of Manhattan (LOOM). She was also associated with conductor Thomas Scherman and his Little Orchestra Society, for whom she translated lyrics of the American premiere of Richard Strauss' INTERMEZZO and adapted Mozart's THE MAGIC FLUTE for presentation by puppets, both of which were performed at Lincoln Center for the Performing Arts. Mrs. Mathias, with her late husband Philip Mathias, wrote and produced a musical Centennial tribute to Jermone Kern, THE MUSIC IS KERN, in 1985, and was proud of having hired the then-unknown Susan Stroman to direct it.
She enjoyed a lively correspondence with her father from 1928 until his death in 1960, and carefully saved the letters, which were warm, chatty, encouraging, and sometimes stern. Oscar treasured his daughter's precocious and painstakingly detailed notes and they were returned to her upon his death. Over the years, Mrs. Mathias worked on a book that would include all the letters, which she titled, From OH to AH.
Alice Hammerstein Mathias is survived by her children, Melinda Walsh of Bedford Hills, New York and Peter Mathias of Monroe, Conneticut, a step-sister, Susan Blanchard of Roxbury, Conneticut, four grandchildren and two great-grandaughters.
You must log in before you can post comments. You can login
here
.