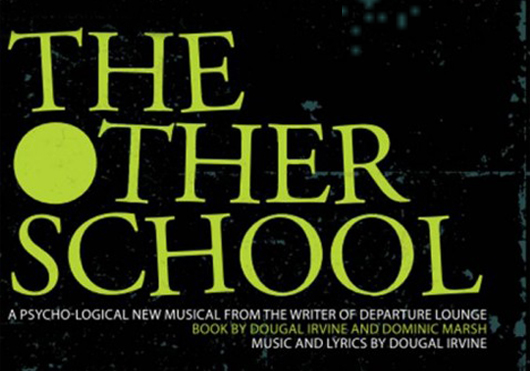 R&H Theatricals Europe Proudly Announces THE OTHER SCHOOL
R&H Theatricals Europe is proud to announce that THE OTHER SCHOOL, a psycho-logical new musical by Dougal Irvine and Dominic Marsh, is now available for professional and amateur licensing in the United Kingdom and Europe. Applications are being accepted immediately for performances beginning no sooner than July 2014.
Originally commissioned by National Youth Music Theatre, THE OTHER SCHOOL enjoyed a sell-out run at London's St. James Theatre in 2013, acclaimed by audiences and critics alike. "Dougal Irvine is the real deal as a composer, writing alternately moving and catchy tunes in a modern pop idiom that are absolutely original, too," wrote Mark Shenton for The Stage. "The show dares to embrace a dark subject matter with a light-hearted spirit (in every sense) to create an alternative world that feels authentic, disturbing and complex." One Stop Arts gave it 5 ***** and hailed it as "thoughtful, boisterous and poignant."
A new production of THE OTHER SCHOOL will play from 3rd-5th July 2014 at Guilford's Yvonne Arnaud Theatre. For tickets and more information, click here.
About THE OTHER SCHOOL:
Polly and Kester Parish are bored of first days. It's their fifth new school in five years thanks to Mum's job. This school is a bit different though. Every student seems to have suffered a random freaky accident. Some of them enjoy snapping their limbs and slamming their fingers in doors. That Headmistress is definitely not all there, not to mention the creepy Caretaker. Welcome to THE OTHER SCHOOL - once you're in the system it'll never let you leave!
Listen to an interview with Dougal Irvine here
About the Authors
Dougal Irvine is a multi-award winning composer, lyricist and writer. He trained in playwriting at the Royal Court. Credits include Departure Lounge, In Touch and Angry Birds.
Dominic Marsh enjoys a varied career as an actor. His work has included roles for Kneehigh Theatre and the Royal Shakespeare Company as well as productions in the West End. He plays the lead in the musical feature film Lucky Stiff. The Other School marks Dominic's debut as a writer.
You must log in before you can post comments. You can login
here
.