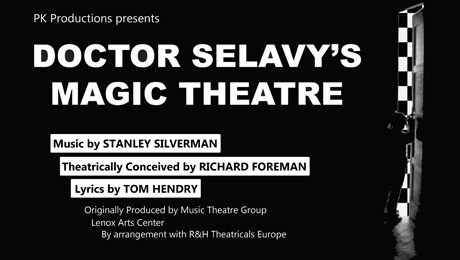 Doctor Selavy's Magic Theatre
PK Productions, by arrangement with R&H Theatricals Europe, present the London premier of cult American musical Dr Selavy's Magic Theatre.
Welcome to the extraordinary odyssey of a confused young man, led by wacky doctors through a labyrinth of wildly theatricalised versions of major life crises and temptations -- wealth, sensuality, power, romance, lost innocence, and death.
Presided over by the enigmatic Dr. Selavy (or C'est La Vie, if you like), himself an illusion created by master trickster Marcel Duchamp, this outrageous journey leads our hero in an ironic dance through an eccentric fun house of extravagant awakenings to a climax of self-knowledge and acceptance.
To the strains of an eminently hummable and upbeat score, this offbeat piece provides an adventurous departure from the traditional expectations of musical theatre.
Previous praise for Doctor Selavy's Magic Theatre:
"If there is a more entertaining show in town, I cannot think what it is!" ~ Edith Oliver, The New Yorker
Please click here for tickets.
To learn more about this musical, please click here.
The first complete recording of Doctor Selavy's Magic Theatre was released by Rounder Records in 2011. This can be purchased here.
You must log in before you can post comments. You can login
here
.