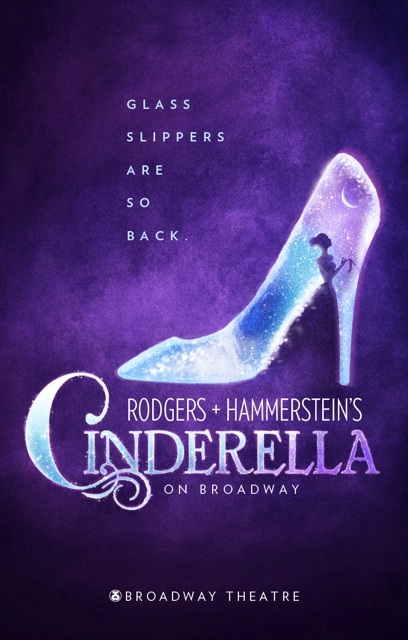 "A Lovely Night" CINDERELLA Opens on Broadway
Rodgers + Hammerstein's CINDERELLA has had her Broadway debut and the press is in!
"OMG! THE ULTIMATE AND MOST ENDURING OF MAKEOVER SHOWS is back in town, and this Cinderella is no passive damsel waiting for a rescuing knight. SHE TAKES CHARGE OF HER DESTINY." –The New York Times
"CINDERELLA CASTS A NEW SPELL ON BROADWAY! A SCRUMPTIOUS DELIGHT that will charm theatergoers of all ages! The Rodgers + Hammerstein musical gets a 21st-century makeoverwith DAZZLING VISUAL EFFECTS!" –USA Today
"A DAZZLING DELIGHT FOR ALL AGES!" –USA Today
"AND WE'RE SOLD! This WISED-UP, WIT-SPACKLED Cinderella is as SOLIDLY ENTERTAINING as they come, featuring one of Broadway's finest ensembles and what might be its COUPLE OF THE YEAR. Cinderella and her Prince have been REBORN!" –New York Magazine
"Watch out, WICKED witches, here comes Rodgers + Hammerstein's CINDERELLA! LAVISH, CLEVER and WITTY, this production should WOW fairytale fans." –Variety
"PURE MAGIC! Broadway's new Cinderella CRACKLES WITH SWEETNESS AND FRESHNESS. A charming, witty and relevant TAKE ON THE CLASSIC STORY, with TOP-NOTCH singing, SUMPTUOUS SONGS and a FIRST-RATE cast!" –AP
"THRILLING! NEVER UNDERESTIMATE THE POWER OF A BALL GOWN AND GLASSSLIPPERS." –Entertainment Weekly
"LAVISH FAMILY ENTERTAINMENT! YOU'RE IN FOR A FEW BIG SURPRISES. HOP THEPUMPKIN CARRIAGE AND ENJOY THE RIDE!" –Time Out New York
"LAURA OSNES AND SANTINO FONTANO ARE THE CUTEST COUPLE ON BROADWAY!" –DailyNews
"A DELIGHTFUL BROADWAY EXTRAVAGANZA chock-full of VISUAL SPECTACLE, elaboratedance numbers, eye-catching scenery, dazzling costumes and A MARVELOUS RODGERS + HAMMERSTEIN SCORE!" –The Record
"A CROWD-PLEASING CONCOCTION! Into The Woods is no longer the only revisionist Cinderella tale on the boards." –The Village Voice
"A REALLY GOOD TIME!" –Newsday
"CINDERELLA CASTS A MAGICAL SPELL on kids and adults alike!" –NY1
"AN ABSOLUTE JOY!" –Financial Times
Comments

Can this version of "Cinderella" be licensed?
You must log in before you can post comments. You can login
here
.