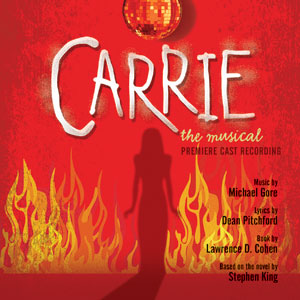 CARRIE Cast Recording Available September 25th
Ghostlight Records announced today that—for the first time ever—the musical Carrie has been preserved in a brand-new cast recording of the recent MCC Theater Off-Broadway revival. Carrie, which originally appeared on Broadway in 1988, features music by Michael Gore, lyrics by Dean Pitchford (Academy Award®-winning composer and lyricist for the original film Fame) and a book by Lawrence D. Cohen, who also penned the film's screenplay. The new recording, executive produced by Grammy Award® winner Kurt Deutsch (In the Heights) and featuring the critically-acclaimed knockout vocal performances of Tony Award® nominee Marin Mazzie (Kiss Me Kate, Next to Normal) and breakout Molly Ranson (Jerusalem, August: Osage County), will be released on September 25th on iTunes, Amazon.com, and is available for pre-order at Sh-K-Boom's website. A teaser trailer of the album can be viewed at http://youtu.be/JMAnEkybylM.
Based on Stephen King's bestselling novel, the musical Carrie tells the infamous tale of a troubled teenage girl (Ranson) whose tortured social life is made more unbearable by her oppressive religious fanatic mother (Mazzie). Before becoming a musical, the novel Carrie was famously adapted for the screen in the 1976 Brian DePalma film of the same name starring Sissy Spacek. Since then, in its various incarnations, it has become an iconic pop culture brand all its own, making the Ghostlight Records release a highly-anticipated event.
Carrie: The Musical – Premiere Cast Recording was produced by Joel Moss and Michael Gore, and features orchestrations by Tony Award® winner Doug Besterman (The Producers, Thoroughly Modern Millie), vocal design by AnnMarie Milazzo, and music direction and arrangements by Mary-Mitchell Campbell.
In addition to Marin Mazzie and Molly Ranson, the cast recording features cast members Christy Altomare, Carmen Cusack, Jeanna de Waal, Derek Klena, Ben Thompson, Wayne Alan Wilcox, Corey Boardman, Blair Goldberg, F. Michael Haynie, Andy Mientus, Elly Noble, and Jen Sese.
Appearing on the recording are Mary-Mitchell Campbell, conductor/keyboard; Adam Wachter, keyboard; Craig Magnano & Dillon Kondor, guitars; Brian Hamm, bass; Damien Bassman, drums/percussion; and Alisa Horn, cello.
The 2012 Off-Broadway production of Carrie was directed by Stafford Arima (Altar Boyz, The Secret Garden), with choreography by Matt Williams, set design by David Zinn, costume design by Emily Rebholz, lighting design by Tony Award® winner Kevin Adams (Spring Awakening, American Idiot), sound design by Jonathan Deans, projection design by Sven Ortel, fight direction by Rick Sordelet, wig and hair design by Leah J. Loukas. Performances of Carrie began January 31, 2012, at the Lucille Lortel Theatre (121 Christopher Street, NYC) and officially opened on March 1, 2012. All future performance rights to Carrie are licensed by R&H Theatricals (www.rnh.com).
Carrie: The Musical – Premiere Cast Recording Track Listing
1 In
2 Carrie
3 Open Your Heart
4 And Eve Was Weak
5 The World According To Chris
6 Evening Prayers
7 Dreamer In Disguise
8 Once You See
9 Unsuspecting Hearts
10 Do Me A Favor
11 I Remember How Those Boys Could Dance
12 A Night We'll Never Forget
13 You Shine
14 Why Not Me?
15 Stay Here Instead
16 When There's No One
17 Prom Arrival
18 Unsuspecting Hearts (Reprise)
19 Dreamer In Disguise (Reprise)
20 Prom Climax
21 Alma Mater
22 The Destruction
23 Carrie (Reprise)
24 Epilogue
Licensing for CARRIE the musical will soon be available through R&H Theatricals. Sign up for our newsletter to stay up to date.
You must log in before you can post comments. You can login
here
.