Some of Broadway's best took the stage at New York's Symphony Space on October 7, 2013, to celebrate the 70th anniversary of the Broadway premiere of One Touch of Venus and the release of the first complete recording of the show (available on JAY Records). Hosted by Ted Chapin, the evening highlighted songs from One Touch of Venus as well as favorites from other Weill shows, including Street Scene, Lady in the Dark, Love Life, Lost in the Stars, Knickerbocker Holiday, The Threepenny Opera, and Happy End. The starry cast featured Melissa Errico, Brent Barrett, Judy Blazer, and Ron Raines alongside winners of the Lotte Lenya Competition. The evening was music directed by Weill specialist James Holmes and directed by Richard Jay-Alexander. Below are excerpts from Ted Chapin's narration, edited to follow the order of the Broadway World video of highlights from the concert.
Ted Chapin:
Tonight is a celebration, first of ONE TOUCH OF VENUS. The reviews were good – "a new musical comedy that is adult, professional, often comic, and genuinely musical…whose subversive and anarchic elements were so skillfully packaged that they went almost unnoticed." The show was a hit – 567 performances – the longest original run of any of Weill's Broadway shows. Three members of the creative team had never worked on a musical before – librettist S. J. Perlman, lyricist Ogden Nash, and director Elia Kazan. It was a very American show, contemporary, sassy, and sexy. The plot is about a statue of Venus that comes to life, experiences the real world, sees that all is not as it should be, and goes back to being a statue. Along the way there are the prerequisite love complications, some good humor, many great songs, and some interesting commentary on life in America, circa 1943.
I'm a Stranger Here Myself (ONE TOUCH OF VENUS) - Melissa Errico
"Oh, why not just go on and say it? As the love goddess who fell to earth in the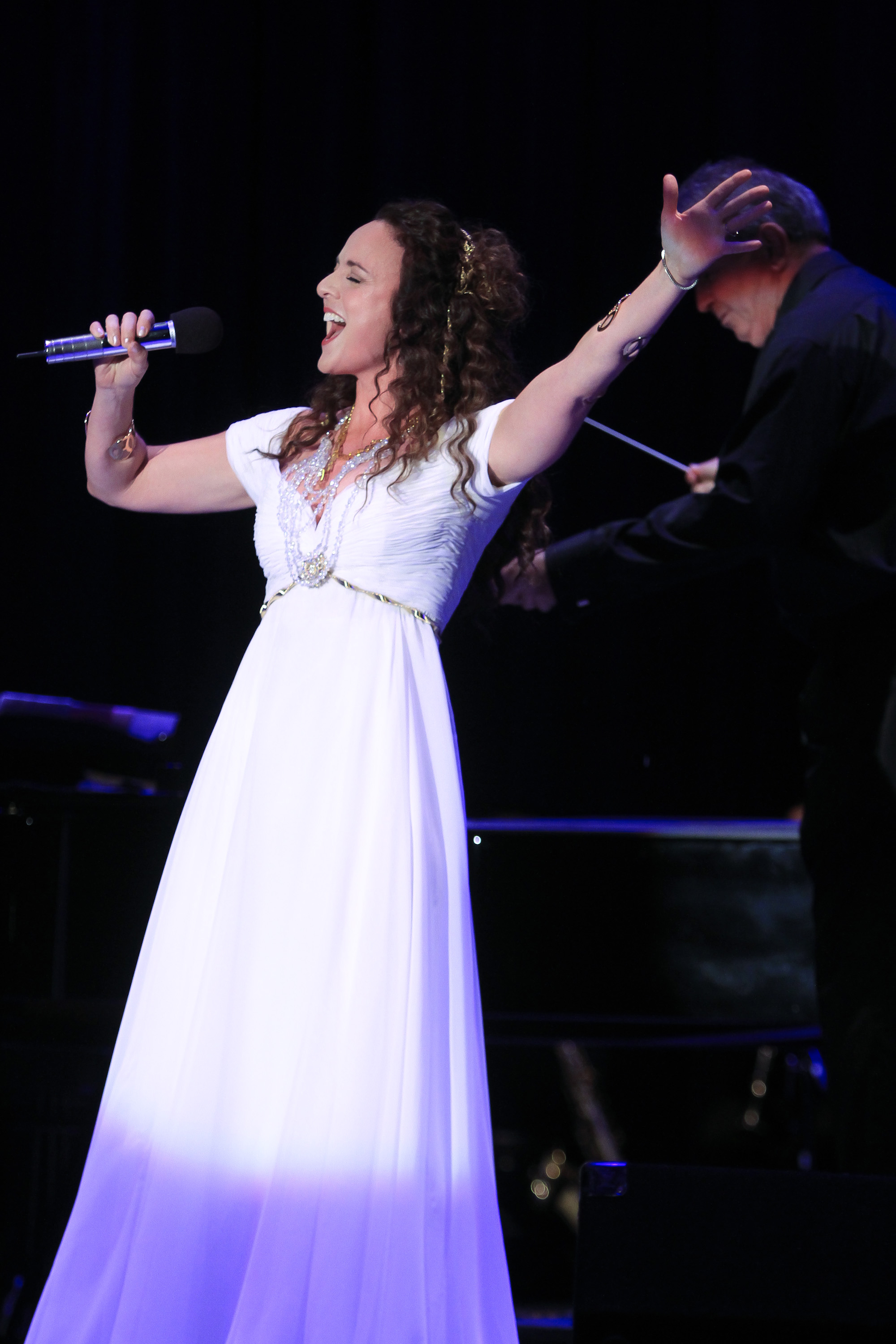 charming concert version of ONE TOUCH OF VENUS, Melissa Errico is, in a word, divine." That was the critic of the Times when Melissa performed the role at Encores! in 1996. Venus begins as a statue, but an unsuspecting barber, Rodney, decides to slip the engagement ring he is carrying for his fiancé onto the statue's finger. She comes to life, and seeing a handsome man in front of her, assumes Rodney is her love. He is still loyal to his girlfriend. And the plot takes off. Mortals are so peculiar, and not very sophisticated in the world of love. Rodney sings of his girlfriend, but Venus is struggling with increasingly strong feelings for him.
How Much I Love You (ONE TOUCH OF VENUS) – Brent Barrett

Foolish Heart (ONE TOUCH OF VENUS) – Melissa Errico
It is important to point out that all the orchestrations you hear were created by the composer himself. Kurt Weill was unique among the Broadway composers of the 1940's that way. As Kurt Weill was writing ONE TOUCH OF VENUS, he became an American citizen. So here he is, as American as he could get. And this song has one of those wonderful 1940's lead-in lines to a comedy song: "I always say the minute you cross the Hudson River you're in the Wild West!"
Way Out West in Jersey (ONE TOUCH OF VENUS) – Maren Weinberger, Analisa Leaming, and Jacob Keith Watson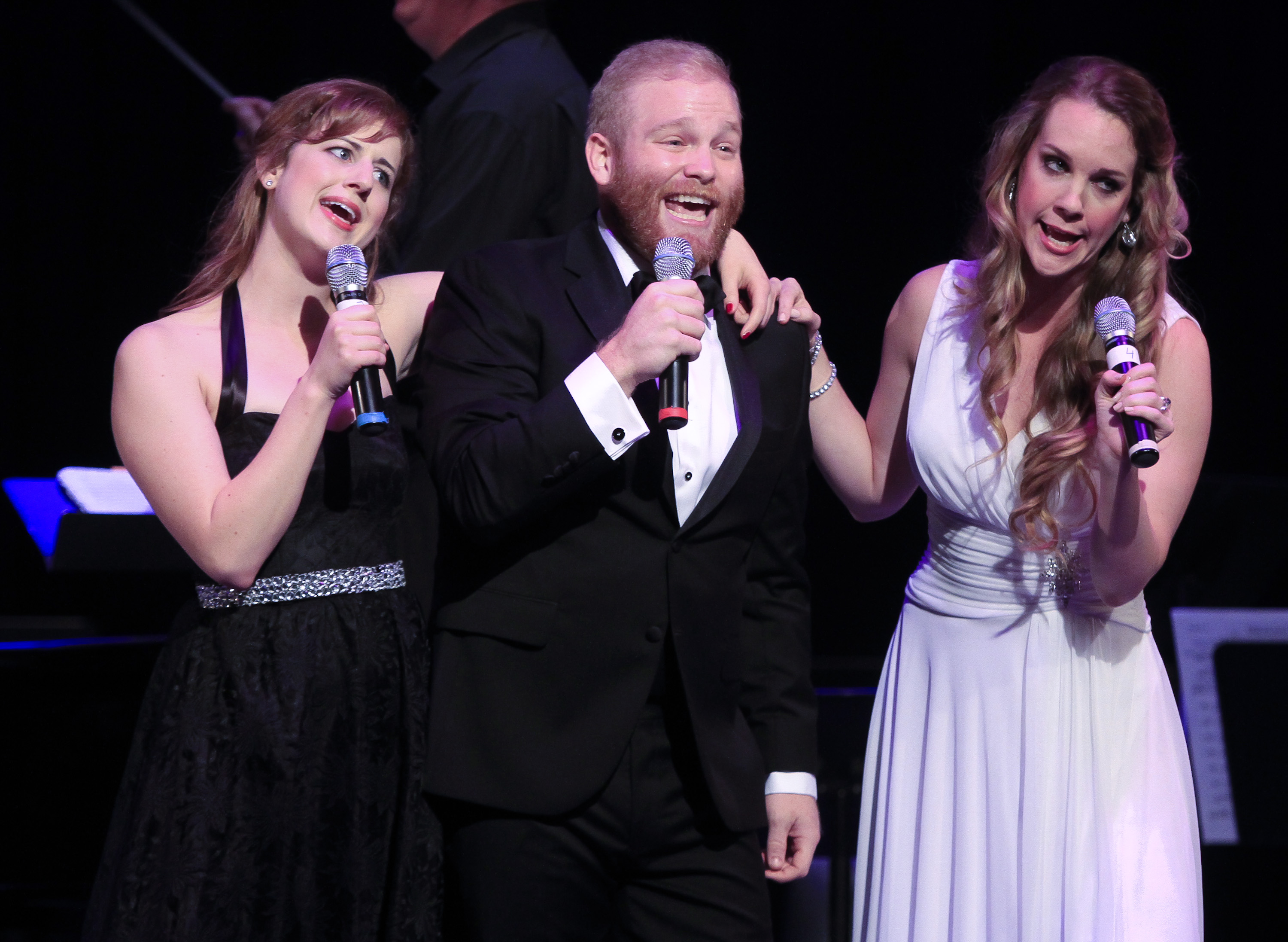 The character who first brings the Venus statue to the Whitelaw Savory Foundation of Modern Art is none other than…Whitelaw Savory. The statue reminded him of someone…someone he feels he wants to meet again after a long journey. "In love with a memory?," Venus asks. "You're not very practical, are you?" She is far smarter than he is in the ways of love, and she leaves him with his memories.
West Wind (ONE TOUCH OF VENUS) – Ron Raines
Here is a first – a barbershop quartet, sung in a barber shop! Here is our barber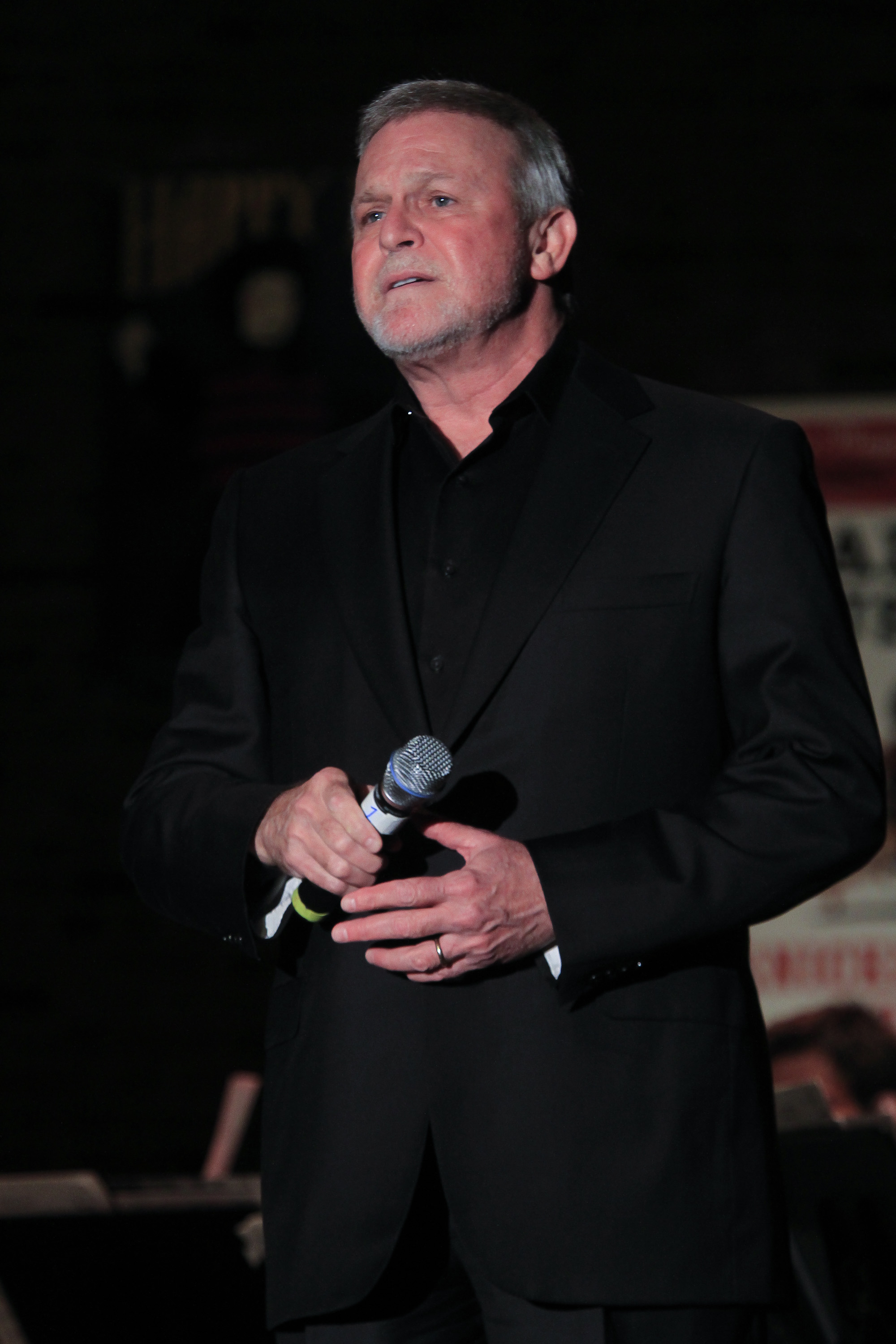 commiserating with his cronies, including the shady guys who first unloaded the statue from the truck in the beginning of the show.

The Trouble with Women (ONE TOUCH OF VENUS) – Jacob Watson, Richard Todd Adams, Cooper Grodin, Zachary James)
ONE TOUCH OF VENUS was originally conceived as a vehicle for Marlene Deitrich to make her Broadway debut. That proved to be too scary a thought, and so the role fell to Mary Martin – which may seem like an unlikely choice. She had been unhappily in Hollywood, but needed a return to Broadway. Funny as we now think of her in those tomboy and nun roles she played later on, here she is, the goddess of sex. In her autobiography she wrote, "Me? In a part for Dietrich? And Venus?" Martin's husband/manager Richard Halliday insisted they listen to Weill play the score, which he did in a "kind of quavery, German sound." She was halfway there. It took a little more convincing before Martin signed on, and one important piece was engaging the couturier Mainboucher to design her clothes. Back to Weill's apartment they all went, only this time Mary Martin sang "That's Him." "As Kurt played the introduction, I picked up a little chair and carried it over right in front of Main. I sat on it sideways and sang the song, right smack into those kind brown eyes. When I finished, he said, "I will do your clothes for the show if you will promise me one thing. Promise me you'll always sing this song that way." Which, of course, she did.
That's Him (ONE TOUCH OF VENUS) – Melissa Errico
Now to our last song, which has become the best-known standard from the score. Inspired by a line in MUCH ADO ABOUT NOTHING – "Speak low if you speak love." Weill may well have quoted it to lyricist Ogden Nash as "speak low wenn you speak love," since 'wenn' is the German word for "if." So "when" it became! Either way, it inspired a classic Kurt Weill song.
Speak Low (ONE TOUCH OF VENUS) – Melissa Errico, Brent Barrett
Now we move away from ONE TOUCH OF VENUS and on to the rest of Kurt Weill's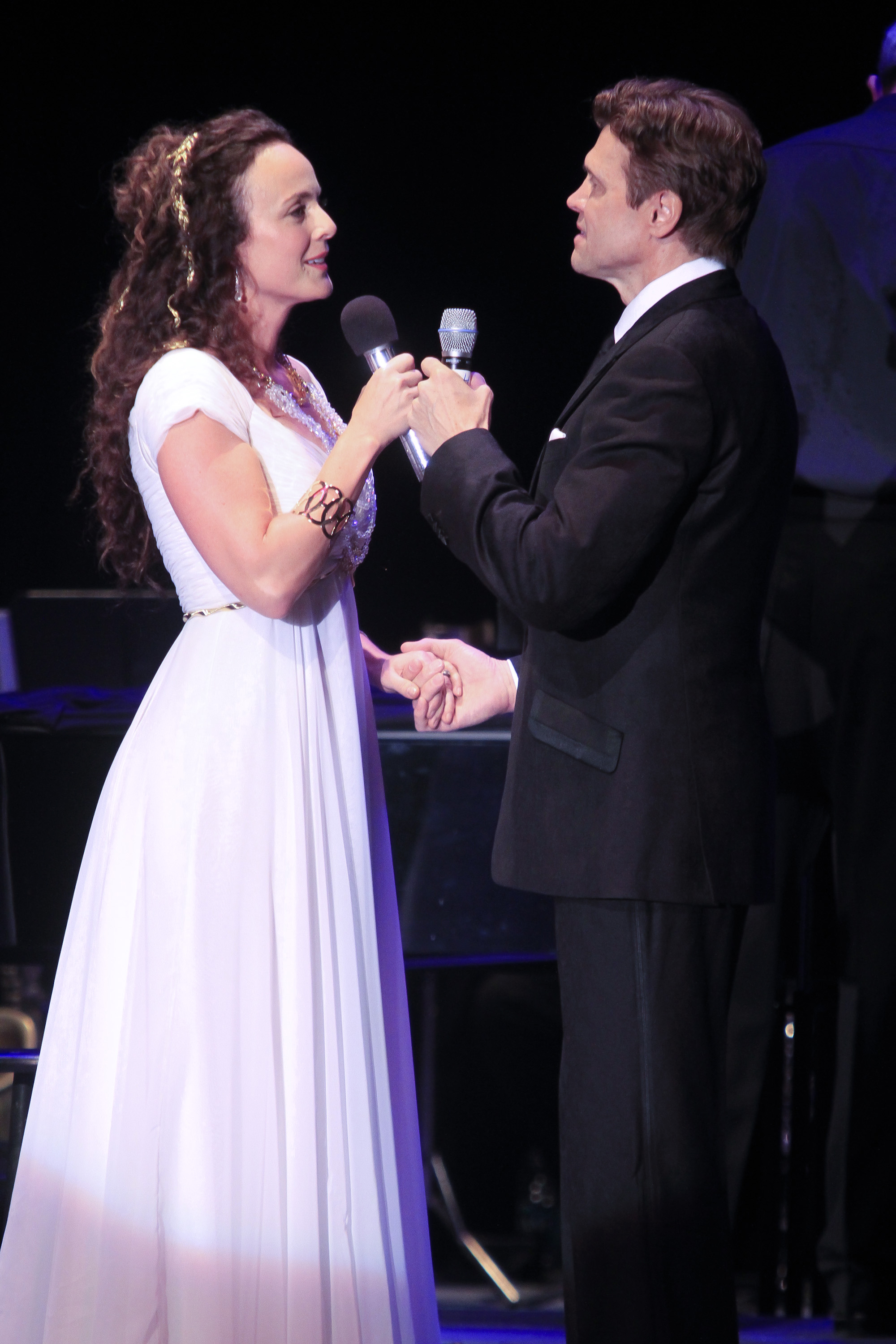 Broadway career – there were 8 shows in all, from 1936's JOHNNY JOHNSON to LOST IN THE STARS in 1949. For the most part, Weill chose to work with different collaborators on each show – which tells you how varied he wanted them to be.
One lyricist he worked with more than once was Ira Gershwin. Their first collaboration was the extraordinary LADY IN THE DARK. The story came from librettist Moss Hart, who was going through psychoanalysis. Originally he conceived a play, called I AM LISTENING, with one song which the leading character kept trying to remember in her dreams. That morphed into the novel idea of musicalizing three of the lead character's dreams, but not the rest of the show. So LADY IN THE DARK ended up kind of as a play-with-musicals.
This Is New (LADY IN THE DARK) – Doug Carpenter
STREET SCENE was, for lack of a better term, Weill's Broadway opera. If part of the task of a Broadway composer is to maintain a personal stamp while adapting to the specific circumstances at hand, Weill was a master. He always wanted to explore new ways of blending music and theater, and opera was still a form acceptable to the world of Broadway. Elmer Rice's 1929 Pulitzer Prize-winning play STREET SCENE gave him a good opportunity to create a wide raging score that encompassed many styles, from soft-shoe, boogey-woogie, to soaring ballads. Noted poet Langston Hughes provided the lyrics.
Wouldn't You Like to Be on Broadway? (STREET SCENE) – Brent Barrett
What Good Would the Moon Be? (STREET SCENE) – Analisa Leaming
One Life to Live (LADY IN THE DARK) – Melissa Errico
Lonely House (STREET SCENE) – Jacob Keith Watson
These Broadway musicals by Kurt Weill do not get quite the attention they deserve these days, although they are performed around the world. The one, though, that I feel is unjustly overlooked is LOVE LIFE. Let's put it this way: the chapter in Foster Hirsch's book on Kurt Weill's stage career titles the chapter on this show: "Before Sondheim." The show is credited as "a Vaudeville" and the idea came from Weill's neighbor in New City – Alan Jay Lerner, fresh from his success with BRIGADOON. His idea was to tell the story of an American family, over 150 years, from 1791 to 1948, but while the time period changes, the characters stay the same age. Their "love life" reflects and is altered by the changing world throughout American history. The story is interrupted by vaudeville numbers 'in one.' At the end, the marriage is pretty much on the rocks, and in some ways the show seems to be saying that American values – which include free enterprise and ambition – may well be causing the destruction of the American way of life. The next song proved to be more than an inspiration to Alan Jay Lerner, who took that lyric, reworked it slightly with Frederick Loewe, and it became a highlight in the movie GIGI ten years later.
I Remember It Well (LOVE LIFE) – Ron Raines, Judy Blazer
Weill worked with playwright Maxwell Anderson on two musicals. In telling the story of Pieter Stuyvesant in KNICKERBOCKER HOLIDAY, they went straight for the question, as one of the songs asks, "How Can You Tell An American?" In their world, an American is someone who understands the freedoms a country has to offer and hates any restrictions on those freedoms. Coming in the mid-1930's, the parallel to what was happening in the world was not a coincidence. Politics were never very far from Kurt Weill's world.
It Never Was You (KNICKERBOCKER HOLIDAY) –Brent Barrett, Maren Weinberger
No celebration of the theater music of Kurt Weill is complete without a song from THE THREEPENNY OPERA. We have come to appreciate it as Weill's best known show, and even though it originally premiered in Germany in the late 1920's, the production at the Theater de Lys downtown remains one of the longest running shows in Off-Broadway history. It has also been produced in four distinctly different productions on Broadway, making it Weill's most produced Broadway show.
Army Song (THE THREEPENNY OPERA) – Cooper Grodin, Zachary James
We all know and respect songs that have come to have lives outside of the shows for which they were written. Here is a Kurt Weill standard, written for 1929's HAPPY END, again first produced in Germany. A Broadway production in the 1970's had Meryl Streep in one of the leading roles.
Surabaya Johnny (HAPPY END) – Melissa Erico
The other musical Weill wrote with Maxwell Anderson was based on Alan Paton's CRY, THE BELOVED COUNTRY. The two had wanted to write a show that dealt with the injustice of American segregation years before, and they had sketched out several numbers for the earlier idea. Nothing came of it, but when they secured the rights from Alan Paton, they found a story that provided the metaphor they needed. They were able to use some of the songs from before, including this one, which became the title song for LOST IN THE STARS.
Lost in the Stars (LOST IN THE STARS) – Justin Hopkins
Here I'll Stay (LOVE LIFE) –The Company
One Touch of Venus, Lady in the Dark, Knickerbocker Holiday, Lost in the Stars, LoveMusik and The Threepenny Opera are available for licensing through R&H Theatricals.
*All photos by Rahav Segev, courtesy of Symphony Space.