Spain Embraces "THE SOUND OF MUSIC"
Gran Via, a beautiful thoroughfare in the heart of Madrid, is known as Spain's own Broadway – and little wonder: within a few small blocks of each other are a half dozen resplendent old theatres, any one of which could hold its own with Broadway or London's West End. Home grown product – including hit "jukebox" musicals based on the songs and careers of Spanish pop legends – thrive alongside such fare as Los Productores (The Producers), El fantasma de la opera (Phantom of the Opera), and la Bella y la Bestia (Beauty and the Beast). Right now, the Lion King's internationally-recognized visage glowers down from the marquee for El Rey León, while across the street another internationally-beloved musical is drawing crowds of its own: SONRISAS Y LAGRIMAS (Smiles and Tears) – the Spanish title for THE SOUND OF MUSIC.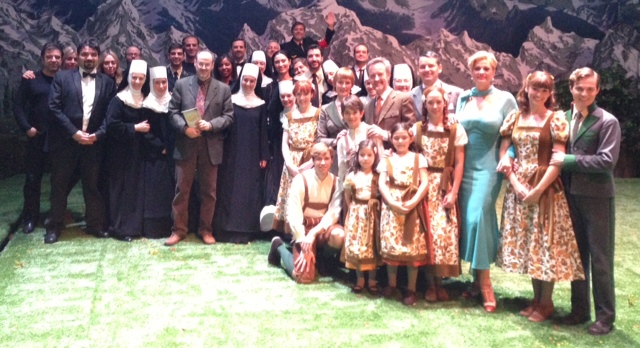 As I am now based in London, where Rodgers & Hammerstein is launching our own European theatrical licensing division – R&H Theatricals Europe – I had the great pleasure of hopping down to Madrid for 24 hours in late December, to see SONRISAS…, meet the cast and equally hardworking crew, and revel in a production of the timeless musical that seems to "bloom and grow forever" – and everywhere.
Madrid is a town that never sleeps – and I was therefore not surprised when the evening performance began at 9PM. (On Saturdays, the matinee is at 6PM, the second performance starts at 10PM, finishes close to 1AM and yes, I am told it is often populated with very happy and wide-awake children at that hour!) The production was beautifully designed and staged. Maria's "tom-boyish" qualities were wonderfully captured by Argentina-born Silvia Luchetti, and the Captain's soulful blend of melancholy and majestic was conveyed superbly by Carlos Hipólito (whose most recent previous role was as Benjamin Stone in a Madrid production of FOLLIES; after our performance, Señor Hipólito serenaded me with a few lines of "The Road You Didn't Take" en Español!)
THE SOUND OF MUSIC is known all over the globe, as popular as ever throughout the Spanish-speaking world. In Central and South America, where it is known as La novicia Rebelde (The Rebellious Novice), we have had recent successes in Mexico City, Mexico; Santiago, Chile; and Buenos Aires, Argentina (as well as in Portugese-speaking Brazil). The current Spanish production began in Tenerife in early 2012, and played throughout Spain until September, when it arrived at Madrid's Teatro Coliseum for what we hope will be a long, long way to run. (Specifically, a full season in the Spanish capital before resuming a tour across Spain starting in Summer '13).
I have seen this musical many times, and it never fails to move me – and it never fails to impress me with its construction and its story telling: the characters so expertly drawn by Lindsay & Crouse, and the timeless songs of Rodgers & Hammerstein (with a special salute to the new Spanish translation by Miguel Antelo!) In Vienna, Salzburg, Moscow, Haifa and now Madrid, I hear the songs, I re-live the story and it works every time – no matter where, no matter what language. Or, as the Mother Abbess might ponder, "How do you find the word that means Maria?"