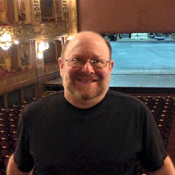 Lunden, Jeffrey
ARTHUR PERLMAN (Book and Lyrics) and JEFFREY LUNDEN (Music/Orchestrations) are authors of the award-winning adaptation of Arthur Kopit's  Wings, produced at the Joseph Papp Public Theater in New York (1994 Lucille Lortel Award for Outstanding Off-Broadway Musical) and The Goodman Theatre in Chicago (Joseph Jefferson Award for Best New Work/Adaptation).  The original cast recording, on Sony, is available on iTunes and Amazon. Other works include Another Midsummer Night (The Goodman Theatre, American Music Theater Festival), Once on a Summer's Day (Ensemble Studio Theatre) and five family musicals for Theatreworks/USA, including adaptations of The Little Prince and The Adventures of Huckleberry Finn.  They are currently adapting Laura Esquivel's novel of magic realism, Swift as Desire.
Mr. Lunden has produced several award-winning radio documentaries on musical theater for NPR.  He's a regular contributor to NPR's Morning Edition, All Things Considered, and Weekend Edition, and has filed stories for Marketplace, The World and Studio 360.  Lunden has written incidental music for several plays, including Arcadia (The Goodman Theatre, Arena Stage) and Syncopation (The Long Wharf Theatre, Winter Garden, Toronto) and Around the World in 80 Days, Oliver Twist and Charlotte's Web, among others, for Theatreworks/USA.  He also adapted period songs for The Civil War, for the TYA company.
Mr. Perlman is winner of the 2014 Kleban Award for bookwriting.  He has collaborated with composer Louis Rosen on an operatic adaptation of John Steinbeck's The Pearl and worked with Rosen and Charlotte Maier on A Child's Garden, a musical theater piece about Robert Louis Stevenson (The Melting Pot Theatre).  He's written adaptations of Oliver Twist and Jason and the Golden Fleece, and an original musical with period songs, The Civil War, for Theatreworks/USA.
Messrs. Perlman and Lunden are winners of the 1993 Gilman & Gonzalez-Falla Theater Foundation Musical Theater Award, a 1998 Jonathan Larson Foundation Award and a 2003 Richard Rodgers Development Award, for their adaptation of Raymond Radiguet's The Devil in the Flesh.  They have received numerous ASCAP Awards, are graduates of the first class of the MFA program in Musical Theatre at New York University and are members of the Dramatists Guild.
Shows Associated this writer
Songs Associated this writer
Trivia about this writer
The birthday of Jeffrey Lunden, composer of the musical WINGS, ANOTHER MIDSUMMER NIGHT, and THE DEVIL IN THE FLESH.