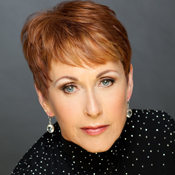 McBroom, Amanda
AMANDA MC BROOM has been called "...the greatest cabaret performer of her generation, an urban poet who writes like an angel and has a voice to match."
Her name first came to the attention of the music public when Bette Midler's version of Amanda's song "THE ROSE"  hit number one world wide in 1979.
Her songs have been recorded by Leanne Rhymes, Jack Black and Amy Poehler ,The Manhattan Transfer, Anne Murray, Barry Manilow, Judy Collins, Barbara Cook, Nana Mouskouri, , Curt Cobain,  Donny Osmond, Westlife, to name a few.
She was a staff song writer for the experimental TV series "Cop Rock," and, with her composing partner, Michele Brourman, has written lyrics for fourteen animated films under the auspices of Universal Studios Animation, including "Land Before Time", parts IV through XIV, "Hercules and Xena", "Alvin and The Chipmunks Meet Frankenstein", and "An American Tale-The Mystery of the Night Monster", and "Balto" parts II & III.
Her first two albums were recorded for the prestigious audiophile label Sheffield Labs, in collaboration with pianist Lincoln Mayorga.
The albums,"Growing Up In Hollywood" and "West of Oz" were called "striking and complete artistic successes" by Billboard Magazine. These recordings established AMANDA as a "high end" audio star (in fact earning her the label "Our Lady of the High End" among true audiophile devotees) setting the stage for the release of her solo debut on Gecko Records, a label she formed with her manager Garry George. Her first release, "Dreaming", has sold over 150,000 copies worldwide. Her second release on Gecko, "Midnight Matinee" featured performances by musicians such as jazz legend Bob James and blues idol Robben Ford. Her fifth release, a live recording appropriately titled "Amanda McBroom Live at Rainbow in the Stars", was recorded during her sold-out month-long engagement at that most illustrious venue  in New York. Her album project, "A Waiting Heart", was released in March of 1997, and was  declared  one of  the top twenty CD's of the year by the New York Times. Her CD, "Portraits" was released with an accompanying songbook. Her CD, "A Woman of Will", is the recording of her Off-Broadway one-woman show of the same name.CHANSON is a CD in tribute to her writing inspiration, Belgian singer/songwriter Jacques Brel. She is considered one of today's foremost interpreters of  Jacques Brel's songs.
Her latest CD, VOICES, was released in May of 2017, featuring a truly historical duet of her  song, THE ROSE with country legend Vince Gill.
True to her roots of growing up in Hollywood in the era of musicals, (her father was film star David Bruce) and her experiences on Broadway (in "Seesaw") and off Broadway ("Jacques Brel is Alive and Well and Living in Paris"), AMANDA wrote her own musical "Heartbeats", which has been produced throughout the country at such theaters as The Old Globe Theater in San Diego, the Goodspeed Opera House in Connecticut, the Cleveland Playhouse, the Pasadena Playhouse, and the Sacramento Music Circus.
Her one -woman musical, A WOMAN OF WILL, starring Amanda, had it's world premiere at the Rubicon Theater in Ventura, and its off-Broadway debut in October 2005.
Her latest theatrical endeavor has been as lyricist for the musical DANGEROUS BEAUTY, which had its world premiere at the Pasadena Playhouse in 2011.
Shows Associated this writer
Songs Associated this writer