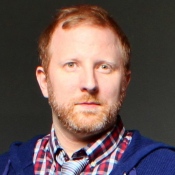 Bell, Hunter
Hunter Bell earned an OBIE Award, a Drama League nomination, and a Tony nomination for Best Book of a Musical for the Broadway musical [title of show]. Other credits include books for Now. Here. This., Found (Drama Desk Nomination, Outstanding Book of a Musical), Silence! The Musical (Lucille Lortel Nomination, Outstanding Musical), Bellobration! (Ringling Bros. Circus), Villains Tonight! (Disney Cruise Lines), Other World, and Julie Andrews' The Great American Mousical. He is a co-creator of the web series "the [title of show] show" and has developed television with ABC Studios. Hunter is a proud graduate and distinguished alumnus of Webster University's Conservatory of Theatre Arts, a member of the Dramatists Guild, Writers Guild, and a MacDowell Fellow. @huntbell
Shows Associated this writer
Songs Associated this writer
Trivia about this writer
In 2008, the musical [TITLE OF SHOW] closed on Broadway after 102 performances.
In 2008, after a successful off-Broadway run and three Obie Awards, the musical [TITLE OF SHOW] opened on Broadway at the Lyceum Theatre where it played for 102 performances.
The birthday of Hunter Bell, Tony-nominated book writer for [TITLE OF SHOW]. The musical follows Hunter and collaborator Jeff Bowen on their journey through the gauntlet of creative self-expression and musical theater writing, and Bell starred as himself when the show premiered on Broadway.