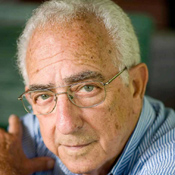 Freedman, Gerald
Obie Award-winner and first American director invited to direct at the Globe Theatre, London, England. Regarded nationally for productions of classic drama, musicals, operas, new plays and television. Served as leading director of Joseph Papp's New York Shakespeare Festival from 1960-71 – the last fours years as artistic director. Co-artistic director of John Houseman's The Acting Company from 1974-77, and artistic director of the American Shakespeare Theatre during 1978-79. Artistic director of the Great Lakes Theater Festival in Cleveland, Ohio, from 1985-1997. Has staged 26 of Shakespeare's plays, along with dozens of other world classics. Directed celebrated actors such as Olympia Dukakis, James Earl Jones, Stacy Keach, Julie Harris, Charles Durning, Sam Waterston, Patti Lupone, Mandy Patinkin, Jean Stapleton, William Hurt, Carroll O'Connor and Kevin Kline. Made theatre history with his off-Broadway premiere of the landmark rock musical "HAIR," which opened the Public Theatre in 1967. Broadway direction includes "THE ROBBER BRIDEGROOM"; "THE GRAND TOUR" with Joel Grey; the revival of "WEST SIDE STORY," co-directed with Jerome Robbins; the premiere of Arthur Miller's "THE CREATION OF THE WORLD AND OTHER BUSINESS"; and Shaw's "MRS. WARRENS PROFESSION" with Lynn Redgrave and Edward Herrmann. Productions for the Great Lakes Theater Festival include Shakespeare's "KING LEAR" (with Hal Holbrook), which went to the Roundabout Theatre in New York City. Directed opera productions for the Opera Society of Washington (Kennedy Center), the San Francisco Opera Company, and New York City Opera. For New York City Opera, directed revivals of "BRIGADOON" and "SOUTH PACIFIC." Before coming to the School of the Arts, taught at Yale and The Juilliard School. A native of Lorain, Ohio, he received both his B.S. and his M.A. (summa cum laude) from Northwestern University. Trained for the stage with Alvina Krause, voice teacher Emmy Joseph and at the Actors Studio. Serves on the Kennedy Center New Play Committee and is a member of the College of Fellows of the American Theatre. Participant in the Oomoto Institute, Kameoka, Japan.
Shows Associated this writer
Songs Associated this writer
Trivia about this writer
The birthday of Gerald Freedman, theater director whose shows included the original premiere of HAIR. Freedman wrote book and lyrics for the musical A TIME FOR SINGING.
In 1966 A TIME FOR SINGING closed on Broadway after 41 performances.
In 1966 A TIME FOR SINGING opened at the Broadway Theatre for a run of 41 performances. The first one hundred ticket buyers were treated to folding chairs and a catered picnic lunch, in keeping with the show's pastoral theme of life in a Welsh mining village.