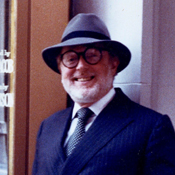 Kleban, Edward
Edward Kleban (1939-1987) was the lyricist of A CHORUS LINE, for which he won the 1975 Tony, The Pulitzer Prize, The Drama Desk and Olivier Awards. Mr. Kleban's score for A CLASS ACT was nominated for the 2001 Tony and Drama Desk Awards and also received an Obie Award. Mr. Kleban was a graduate of the High School of Music and Art and of Columbia College, where he wrote the music for the Varsity Show of 1960, with a book by Terrance McNally. In the '60's, he was a record producer in the heyday of Columbia Records. His musical, GALLERY, for which he wrote both music and lyrics, was given a workshop at The Public Theatre in 1980. The score of A CLASS ACT is comprised of songs from GALLERY, as well as songs from several unfinished Kleban musicals, including SCANDAL, the last Michael Bennett show. Mr. Kleban was a longtime member of Lehman Engel's BMI Musical Theatre Workshop. During the 1980's, he carried on Mr. Engel's tradition and taught songwriting in the workshop. He died in 1987, at the age of 48. The Kleban Foundation, created according to his Will, awards grants of up to one hundred thousand dollars a year to aspiring theatre lyricists and librettists. Over the past dozen years, The Kleban Foundation has given grants totaling over three million dollars.
Shows Associated this writer
Songs Associated this writer
Concerts Associated this writer
Trivia about this writer
In 2001 A CLASS ACT closed on Broadway after a run of 105 performances and five Tony nominations, including Best Musical, Book, and Original Score.
In 1939 Edward Kleban was born. The CHORUS LINE lyricist's life and work is showcased in the musical A CLASS ACT.
In 2001, A CLASS ACT, the musical memorializing the life and work of songwriter Edward Kleban, had its Broadway premiere at the Ambassador Theatre where it ran for 105 performances.